The Alternative Endings: Bad Ending
Last week, we had talked about the good ending. It is the part of the story where good things shall happen.
In this week, we shall be talking about the other alternative ending, which is the 'bad ending'. Bad endings refers to the alternative story where some characters in the story die, while the main villains are still standing above the protagonists. This shall happen when some main protagonist characters had done their mistakes which can affect the main storyline of the game or the TV show itself. When that action was already done, it can lead to the plot where bad ending shall be the route.
What are some things that we can expect from a bad ending? It is basically, one or more main characters shall die, and some of their few antagonists shall die also. A bad ending may occur once the main protagonist and the main antagonist die both in the story. Or even defeating the main antagonist alone, the story shall end in the bad ending with some conflicts unresolved.
So then, a bad ending may occur if one of the protagonists had made a mistake in their actions that can affect their storyline. Is the continuation of the bad ending possible? It depends.
Right now, let us go to the 45th Episode of School Idol Festival Journal Log. We are getting closer towards to the end, I promise!
CONTENTS
PRE-EPISODE HEADLINES
A bad ending comes in many various ways, and it shall depend on your actions made! For now, let us move on into the highlights that happened recently!
'Nijigasaki High School Idol Club' School Idol Birthdays
We all know that School Idol Festival is evolving lately, and they are just adding new characters in the pool and stable of School Idols. But then, the fun isn't just over yet, since they are about to add up Nijigasaki in the lineup, and they shall be joining forces with µ's and Aqours!
From this time on, we shall start greeting these girls with a happy birthday! And starting from Ai Miyashita onwards, there will be birthday messages coming from me!
So then, from this time on, we shall start greeting the Nijigasaki girls, starting from Ai Miyashita!
Ai Miyashita is one of the girls from the Nijigasaki High School Idol Club, and one of the characters from the LoveLive! ALL STARS game counterpart. Her birthday shall be celebrated every May 30th, in just two days left from this Episode! Watch out for my birthday message for her in the next Episode, and you shall be looking forward into that!
Her birthday campaigns are also ongoing in the JP Side of LLSIF, and be sure to scout for her birthday limited UR if you are a fan of hers! Details to be revealed later in the JP Side highlights of this Episode!
Nijigasaki Shuffle Festival in School Blu-Ray Box Release Date
【?BD情報①?】
11/3に「校内シャッフルフェスティバル」Blu-rayの発売が決定?✨https://t.co/NsJ24Cp4rD

BDBOXには、両日の公演、メイキング映像、さらには特典CDも同梱?

特典CDには、シャッフルしたソロ楽曲10曲のライブ音源を収録予定??

ぜひ、ゲットしてください✅#lovelive #虹ヶ咲 pic.twitter.com/kywdQx2PVH

— ラブライブ!シリーズ公式 (@LoveLive_staff) May 23, 2021
The upcoming Blu-Ray Box release is scheduled for November 3 release.
Ever wanted to hear the girls singing other girls' songs? Then, this Blu-Ray Box set of Nijigasaki High School Idol Club – Shuffle Festival in School live performance is just for you. It shall be including the behind-the-scenes recordings, and the exclusive 10 'shuffled' songs which were used in the live, which were also made and recorded.
First Solo Concert Album Series: Mari Ohara
【☀️CD情報☀️】
6/13(日)発売「LoveLive! Sunshine!! Ohara Mari First Solo Concert Album ~New winding road~」のジャケット・試聴動画を公開!
⏩https://t.co/1hRit4YI6A
新曲「Shiny Racers」を含む全16曲を収録✨#Aqours #小原鞠莉 pic.twitter.com/77X4iYrVJ5

— ラブライブ!シリーズ公式 (@LoveLive_staff) May 25, 2021
So, this is the second to the last, or otherwise the 'penultimate' album in the First Solo Concert Album series! This time, it shall be in favor of Mari Ohara!
There are total of 16 different songs to be included in that album, and that includes Shiny Racers. These were already previewed on YouTube.
Release date is on her birthday, June 13th. Are you shiny enough to buy her album?
Sometimes, bad endings can really make you restart the game or story, or even restoring to the point of the story where you shall need to be well-prepared in order to not make the same mistake again. For now, let us put these aside now, and let's head on to the next part!
What were the things encountered in the past weekend, and this week on the LLSIF world? Please do read more to continue!
GLOBAL SIDE HIGHLIGHTS
Surprised? It seems I had changed the order of highlights today in this Episode! First and mostly, the Global Side is soon merging with the JP Side, and thus it is finally reaching into its ending part. So then, just to make this ending a memorable one, I am going to just make this one to be highlighted first before the JP Side.
Don't worry, JP Side isn't out yet from the highlights, and it shall be coming right after this highlight! Also, when the Global Side begins its merge soon with the JP Side, so does to this highlight disappearing from this Episode. So right now, let us move on into the part where LLSIF shall never be the same ever again! Please read the next one to continue!
Round 22 Challenge Festival (Final)
【LoveLive! SIF】

Final Battle… Is it over…? ?

Round 22 Challenge Festival (Results)

? Points: Rank 43 | 3,212,548 pts.
? Score: Rank 425 | 2,634,217 scr. (Todokanai Hoshidatoshitemo)

Previous results are on RT.#lovelive #LLSIF https://t.co/be46QdQI77 pic.twitter.com/ucwtSZljKf

— いのりどんず (INORI DONZ NETWORK) (@InoriDONZ) May 26, 2021
The question is still a question mark for some fans, and we do not know yet on when this server merge shall happen right after this Event. The good thing is that I had finished this Event again with a Tier 1-1 finish! That's right. I had something to prove, which in fact that the JP Side is really difficult to grind with more Event Points to survive and to defend my Tier 1 points ranking.
I had no problems with the score, after all, since I got almost all of my stuff upgraded on time.
If in case that there is an upcoming Event before the server merge shall happen, maybe I should start resting for a while and to take a break in grinding for Tier 1-1, perhaps?
We shall see in the few days if we are going to have one more Event before the server merge. If that does, maybe I could try to go for this 'final battle' a one more shot?
JP SIDE HIGHLIGHTS
Right now, this will be an another new chapter or story arc of the School Idol Festival rhythm game. As mentioned in the pre-episode highlights of this Episode, Nijigasaki High School Idol Club shall now be joining forces along with µ's and Aqours. They were originally from the ALL STARS game. And right now, they shall be introducing to us their exciting birthday campaigns, which includes the limited birthday scouting!
Please do read the highlights below to continue!
【ラブライブ!スクフェス】

This is the day where the forces of Nijigasaki shall land into the SIF land with their birthday campaigns!#lovelive #スクフェス https://t.co/U5bK6sm9rY pic.twitter.com/DP1wGnxa18

— いのりどんず (INORI DONZ NETWORK) (@InoriDONZ) May 23, 2021
Starting this month, they shall be including Nijigasaki High School Idol Club along with the birthday campaigns of LLSIF rhythm game. Starting with Ai Miyashita onwards, they shall be introducing limited birthday UR scouting, and as well as receiving birthday login bonus, which include some Love Gems, and her birthday promo UR!
For the birthday limited UR scouting, it shall be in a 100-member scouting format, which is basically the same format as in µ's and Aqours. However, no SSRs are included there, since they haven't released SSR rarity members yet under the Nijigasaki group. But then, you can scout different members there, aside from Ai Miyashita (given that only Nijigasaki members there are available).
Are you an Ai Miyashita fan? Go scout for her birthday UR if you are a fan of hers, and show your dedication and love!
Her birthday UR is still available, and it is up until her birthday on May 30.
The battle for Tier 1 still continues! Most of the details of this Event are highlighted in the previous Epsiode!
【ラブライブ!スクフェス】

Whoa… All Perfect finish!#lovelive #スクフェス pic.twitter.com/tTd3DzeV28

— いのりどんず (INORI DONZ NETWORK) (@InoriDONZ) May 20, 2021
The Event song in Master difficulty is just easy, only that you should have at least one Perfect Lock member if you don't want to hit some GOOD or BAD notes midway through the song. Just remember that if you are aiming for Full Combo and High Score, just lower your Icon Token consumption multiplier if in case if you wanna restart if your combo chain breaks. Just remember to grind more points, though, to survive in the rankings!
TIP: If you got bored in playing with the same song to grind more Icon Tokens, just always use the Random Choice feature, which it can give you a random song to play from the Hits Side! And yes, their attribute differs each day, so use that advantage if you are going to play a random song to make yourself be challenged! And don't forget to use the LP consumption multiplier before you begin the live show. And that is, in order for you to gain more Icon Tokens.
So far, I had been struggling to get into Tier 1, due to the fact that I had concentrated most of my time in the Global Side due to grinding also for Tier 1 in the concluded Challenge Festival. Will I make it to the spot and prevail? Final results shall be highlighted next Episode! Look forward into it!
✨ペルソナシリーズ×スクフェスのコラボが決定✨

コラボに先駆けて、スペシャルコラボキャンペーンガール投票を開催?
μ'sの9人の中からキャンペーンガールに選ばれたメンバーは、
特別なUR部員として #スクフェス に登場?

投票はこちらからhttps://t.co/2pbjZWPvwD#lovelive #ペルソナ pic.twitter.com/I07hlmPGbf

— 【公式】ラブライブ!スクフェス事務局 (@lovelive_SIF) May 27, 2021
They are now collaborating with an another video game series. In this limited collaboration event, they gonna team up with the Persona video game series! So then, the µ's members shall be the first one in the line.
For this incoming collaboration event, you are going to choose which µ's girl to be picked up as the image girl for the collaboration event. The winner in the poll shall be chosen as the image girl, and the UR to be used for the LLSIF side! Somehow, the first one shall be for the Persona 3 video game series. So then, there will be for Aqours and Nijigasaki, someday! Just stay tuned at their feed for more information!
FEATURE OF THE WEEK!
After CYaRon! last Episode, who's going to be featured this time around? Guess who was it?
Today, we are going to feature… AZALEA!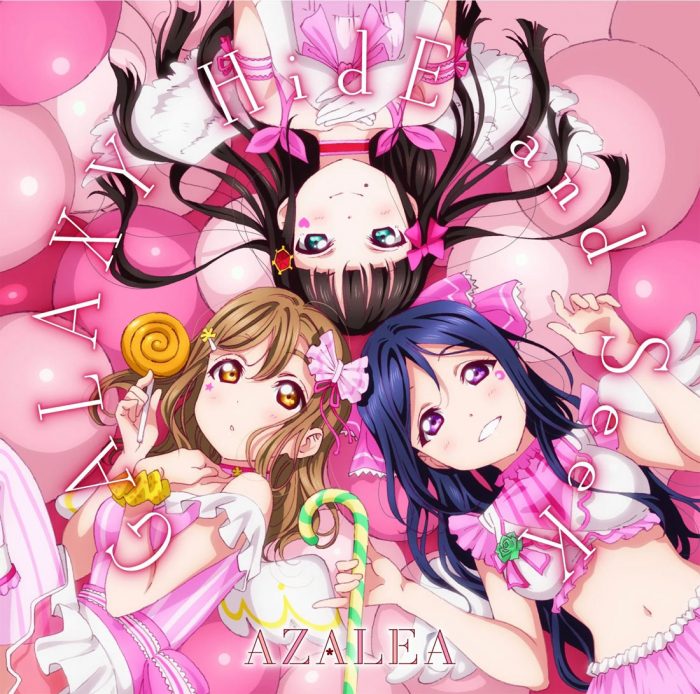 AZALEA is a sub-unit trio of Aqours. Their songs are melodic, in which their voices are vary depending on the mood of the song. Somehow, their range of voices are bit mature, and it can be either serious or funny, or even dramatic.
They had made over five different songs, and that includes Torikoriko PLEASE!!, INNOCENT BIRD, and LONELY TUNING.
This sub-unit trio is consisted of Kanan Matsuura, Dia Kurosawa, and Hanamaru Kunikida as members.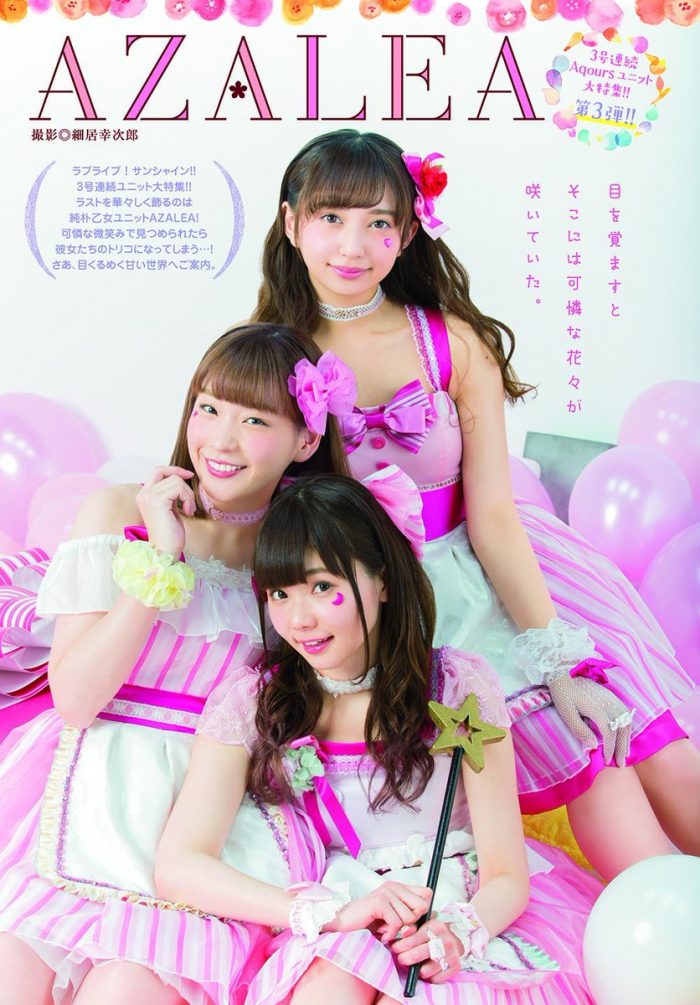 Can the Bad Ending be resolved? There's a way! Read next week!
Looks like we had ended this Episode with some of the conflicts unresolved. What should we do now? It looks like we had run out of time.
But then, there is still time to resolve more conflicts — to be done next Episode!
And that's it for the latest Episode of School Idol Festival Journal Log. I hope that you had enjoyed reading! Anything happened today after this Episode was published shall be included next week!
See you next time and cheers! Happy weekend!
Back to Episodes Archive | Return to Home Page