The Season of Love -Part 2-
In the previous Episode, we had talked about Valentine's Day — its introduction and on how is it being celebrated. Also, it talks about on why giving chocolates to someone we love a tradition during this romantic holiday, especially in Japan.
Today, we talk about the second part of this Episode theme. It is about giving flowers and roses to someone we love — during Valentine's Day! Actually, there is a history behind with that flowers-and-roses-giving season! It can be bought, and can be given to someone else, with the chocolates that you have!
However, giving different kinds of flowers or roses to someone else have meanings, especially with their colors. Color Red is especially a generic one, which means 'I love you', and such other colors, like Peach, mean 'Let's make our Valentine's Day memorable'. Remember that giving these to someone should be a careful thought.
Usually, flowers and roses are spiking their prices up in the market when Valentine's Day is on. Sometimes, they are usually expensive than buying a prize figure (Anime figure)! And the downside of buying these expensive and luxurious flowers and roses was that if your man or woman that you really love rejects you on the spot, he or she shall just dump you and never get them. You lost the love of your life. And at the same time, you had thrown your hard-earned money away in the trash. Sometimes, proposing to someone you love is like gambling, and you are putting your money and efforts on the line.
And that is the item number two in which you can give to someone you like, along with the chocolates during this Season of Love! And that ends the second part of the Episode theme, and this Episode theme arc is finally over!
Valentine's Day is something that you could buy and spend your earnings for flowers and chocolates. Giving them to your special someone, and making them date you is just like drawing a UR in Scouting. Somehow, it's like a simulated gambling. And if you didn't draw the waifu UR that you like, and your Love Gems and Tickets were used up, that means she didn't love you. Did you get the concept of it with the real-life Valentine's Day?
Right now, the 31st Episode of School Idol Festival Journal Log during this Valentine's Day can give us an enjoyment and, at the same time, disappointment and heartbreaking moments! So then, are you in love right now, or heartbroken in this Season of Love? You can decide your fate by reading this Episode until the very end.
CONTENTS
PRE-EPISODE HEADLINES AND HIGHLIGHTS
Feeling romantic or heartbroken? How about some headlines that shall make your day romantic or heartbroken?
Happy Birthday, Kanan Matsuura!
Today, I am going to greet Kanan a Happy Birthday greeting! Although it's late by two days, at least I got some birthday message written for her.
Dear Kanan Matsuura,
You are one of Chika's oldest childhood friends, and you are like a big sis to her. In fact, you are treating your younger childhood friend as your little sister! Of course, I had been enjoying to hear both of you singing when you were formerly in a temporary duo-trio unit for the SUMMER VACATION album.
You are one of the pioneers of the 'First Aqours', along with Dia and Mari. You are also the ones who started the group, and you are the ones who ended and left the remaining members of Aqours.
I got one thought when I was looking at one of your still images from the LoveLive! ALL STARS game. It makes me decide if I am going to hug my pillow… Or you, who was lying down on the bed beside me? I know it, and it was definitely you who needs to give a hug while sleeping! Well, I am just kidding…
Anyway, in the five years of your existence in the School Idol Universe, let me greet you. Happy Birthday, dear Kanan Matsuura of Aqours, and a member of the AZALEA sub-unit!
My wish for your birthday is… You must deliver successfully your first ever live performance, in the upcoming AZALEA First Live this coming February 27 and 28! Make your fans' hearts and feelings explode! Also, bring cheerfulness and happiness to people who were sad today because they had failed to get your Birthday UR from the limited box Scouting in the LLSIF rhythm game.
Once again, happy birthday, my dear Kanan. Best wishes for your birthday, and we fans love you.
【☀️CD情報☀️】
2/10(水)発売『LoveLive! Sunshine!! Matsuura Kanan First Solo Concert Album ~さかなかなんだか?~』のリリースを記念してJR渋谷駅にて広告を展開中?

お近くにお立ち寄りの際は是非チェックして下さい✨

詳細はこちら✅https://t.co/IbnfUc2mgQ#lovelive #Aqours #松浦果南 pic.twitter.com/cAn9iHGf6s

— ラブライブ!シリーズ公式 (@LoveLive_staff) February 9, 2021
In line with Kanan's birthday since February 10, her First Solo Concert Album has been released! It is now available in most music stores in Japan nationwide, and in some online music streaming sites like Spotify! Its animation music video has been uploaded also on YouTube, and try watching that!
Right now, we got Hanamaru, You, Mari, and Yoshiko remaining in the list. So then, what could be the theme of each on their upcoming music video that shall be uploaded to their YouTube channel soon? The only thing that you can do is to stay tuned!
Update Two: AZALEA's First Live (TRY AGAIN Live)
Previously, we had given you some updates with regards to the AZALEA's upcoming first sub-unit live! Right now, we haven't seen any changes with their pricing, as well as the time and schedule to when this live performance event shall be held. Remember to place your pre-orders on these official live goods if you are planning to buy them in the future, and they can only be purchased via with your local Anime licensors per region!
To detail again, this sub-unit live shall be held at Musashino Forest Sports Plaza, in Tokyo, Japan, on February 27 and 28, 2021!
News: LoveLive! Team's Advisory on Infringing Goods
I got some recent blog post about on LoveLive! Series' statement with regards to the number of counterfeit and infringing merchandise appearing elsewhere. Better read this one because it is very critical and informative to LoveLive! fans! Please do read below by clicking or tapping this link below!
Read here: LoveLive! Series' Advisory on Infringing Merchandise
So then, can you feel the romantic enjoyment, or disappointment? Let's continue reading this Episode until the very end! What are the things that happened recently in this past week on the LLSIF rhythm game? Find it out by continuing to read!
JP SIDE HIGHLIGHTS
Alright! Let us read of what has happened recently in my progress in the JP Side of LLSIF! Read below to continue along with the embedded Tweets!
Last week, we had highlighted this campaign, and it talks about on how to play and participate in this limited campaign! Also, we had highlighted last week on some Valentine's Day messages from Aqours members to you, and I had translated them!
Don't know on how to participate in this campaign? You can backread the previous Episode in JP Side, on the same highlight, if you want!
Right now, I am going to post today the translations of the µ's members, making their Valentine's Day messages to you! See this picture below!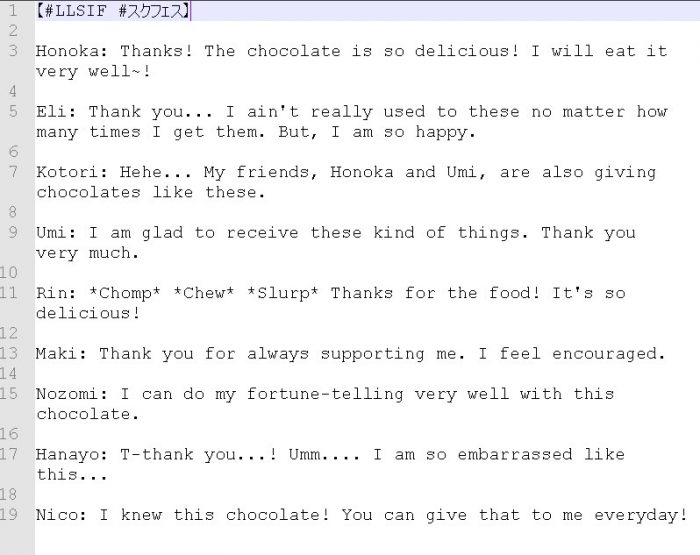 Very cool, isn't it? In fact, my Japanese translation and transliteration sucks! Sorry…
Also, ongoing within this week, is the limited URs of Aqours, in their Awaken the power outfit! Please read below to continue, along with the embedded Tweets!
As part of their ongoing Valentine's Day Live 2021 campaign, they are releasing series of Aqours limited URs! And yep, they are appearing one by one everyday, in their character ordering. So far, Chika was released since February 6, and has lasted until February 10! She was then followed by the other Aqours members, in their character ordering, and these were the following below!
Riko: February 7 to 11 (finished)
Kanan: February 8 to 12 (until later midnight)
Dia: February 9 to 13
You: February 10 to 14
Yoshiko: February 11 to 15
Hanamaru: February 12 to 16
Remember to scout these limited URs, if they are relevant to your current teams' builds, and to score higher and efficiently in Score Rankings of every single Events!
Coming up tomorrow and Sunday are the limited URs of Mari and Ruby, respectively! They shall all be lasting in 4 days, so better scout for them before they disappear! Also, expiring from the limited box scouting later is Kanan, based from the given character dates above! Scout for Kanan before she expires later this midnight! Good luck!
【ラブライブ!スクフェス】

よし! みかんエンジェル、誕生だ!

I call this Awaken the power UR, 'Mikan Angel'! ?#lovelive #スクフェス #高海千歌 pic.twitter.com/uWwsqg53PD

— いのりどんず (INORI DONZ NETWORK) (@InoriDONZ) February 5, 2021
During this limited box scouting duration, I had been always wanting to get this UR Chika for my party! Yep, and she has the Skill Repeat Skill! I got her only for 50 Love Gems spent!
【ラブライブ!スクフェス】

Awesome! I got another limited today! My unfinished Scouting mission has been accomplished. ?#lovelive #スクフェス #桜内梨子 pic.twitter.com/6DehNYMOhH

— いのりどんず (INORI DONZ NETWORK) (@InoriDONZ) February 6, 2021
It looks like I am not done yet here. After Chika, I had also tempted to scout for Riko's Limited UR! But then, unlike Chika, I got her for at least 150 Love Gems! And finally, my resources got depleted, for now! I have to reserve them for the ongoing Event, if in case I want to defend my Event Points Ranking!
Yep, that's right. Both Chika and Riko are my sweet girls!
【ラブライブ!スクフェス】

?Valentine's Day Live – Part 1?

Round 46 Score Match: Exciting Pot Party

Event UR: Umi
Scouting: Eli and Kotori#lovelive #スクフェス pic.twitter.com/rziFBkLhr9

— いのりどんず (INORI DONZ NETWORK) (@InoriDONZ) February 4, 2021
Last week, we had revealed about the next Event, which is on the µ's Side! And this Event in the µ's Side is a Score Match type this time around!
This Event features the Event UR Umi Sonoda that can be obtained by gaining more Event Points during the duration period! By placing higher in the Event Points Rankings, it means you can receive more than one UR Umis after this Event! Meanwhile, the other two Event URs can be obtained by scouting! Be sure to use them very well in order to gain more Event Points within this Event period!
In this Score Match Event, you know already the rules on how to play it, right? It is just basically the same as in the last Score Match in the Aqours Side last October, last year! You just simply gain some Score Match Points (SMP) and defend it! Be sure to defend your Total SMP until the end of this Event, as you might be dropping off from the Tier 1 SMP Ranking cutoff due to the fact that your SMP is decreasing greatly if you lose in Score Matches!
There are ways on how to gain more SMP, as well as defending it, in order to prevent it from dropping or be decreased greatly if you lose. Since this Event shall never record your high score in the rankings, it shall be recording your SMP instead! You can safely play lower difficulties, if you think you can't even match yourself up in the songs at MASTER difficulty! And then, there are strategies for that, though!
Basically, this is just the first part of this highlight. And mostly, it is just the details of this Event, as well as on how to play and survive in it! The next part shall be my experiences in this Score Match! What could be some to encounter soon in this highlight? Find out, as I am going to give my final highlights, experiences, and the final results of this Event next week! Please, look forward into it!
GLOBAL SIDE HIGHLIGHTS
I am pretty sure that I am going to be more challenged this time around in the new set of campaigns and Events right now in the Global Side! What are those? Please read the next paragraph and some embedded Tweets to continue!
Round 15 Companion Match: This is Our Sparkle!
【LoveLive! SIF】

It's Global Side's turn to do grindfest!

Round 15 Companion Match: This is Our Sparkle!

Previously: It's Our Time to Shine!

Notes: This was hinted at my SIF Journal Log EP30 for my possible next Events predictions.#lovelive #LLSIF pic.twitter.com/4wvI4k8or5

— いのりどんず (INORI DONZ NETWORK) (@InoriDONZ) February 7, 2021
For the details of this Event, it was then revealed at my last week's Episode, on the upcoming February Events part! The Event right now is a Companion Match, and it shall be on the Aqours Side this time around!
Would I need to give details of it, again? Of course! The Event UR is Ruby Kurosawa, and Chika and You can be acquired by scouting! And again, you must use them in order to gain more Event Points!
If you had read previously the Episodes 12 and 13 of this segment, in the JP Side highlights, it is just basically the same as in this one! Better backread those Episodes to see what has happened previously! But then, since it is in the Global Side, then the highlights of this one shall be different from the previous one! Remember that this Event can be considered as a 'bloodbath' Event, due to the fact that the EXP x 5 and Bond Points x 5 live show modifiers are indeed present, and they are sidelining along with this Companion Match Event until it ends! Those live show modifiers are somehow a part of their ongoing Lunar New Year (Chinese New Year) campaigns right now!
To give you my final highlights and results of this Event, it shall be posted here next week! Look forward into it!
The Road to Server Merging Begins?
In this moment, a very surprising announcement has been made after the two-hour maintenance (plus one hour extension delay) that has occurred last February 8, before the Companion Match Event has begun. Please read below to continue with the picture!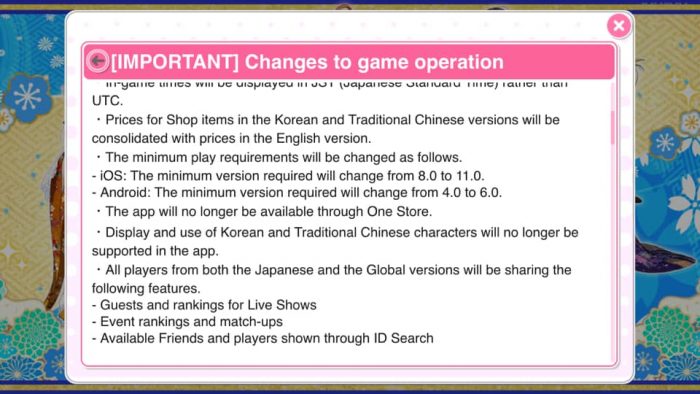 So then, the time has finally come, and both of my teams from my JP and Global Sides will cross paths. The last line of notes indicated at their critical updates means that both of the JP and Global Sides shall share information at each other, such as seeing their current rankings in the Event, and so on! Which means, you may add them as friends, even if you are in the Global Side, or JP Side!
To elaborate, both Global and JP Sides shall be merging into one. And in fact, this is considered to be the major update of LoveLive! School Idol Festival rhythm game! Not only that! We are also witnessing the upcoming big celebration…. Right now, starting today, the road to the LLSIF's 8th Anniversary celebration begins! It's 8th Anniversary shall be on April 15th! Mark that date now!
Basically, we are just about two months away before this one major server merging and updates shall materialize. Stay tuned, as I might post something like these on the next Episode, and you should be looking forward into that!
To be continued.
LLSIF TIP OF THE WEEK!
The LLSIF Tip of the week is this! Please read below to continue!
Some members don't give out Stickers when removed or practiced away from your members list, so be careful!
【LoveLive! SIF】

LLSIF Tip #5

Some members don't give out Stickers when removed or practiced away from your members list, so be careful!#lovelive #LLSIF pic.twitter.com/6af6IZWRR6

— いのりどんず (INORI DONZ NETWORK) (@InoriDONZ) February 8, 2021
Sticker items (called as "Seal" in the JP Side) are very essential in your strengthening of your members, especially UR members! Aside from them being used as items for idolization, or even increasing your Skill Slots, they can be used to exchange items and members from the Sticker Shop! They can be obtained by opening boxes when you completed Live Shows, getting them as Login Bonuses, or even removing or practicing your unused members away from your members stable!
However, there are factors that the URs, or even members of lower rarities, don't give out Stickers at all by either removing or practicing them away. Those members in different rarities (From R up to UR rarity) who don't give out Stickers are most likely the following below:
Promotional URs, SSRs, SRs, and Rs that can be obtained via serial codes or other limited promotional Events or campaigns (i.e. collaboration event with Shadowverse).
Free Promo URs (or SR rarities and above) obtained from Login Bonuses in a campaign (i.e. Birthday campaigns)
Event URs (Introduced starting with the Companion Match: SoLL, Kotori, and Printemps), except the two other Event URs than can be obtained by Scouting
SSRs of members coming from the N rarities
Remember to be aware of the removal or using them as practice materials to strengthen another member! Also, even though that they are useless in the current teams that you have, they are considered to be as 'limited' and 'rare', and they are definitely the hardest to find! If it happens you lose them accidentally, you may never get them back ever again! You can never get them again, even if you create a new account!
If you are hunting for more Stickers to strengthen up your members by opening their Skill Slots, or even if you want something to buy from the Sticker shop, you may practice away your unused members, so as long as you can get some Stickers out from them!
Happy Valentine's Weekend! See you Next Week!
If you don't have a Valentine's Day date, then don't be sad. I don't have a date, either, and it is a disappointment for me, though.
Valentine's Day is also the day where a new couple shall be dating and proposing at each other! Also, this is the day where couples shall be breaking up at each other, and their relationships are over! Well, every Valentine's Day in a year is always a heartbreak and disappointment for me. It is because… I will not finish my last sentences anymore to complete this paragraph.
Episode 31 is finally finished. I hope you have a great weekend, and a happy Valentine's Day celebration with your partner. That's it. Just always tune in to my IDS website for more School Idol Festival Journal Log next week. Anything happened today (i.e. breaking news, just ins) shall be included next Episode. See you next week, and cheers.
Back to Archives | Return to Home Page