Not all wishes are granted.
Occasionally, for every birthdays, Christmas Days, or other occasions in a holiday, we have been wishing for anything. We can have them granted and fulfilled given if our efforts are already given in. However, some of our hardworks are still not enough, and just doing our best is still not enough. But then, even if you wish for something, it may come true at all, at a zero or very little chances.
However, not all wishes are coming true, even if you seriously wish for it. Sometimes the flow of time and events are just not playing fair at you, and you are sometimes ending up all of your plans in total ruination. Basically, this is where majority of people give up at their dreams, because they can't even do it and believe in themselves. Whenever you are disappointed, frustrated, or even angry because you can't achieve anything you want, you just simply concede. And you simply concede because you are indeed reckless and your expectations are very high to achieve your desired outputs.
All of these above has something to do with this week's Episode of School Idol Festival Journal Log. The Episode theme is about failures and all wishes that are not always granted. Let us go and read this Episode today!
CONTENTS
PRE-EPISODE HEADLINES
Let us start with one particular event which is supposedly to commence on next weekend! Please do read below!
Deferment of AZALEA's First Live
【重要】「LOVELIVE! SUNSHINE!! UNIT LIVE ADVENTURE 2020 AZALEA First LOVELIVE! ~Amazing Travel DNA~ TRY AGAIN」公演中止のお知らせと払い戻しに関するご案内

詳細はこちらよりご確認くださいhttps://t.co/7cbrn7pDlk#lovelive pic.twitter.com/VsnU0fWsaS

— ラブライブ!シリーズ公式 (@LoveLive_staff) February 12, 2021
THE WISH IS NOT GRANTED.
The LoveLive! Series Team has posted a press release statement on their official website via their Twitter account last week after the last week's Episode was published. This was about the deferment of Aqours sub-unit live event, the AZALEA First LoveLive! -Amazing Travel DNA- TRY AGAIN. To translate in summary, please read below.
They had to postpone or reschedule their live performance event at a later date. It is because of the series of state of emergencies all over Japan due to COVID-19 and its variants, as well as the sudden rising of new cases there. All of the people who reserved and bought their tickets online, as well as the tickets won from ticket lottery applications (via Aqours Club 2020 subscriptions), shall be refunded accordingly. The team sincerely apologizes the people who were always looking forward with this event.
In my opinion, they should had stuck with the paid-streaming option (the same they did in the previous Aqours LOST WORLD and WHITE ISLAND lives) instead of holding this live event which shall involve mass people gatherings. I am certain that the team also has very high expectations that their 'restart' live shall be avenging their loss from last year. But then, it has already come to the point that they had already tasted the bitterness of their true defeat.
Anyway, there is no big deal, even if you try watching this sub-unit live, and it is not even a major live. The only thing that you can do is to save more money, since their 5th Anniversary Live is just around the corner, in which the Nijigasaki's 3rd Live shall also follow on the following week, after Aqours' live. Both of these live performances shall be occurring on the same month, in the month of May.
School Idol Union Live – February 22
【生放送】
Aqours・虹ヶ咲学園スクールアイドル同好会・Liella! いっしょに生放送☀️??まであと2週間?

?配信日時:2月22日(月)20時

各スクールアイドルからそれぞれの最新情報もお知らせ?
メールも募集中✉️お楽しみに?

配信詳細☑https://t.co/HdLRt1PlLa#lovelive #Aqours #虹ヶ咲 #Liella pic.twitter.com/GFWFZmdZxO

— ラブライブ!シリーズ公式 (@LoveLive_staff) February 8, 2021
Also, occurring next week on Monday shall be the livestream, featuring not just the Yuigaoka Girls, or Liella!. But it shall be featuring the representatives from both Aqours and Nijigasaki High School Idol Club! It shall be streaming on video websites, like on their official YouTube Channel, this coming February 22, 2021, at 8:00 pm JST (UTC+9)!
Although that there are no Japanese interpretations present in their livestream, you must remember to still tune-in to their stream, since they might give relevant info with regards to their 'debut single' release event (for Liella!), upcoming live performances for Nijigasaki and Aqours, and also some content updates for both LLSIF and SIF ALL STARS games! Look forward into those!
Yeah, you just witnessed the turnaround of Events, in which they are eventually backfired in an instant without warning. In short, that was a disappointing defeat for them.
There is no time in getting sad and depressed over a thing that shall never be happening again! In fact, we should learn to move on. Right now, let us move on to the next part! There are many things that happened this week and this past weekend on the LLSIF rhythm game of both sides. What are those? Read more to find out!
JP SIDE HIGHLIGHTS
Surprisingly, we got tons of highlights encountered in this side. Remember to read them carefully! And to get a glimpse for the game's upcoming 8th anniversary in mid-April, there are important highlights in which it can also happen sooner in the Global Side! Please read these highlights until the very end!
?ニジガク楽曲配信中?

通常楽曲に
『NEO SKY, NEO MAP!』が登場?

ぜひプレイしてみてくださいね✨#lovelive #スクフェス pic.twitter.com/puCDA9jWz9

— 【公式】ラブライブ!スクフェス事務局 (@lovelive_SIF) February 16, 2021
Starting since February 15, they are now beginning to add more songs from the Nijigasaki High School Idol Club! It has finally started with NEO SKY, NEO MAP! since February 15, after the Event and patch update.
These new songs shall be added on a 15-30, 15-31, and 15-28 basis, every month! Which means, we can expect new songs to come out after each every Events! Maybe the succeeding ones to come out are the songs that appeared before in the past years in the B-Sides, and that include songs, such as Starlight and Diamond!
【ラブライブ!スクフェス】

Round 4 Live Show Arena: Twin Chocolates are Not Enough

In this monthly LSA Event, you can get UR Karin by reaching the Expert or Royal Expert Category!#lovelive #スクフェス https://t.co/M8vifoIrD6 pic.twitter.com/gzdOFweP0n

— いのりどんず (INORI DONZ NETWORK) (@InoriDONZ) January 31, 2021
Starting in this Episode onward, I shall be changing the name Live Arena from its previous name Live Show Arena!
Also, this week, I had been crawling bit-by-bit in this monthly Event! To give you some details, you must finish and reach at least Expert or Royal Expert Category (30 Special Sessions or above) in order to win a UR Karin Asaka! And she can be acquired at the end of February 25th JST (UTC+9)!
Since it is going to end soon around next week, before the next Episode shall be published, my final highlights and experiences from it shall be posted here next Episode!
Last week, I had given details about this Event, as well as on how to play this!
Today, I am going to give you my experiences and final highlights during my grind with this Score Match Event!
Last week, and this week, my progress is very difficult as it seems. So then, your FC finish does not matter and you won't get additional Event Points from it. And then, your High Score Position performance shall determine on how many Event Points can you get. If you are in 4th position due to low score, you can get very small Event Points than usual. So that's why, grinding in this Event requires you to tighten up your belts, greatly, in order to reach higher ranks in the Event Points Rankings.
Also, the only thing that can affect your Event Points grinding was your defense of your Score Match Points (SMP). If you had read previously an Episode where I grind in the previous Score Match Event (Aqours Side), this is just almost the same as in this one. You can gain or lose more Score Match Points if you win or lose against a strong opponent which also has more Score Match Points than you. Winning is totally random, and sometimes you can face a stronger opponent, or even a weak opponent. Although that you are grinding harder for Event Points, just remember to watch out for your SMP being gradually or drastically dropping in numbers if you are repeatedly losing!
By the time that I had enough and higher Score Match Points, I am always facing stronger opponents in the MASTER difficulty, and I am always losing and losing more Score Match Points. Also, in random occasions, I am always forced to use my weakest team, and I am always given the same difficult song that is very hard for me to land an FC finish, or even landing more Greats that Perfects. Because of that, I am always repeatedly losing and I lose more Score Match Points, and even gaining very small Event Points. In this process, I tend to play more, until I get my win and to regain my SMP that has been lost.
I got some strategy in which I am using in order to not lose more Score Match Points consecutively when you lose, especially if you encounter strong opponents. When you had reached your threshold SMP (at least 23,000 SMP or more), you must avoid playing Master difficulty, especially if your team's Skill Levels and Slots are still lacking, and not frequently landing an FC finish on any song in that difficulty. In this strategy, you can encounter less to zero opponents (CPUs instead). But then, playing on lower difficulties can gain you small Event Points. But the thing is that you can easily raise up your SMP just a little by bit! Remember that there are other players who are also doing this trick. If it happens that you encounter them, be prepared to lose some SMP! But then, it shall determine if your team's Skills are frequently triggering during your live show plays!
I would recommend for players to play on Expert or Technical difficulties so that they can easily finish the song without even breaking their combo chain. And since this Event shall never record your current score in the rankings, the thing that you must do is to gain more SMP, so that you could stand a chance in reaching the Tier 1 position in the SMP Rankings in this Event! Unless if it is a Companion Match, you can play on MASTER difficulty without limitations! Because Score Match is more on Scoring attacks, they don't even have Perfect Support notes in which they can prevent your Combo Chain to be broken due to GOOD or BAD notes.
【ラブライブ!スクフェス】

Part 1 of Valentine's Day Event is over.

Round 46 Score Match: Exciting Pot Party (Results)

? Event Pts.: Rank 1,836 | 934,132 pts.
? SMP: Rank 1,245 | 24,429 SMP#lovelive #スクフェス pic.twitter.com/22CQ9nNPZD

— いのりどんず (INORI DONZ NETWORK) (@InoriDONZ) February 15, 2021
This Event was finally finished this February 15th, just 4 days ago before this Episode was published. I had finished with a Tier 2-1 standing, and still I haven't finished with a Tier 1 Event Points standing in the µ's Side. Well, I am gonna do that, someday.
【ラブライブ!スクフェス】

4th Transfer Student General Election

The top 9 girls to be chosen are for their upcoming UR rarity to be released soon (probably on SIF's 8th Anniversary)! You can cast your votes for at least 3 girls, per account! #lovelive #スクフェス pic.twitter.com/IXOtiIrOan

— いのりどんず (INORI DONZ NETWORK) (@InoriDONZ) February 15, 2021
It's about time when the team had started another general election for members on N rarities! This 4th General Election shall determine on which girls shall be standing on the spotlight!
This General Election has been done many times before, at the time that I am not playing this game yet! But since this is the 4th one, this is something special. As seen from the embedded Tweet above, you can vote for at least three girls given from the lineup. They are now collecting votes from players right now!
The top nine girls who has the most votes shall be chosen and used for the designs of their future UR rarity! In other words, these top nine girls shall be having UR rarities! They had did it before on some other N rarity members and they choose the top ones to be used for their SSR rarities! So then, we can expect them to appear in the later date — probably on the LLSIF's 8th Anniversary Celebration this coming mid-April!
That's right. This is something for me and the other players to look forward into!
GLOBAL SIDE HIGHLIGHTS
As we are fast approaching the thing called the 'server merging', it seems that the Global Side is somehow rushing many things. But then, they are providing and giving us a lot of perks, as well as some sideline live show modifiers that can drastically increase our Base Player Ranks, and the Bond Points of our members in stable! Please continue reading, as there are some relevant critical updates in which it can change your gaming experiences forever. And LLSIF shall never be the same ever again.
The Server Merging and LLSIF's 8th Anniversary
That's right! And this was highlighted last week!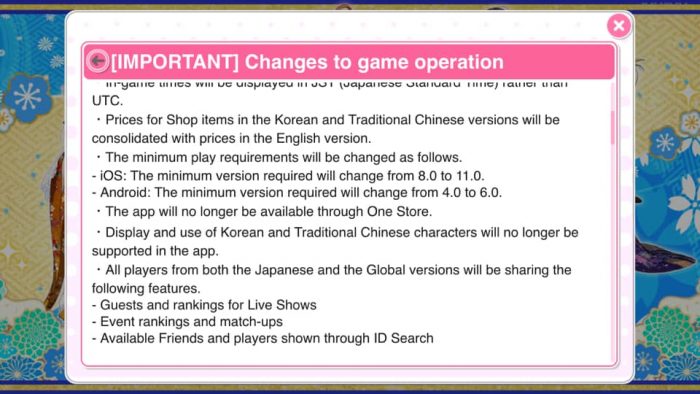 There are still more details about this in your in-game notifications! That picture above is just a portion from the actual!
Right now, we are expecting to have this major update to come at anytime soon. Since the game's 8th anniversary is coming closer, this one big update is considered as the special one. The dev team just really making us to get close and interact with the JP Side. Which is, right now, based from the notes above, we can now add new friends from the JP Side!
So today, we are about to finish the remaining Events in the Global Side, which is indeed the road to this major update. We need to stay tuned for this one.
So what are the things to expect to encounter in this big server merge of the Global Side to the JP Side? Please read this one below to continue!
1. Both JP and Global Side accounts shall meet!
As stated from the first sub-heading, if you created two accounts, one from the JP Side and the other one in the Global Side, your two accounts can finally see each other. You can easily type in your Player ID number to search it!
You can easily use both of them if you want to test the strength of your teams — if you are experimenting with team builds. The other one is that you can use your other account's performance data in order to do Private Sessions in the Live Arena Event. You can copy the song performance ID of your other account to the current account that you are using! And then, you can do Private Session with that other account of yours!
The other thing is that when your two accounts are friends at each other, you can make use of their Leader Skills to buff your current teams! And that is, in order to score higher in some Events, like the Icon Collection Events!
2. Time to upgrade your device.
For Android users, simply upgrading the Android Version OS can't save you from version incompatibility. If you are using a mid-tier device, and your Android Version does match with the game's latest version update, you can still play it. However, you may encounter issues, like screen lags and occasional frame per second (FPS) dropping. Instead of updating or upgrading the Android OS, why not buy a high-tier device in which it supports higher Android OS, and at the same time, higher specs that can keep up with the game's latest version update?
The choice is yours. But then, you won't be able to continue playing this game if your device does fail to meet the game's system requirements.
There are still more points and things to encounter in this one, big, major server merging and update. Better look forward into this one, as I am going to give you more about it next week!
Round 15 Companion Match: This is Our Sparkle! (Final)
For the final highlights of this Event, I just don't want to explain further. But instead, you can backread Episode 13! If you can well understand of what it is highlighted there, in the JP Side, then it is just almost the same experience as in this Global Side! The only difference is that in this side, there are live show modifiers (EXP and Bond Points x 5) present, and it is considered as a bloodbath Event. Bloodbath Event, in the sense that reaching higher Event Points Ranks, as well as defending it, can be more difficult and serious.
【LoveLive! SIF】

Aqours Victory 3-0! Will it be the last? ?

Round 15 Companion Match: This is Our Sparkle! (Results)

? Event Pts.: Rank 28 | 4,658,546 pts.
? Event Score: Rank 358 | 2,898,948 scr (Kinmirai Happy End)

Previous Results are on RT.#lovelive #LLSIF https://t.co/MCQ4mYEQBs pic.twitter.com/lkPniJN8w8

— いのりどんず (INORI DONZ NETWORK) (@InoriDONZ) February 18, 2021
This Event has been finished, and I placed with a Tier 1-1 Victory. So far, this is my third victory in the Aqours Side, finishing with a Tier 1 standing on both Event Points and Score. Also, it is drastically higher than in my previous results in the same Event in the JP Side.
LLSIF TIP OF THE WEEK!
This week is the LLSIF Tip of the Week! Today's tip is this below! Please read!
Clearing the Main Story can unlock more songs in the Hits Side. Reaching higher Player Ranks can do the same!
【LoveLive! SIF】

LLSIF Tip #6

Clearing the Main Story can unlock more songs in the Hits Side. Reaching higher Player Ranks can do the same!#lovelive #LLSIF pic.twitter.com/jjP1VLEYFw

— いのりどんず (INORI DONZ NETWORK) (@InoriDONZ) February 16, 2021
One of the features of this game is by reading its story. What is a video game of all genres that has no storyline at all? Basically, it is an important thing to do in this game — to read its main story! Somehow, the stories of this game can somehow connect to the actual TV Anime Series counterparts (LoveLive! and LoveLive! Sunshine!!). And reading them can allow you to know more about them, as well as reading and studying their 'untold' and back stories.
Reading these stories in the Main Stories, especially for newbies who were new playing in this game, are very important in your gaming progress as the time passes. Actually, reading them (or even skipping them lol) can allow you to unlock new songs in the Hits Side! You must do this everytime, if you want to unlock all of the songs available in this game.
Also, in order to unlock another part of the main story, just simply raise your Base Player Rank a little more higher. And then, you must also complete all of the related Goals in order to unlock another part of the main story! You can get some awesome items, like Love Gems, if you manage to complete all of them!
A Total Defeat this week. A Total Victory next week!
You had been defeated, and you are indeed sad, angry, and frustrated. It is definitely a part of becoming a strong player. But being defeated is simply not the end of everything. While you are still alive and fighting, you got still a chance to get another shot!
As the sub-headline suggests: A total defeat today shall be a total victory tomorrow. If we had experienced a total loss, then we can expect a total win… Next week!
What could be the things to happen soon in the JP and Global Sides of LLSIF rhythm game, as well as in the School Idol Universe? Only the universe and time can tell. And anything that occurred today, after this Episode was published (i.e. breaking news, just ins, etc.), shall be included next week! Just tune in to IDS every Friday for the School Idol Festival Journal Log!
See you next week and cheers! Happy weekend!
Back to Episodes Archive | Return to the Home Page