A quick tour to the local Anime convention!
In this post, let's have a touring inside the function hall! I just randomly pop my camera out and took some random pictures in the area.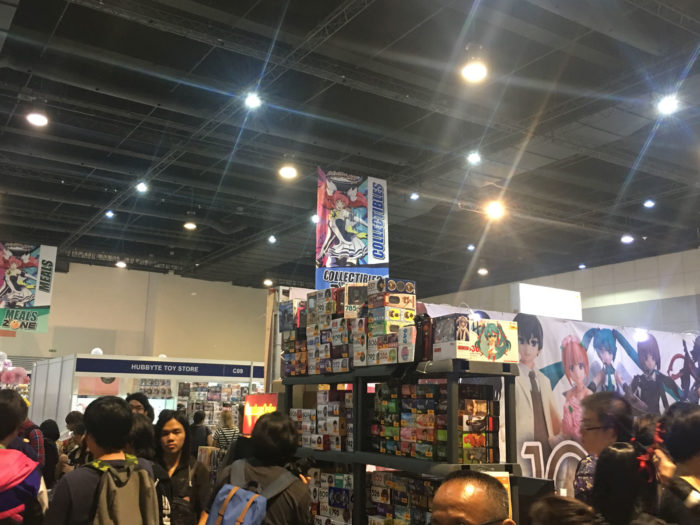 The Cosplay Mania was one of the biggest local Anime conventions held here in my country. Now, it has celebrated its 10th year anniversary. Talking about an event like this, Cosplay Mania has finally made another history. While they tried inviting more international guests from other countries, mostly from Japan, this was considered to be the biggest event ever.
They had lots of goods and merchandises, ranging from apparels, Anime figures and Nendoroids, up to the good ones like plushies and other accessories and equipment (like the windowed bag, also known as the ita-bag).
There are other booths which were invited to exhibit or display, while others are just putting their items for sale. For the sales, sometimes they offer huge discounts and other perks.
This was one of the local events here to be enjoyed by Anime fans. Since the number of booths to choose from, as well as some on-stage events, can make an event-goer explore and tour more. However, they should be aware of what they are spending. Of course, this event was a wallet-crusher, or in the sense that you will be forced yourself to impulse-buy to get anything! Remember, always save just at least a medium amount of money for yourself! Or else, you might not be able to go home by yourself if you were going to commute alone!
Inside on every local Anime conventions that I am attending, some people have their own agenda. This includes the buy and sell scheme, as well as they do random Cosplay and photoshoot. The others are just gathering into groups and they just set somehow a camp or shrine there (namely a group meeting).
While for others are exploring inside the convention, the other ones, as mentioned in the last paragraph, are just forming something like a camp or shrine and they all gather there. Example of this was building a Nesoberi Plush wall or mountain (characters can be from LoveLive!, BanG Dream!, etc.). But wait, I think they can already make a booth there because they were occupying a vacant space, yet they weren't paying them! Maybe I can rent a booth space if I have more money, just for the sake of promoting my photo works in my Anime figure photography page.
Some booths host contests (i.e. on-the-spot art/drawing contest, Gunpla building contest). Of course, they inform fans in the social media ahead of time when that contest shall be held and on what event/place.
And lastly, my highlight here was this contest or championship. In the above picture shows the Cyalume Dance World Battle stage. Somehow, this serves as a qualifying contest for the world championship to be held in Japan next year.
What is a Cyalume Dance? Familiar of Wotagei, or the term in which you do dance moves with the music by wielding rapidly your cyalumes with your hands? To find out more about this, you can find some in YouTube by simply searching some keywords, like 'wotagei' or 'cyalume dance'.
There are other things I did not have time exploring, such as the live concert, since they were did during the evenings, before the event closes. Not only I don't have enough money, but I also consider the travel distance between my destination going back to my home. Maybe next year, or sometime in the future, I can cover everything that I see and I write them here!
Summary
The Cosplay Mania 2018, according to my friend of mine, is the lit event of the year. Since it has celebrated its 10th anniversary this year, this was considered to be the biggest one alive.
There are lot of things to explore in this convention. First, the booths, which they have various items there, such as Anime figures, merchandise, accessories and apparels, on-the-spot contests, and more. Second, they have contests there, like the Cyalume Dance World Battle qualifying championship. And lastly, but not the least, the live concert. The live concert was the only part of the event that I didn't have time to explore because of the time and money that I have currently.
Of course, you do not need to spend your precious earned money for a lot of things there. In other words, do not hoard to much. Just buy only things that you really need — things that you can use in your everyday/daily life.
The End
Thank you for reading, fans! I hope you have an idea now what can you explore inside! I hope by next year, I can completely experience exploring something more like this event, the Cosplay Mania. Cheers!