School Idols Are Your Little Sisters
This review post may contain visual and contextual spoilers. Please read at your own discretion.
Don't know on how to watch or stream this Anime show? Then check out my streaming guide page for more info!
Overview (Story)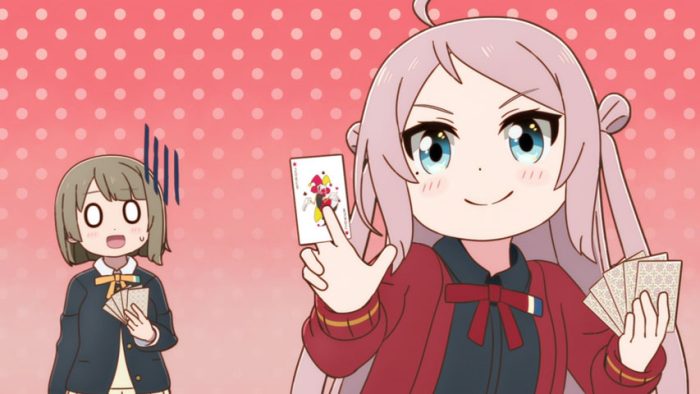 The Nijigasaki girls are playing their own card game, until Lanzhu comes in and wants to play with everybody.
Shizuku and her pet dog, Ophelia, has met with Haruka and Kanata at the beach grounds while they are on their stroll.
Also, the girls did their mini competition on who could be the cutest of them all as School Idols! Of course, Kasumi doesn't want to lose herself from the contest!
Review
Review time! Just doing that usual three-Episode rule, so that it won't be short when I write Episode Reviews about this!
Going with the story flow first… The first Episode (EP7 "Lanzhu and Joker") shows that a person can really join with other people, if he or she really wants to. Given if their "mutual interests" had brought them together, surely, they will go for a "bonding session". It seems that Lanzhu is also an expertise when playing some traditional playing cards (With the Ace, Queen, King, and Joker, and so on), in which I had never seen it before in my own experience. Somehow, references from the old "Side Stories" from the closed game, LLSIF, can really explain it to the viewers on how to play with these traditional card games (Whether Old Maid, or even some single player games like Solitaire). And also, the infamous "old LoveLive! Episode" was somehow used as a reference here, and Ayumu is just doing it the same as Kotori Minami, picking a card where Umi loses in no time, due to her funny expressions! But then, the reference from that old LL! Episode was just only a twist, where Lanzhu did really "fake" her facial expressions in order to fool out Ayumu — Surprisingly different from Kotori versus Umi card game.
Episode 8 is only four characters (1 dog animal), and the entire end-credit cast names, as usual, are still included, though not all of them are present in that Episode. Anyway, not that important. Also, in that Episode, Haruka Konoe is included this time as a guest character (She was present in both First and Second Seasons of the original Anime). It really shows that people are very well in "good terms" if their mutual interests and feelings do intertwine. Also, the development relationship between Shizuku and Haruka did really exist here, only in the Nijiyon Series (Both comic and Anime). I can say that Shizuku and Haruka are well suited to be bearing the "sweet sister" titles. And as usual, Kanata did only nothing, but to sleep with Shizuku's dog, Ophelia. Oh man, am I sensing some parody doujin here soon enough already? Though I know that Ophelia is a female dog (The "B" word), but something bothers me. But no, I don't need to elaborate this further.
Finally, the third one, "Sister King Decisive Battle" (In some are Bestest Sister Tournament), is just really my own expectation. Because School Idols are always there to cheer for us, whenever we are down, we can say that they exist to be adored. What does this mean? Yep, and it is really obvious that my character here said, "School Idols are just like my little sisters." Yep, that's the quote! School Idols are just like our own little sisters in a family. Therefore, we should treat them with love, affection, and care. And that is, because they are always at our side. All of the girls are really, equally cute and beautiful, and I can't even deny that fact. And then, all of the girls are really focused-fire on the girls of R3BIRTH (Shioriko, Mia, and Lanzhu group), calling them darn cute, and as little sisters. Who's the cutest of them all Nijigasaki girls? Of course, we people do really have different preferences with the girls — on who's the best, cutest, and… sexiest. And who's not.
Overall, except the 7th and 9th Episodes, I had learned something. I have learned that having mutual interests can really put us together in one boat. It doesn't matter with your ethnics, religion, and so on. So as long as you keep them in between, and you are all in good terms of each other. Nothing else to learn from the rest of the two, since it is just purely for literature and entertainment stuff of lessons. In other words, only Episode 8 is quite interesting, for me.
For the entire Episodes 7 to 9, it can be an overall bad. In the sense that time is totally wasted by just telling some useless topics that not many people can learn something about, and has no relation with the "School Idol" stuff.
My Rating: BAD (1.9/5)
Series Info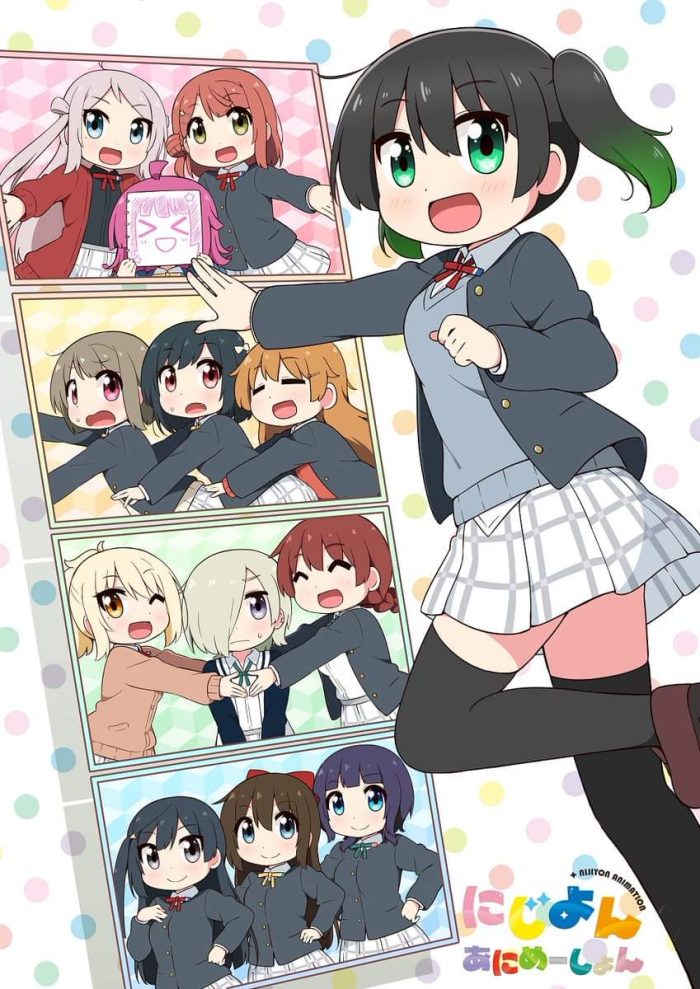 This Anime shorts was based from LoveLive! Nijigasaki High School Idol Club, and its four-panel comics counterpart of the same title, Nijiyon. It is being streamed on its LoveLive! Series Official YouTube Channel (Japan only), and on Crunchyroll (NA/US only, about at least 1 hour from the original broadcast schedule).
Series Info | Episode Reviews Archive | Streaming Guide