EPISODE 20: Gacha Games
Disclaimer and Reader Warning
All actual real-life people, places, things, and events were having their names replaced with something else. So that in order to protect the privacy, integrity, and rights of those things mentioned in this blog post series.
Some phrases and/or paragraphs may trigger an individual, group, or ethnicity. And some parts of this blog post series may contain profanity, which is not suitable for young readers and audiences. Viewer and reader discretion is advised.
---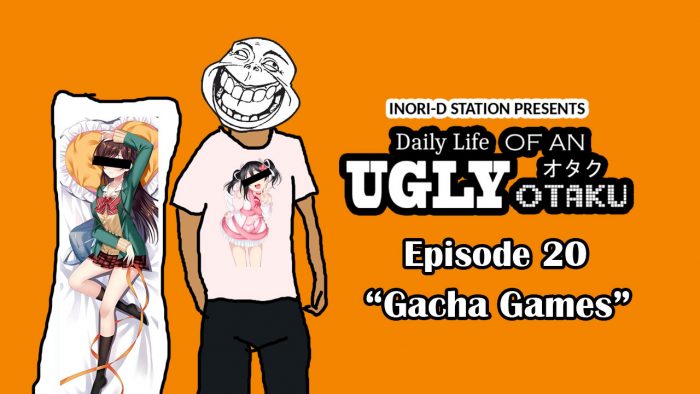 Hello! This is Slob! I am your usual Ugly Otaku! What's up?
Today, we shall be talking about some topics — Of what a usual Otaku does!
Did you know that aside from spending your hard-earned money for some expensive things, we are spending our money "electronically" via our smartphones? For what reason?
It is because of a new trend in every F2P (free-to-play) games, where your luck is being tested! It is none other than the Gacha Games!
Gacha Games are really money-hoarders in every free-to-play games. Simple. You just have to draw something from the banner — like that featured character! In some occasional cases, a player fails to draw the featured character, and he or she is sad and disappointed. But did you know that there are some ways in order to draw your favorite Ultra Rare character from that game?
First is by saving your in-game currency into a certain amount. It is because the more you spend, depending on the banner, the more chances that you could even draw that featured character. Or even, by drawing at least 100 times, you are guaranteed with at least 1 Ultra Rare character (Or Six Stars character equivalent). And that can be addicting because it is just like "simulated gambling", where you are betting everything on the line.
In the sense that it is a simulated gambling feature, it might require you to shell out some real cash in order to draw something better from the Gacha Game.
And then, what are the perks of drawing an Ultra Rare from the Gacha? Something that you can flaunt to your friends and rivals? Something like an Ultra Rare card with a character's autograph, or even drawing an Ultra Rare which is more powerful than a regular Ultra Rare card? Yep, something like that. In fact, drawing at least 1 Ultra Rare can be your first achievement here, especially if you had just started playing that game.
How to consider yourself as "lucky" in Gacha Games that you play? Of course, if you can draw at least two (2) or more Ultra Rares from your single multi scout or draw, then consider it as "extremely lucky". And then, consider yourself as extremely lucky, too, if you managed to draw that Ultra Rare character for the first time with a "soloyolo" scout or draw.
Of course, there are times that you can be "unlucky" whenever you can't draw any Ultra Rares from the Gacha Games that you play. Of course, you can draw some random Ultra Rare cards that was released before, other than the Ultra Rare card that was featured in the Gacha banner. There are some occurences that you can be unlucky, in the point that you had used up your in-game currency resources, and yet still, no Ultra Rare card is coming out.
There are times that Gacha Games can be really hoarding more money from players at all. It is because, whenever people are unable to draw anything, then that's the time that they literally spend their hard-earned money in order to purchase more "paid" in-game currencies and items. And then, they are using them to draw in the Gacha banner again. That's how a typical Gacha Game works! In fact, you are really forced to spend some more real money, if there are times that you need them because you are out of resources!
Yeah, you got game!? Gacha Game! What's ya name again?
As a Gacha Gamer myself, I must learn on how to control it, and I must play and spend responsibly. It is just like drinking alcoholic beverages like beer or wine!
Next Episode!
On the next Episode, can you really figure out if that person is an Otaku… Or a Japanese Anime culture lover?
Next time, "Anime Music Playlist". See you next time!
RETURN TO MAIN PAGE BACK TO HOME PAGE