The game was published by SNK Korea since February 15, 2016.
SNK Korea (division of SNK Corporation) announced via News Release that their smartphone video game, METAL SLUG ATTACK, shall be shutting down on January 12, 2023, at 4:00 pm JST.
The team has thanked its players and fans around the world for supporting their game since its first release. And so, they are about to make some "end-game" event campaigns for the fans to enjoy until the game shuts down.
All such IAP-related (in-app purchase) item sales (Medals as their in-game currency) have been terminated as of today of this post, October 12, 2022. Players who still have these paid items shall last until the game shuts down on January 12, 2023 JST, and those were not refundable.
Sources:
SNK Korea  via Facebook 
About the "METAL SLUG ATTACK" Video Game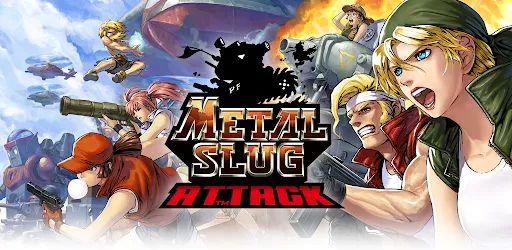 METAL SLUG ATTACK is a smartphone video game created and published under SNK Korea in February 15, 2016. This video game is playable on Android and iOS Devices, and the gameplay is of Tower Defense genre.
METAL SLUG ATTACK is based from the popular video game series, METAL SLUG.
METAL SLUG is a video game series created by SNK Corporation, and its very first video game has been appeared since April 19, 1996, as an arcade game system.
The gameplay of the original arcade video game series takes the role of two soldiers, who are in the mission to take down the group of enemies and terrorists along the way. During at their course of their mission, they could control the tank-like machines, known as the SV-001 and SV-002 vehicles, where it could allow the players to have more firepower than using melee and gun weapons alone.
The video game series has released over 15 different games under its series title, which also included versions which were released in both Japan, Korea, and in Worldwide.