Includes at least 5 upcoming streams
LoveLive! team and its respective games announced the format and the program schedule of their upcoming major festival event, which focuses on the School Idol Festival rhythm game and ALL STARS. The title of their event is SIF Series Thanksgiving 2021. This thanksgiving event is only done and celebrated once per year, just as similar to other countries who do expos and conventions.
? #スクフェスシリーズ感謝祭2021 続報!?

ミアちゃんとランジュちゃんが、キービジュアルとグッズに登場!

さらに、内田 秀(ミア・テイラー役)と法元明菜(鐘 嵐珠役)がそれぞれステージに出演決定!

詳細は本日更新された特設サイトをチェック?https://t.co/E54Gs03HB0#lovelive pic.twitter.com/3t74Fkp2To

— ラブライブ!シリーズ公式 (@LoveLive_staff) September 1, 2021
The program schedule has been revealed from the official website via their Twitter account. Also, official goods are also up, and they can only be bought when you go to their on-site location where this event shall be held.
PROGRAM SCHEDULE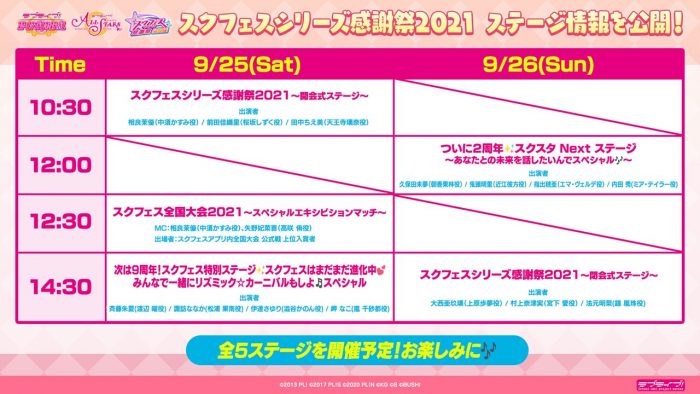 The program is scheduled for at least two days (September 25-26, 2021 JST), and shall be divided into five, major livestreams (stages). Referring from the embedded Tweet above, the schedule is as follows:
Day 1 – Part 1: Opening Ceremonies
Time: September 25, 2021, at 10:30 am JST
Hosts: Mayu Sagara (voice of Kasumi Nakasu), Kaori Maeda (voice of Shizuku Osaka), and Chiemi Tanaka (voice of Rina Tennoji)
Notes: They shall be talking about some stuffs and things on what people can expect to encounter during the program or in the succeeding parts of the livestream or program.
Day 1 – Part 2: LLSIF Championships 2021 -Special Exhibition Match-
Time: September 25, 2021, at 12:30 pm JST
Hosts: Mayu Sagara and Hinaki Yano (voice of Yu Takasaki)
Notes: Exhibition match featuring players who qualified for the national tournament (championship) qualifiers (Only in the LLSIF rhythm game, where qualifying players must clear the Master Class in the Performance Class Mode in order to qualify for the championship qualifier).
Day 1 – Part 3: To the 9th Anniversary! LLSIF Special Stage -SIF keeps evolving!- Our Rhythmic Carnival will be a Special One!
Time: September 25, 2021, at 2:30 pm JST
Hosts: Shuka Saito (voice of You Watanabe), Nanaka Suwa (voice of Kanan Matsuura), Sayuri Date (Kanon Shibuya), and Nako Misaki (voice of Chisato Arashi)
Notes: Since the date is falling on a weekend, there is Rhythmic Carnival! Be sure to have your game (LLSIF) open and ready, since they shall be hosting a Rhythmic Carnival play during the stream! Are you fast enough to input the Private Match ID and be the first 100 people to get in? Also, continue to tune-in to that livestream until the end because they might announce some major upcoming updates to the game! This might be the glimpse to the game's 9th Anniversary in March, next year!
Day 2 – Part 4: The 2nd Anniversary: SIFAS Next Stage -A Special Talk with You and the Future-
Time: September 26, 2021, at 12:00 pm JST
Hosts: Miyu Kubota (voice of Karin Asaka), Akari Kito (voice of Kanata Konoe), Maria Sashide (voice of Emma Verde), and Shu Uchida (voice of Mia Taylor)
Notes: They might announce some upcoming major updates and contents which shall come soon in the game. Also, they might preview some info about their future milestones for the game! And… Expect something like the new URs of the newly arrived School Idols, namely Lanzhu and Mia! Look forward into that!
Day 2 – Part 5: Closing Ceremonies
Time: September 26, 2021, at 2:30 pm JST
Hosts: Aguri Onishi (voice of Ayumu Uehara), Natsumi Murakami (voice of Ai Miyashita), and Akina Homoto (voice of Lanzhu Zhong)
Notes: Though it's about a livestream of their closing ceremonies, and special thanks, be sure to still tune-in until the very end for some major announcements!
Right now, these five major livestreams are now lined-up, and they are already scheduled to live on some streaming platforms, mostly on their official YouTube channel!
From: LoveLive! SIF Series Thanksgiving 2021 Website via LoveLive! Series Twitter