LoveLive! Series' School Idol Musical debuted in December 2022
LoveLive! Series announced that their stage play brand, the School Idol Musical, is going back for more stage performances in August 2023. Their upcoming stage performance shall be held at Nippon Seinen-kan Hall, in Tokyo, Japan, this coming August 3-6, 2023 JST. This all-new stage play shall feature a "tour version" of this musical.
ANN also reported that the current cast of the School Idol Musical shall be having the other actresses to be replaced.
Currently, the stable cast are:
Marina Horiuchi as Rurika Tsubaki
Yūna Sekine as Anzu Takizawa
Nanami Asai as Yuzuha Sumeragi
Mizuki Saiba as Misuzu Wakatsuki
Julia Ann as Yukino Hōjō
Sana Hoshimori as Toa Kurusu
Rina Koyama as Hikaru Amakusa
Minami Satō as Maaya Mikasa
Ruri Aoyama as Sayaka Harukaze
Rena Suzuka's actress shall be replaced by Mayuri Suzuki, previously played by Ibuki Mita.
Former top Takarazuka actress Yuki Aono reprises her role as Madoka Tsubaki, Tsubakisakuhana's chair and Rurika's mother. Sayaka Okamura also reprises her role as Kyōka Takizawa, Takizakura's chair and Anzu's mother.
About LoveLive! Series SCHOOL IDOL MUSICAL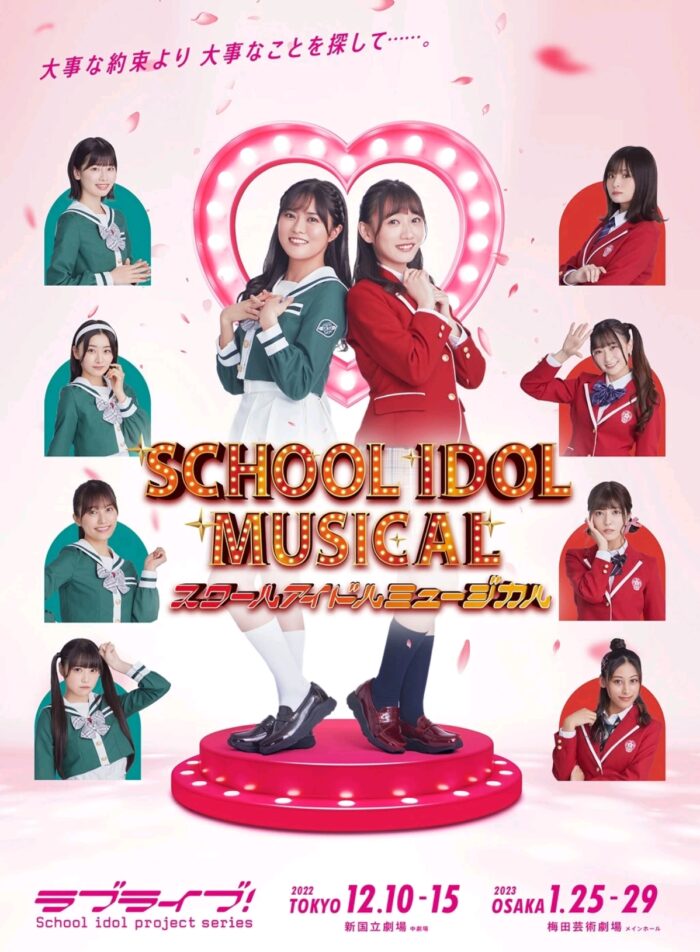 School Idol Musical (スクールアイドルミュージカル) is a musical stage play event that was held in New National Theater in Tokyo from December 10-15, 2022, and in Umeda Arts Theater in Osaka from January 23-29, 2023. The series was directed by Kouki Kishimoto, and music was done by Ryota Kojima.
The musical features an all-new story, setting, and characters, and centers on students from two legendary schools in Hyogo and Osaka. Takizakura Girls Academy in Osaka has a school idol club, with select members from its performing arts track, that it has successfully marketed into a brand. Tsubakisakuhana Girls High School in Hyogo boasts a stellar reputation in college acceptance rates. The daughters of both schools' respective chairpersons are rivals, and lead their respective schools' school idol club.
School Idol Musical debuted with their first album song and single, titled as Mikansei Dream! in December 10, 2022, with different version variants from Tsubakisakuhana to Takizakura. The songs are also playable in the LoveLive! School Idol Festival 2: MIRACLE LIVE! video game.