Maybe because of a typo error?
It has been reported that the one of the members of the next-gen School Idol group, Keke Tang, has her birth date changed at their official profile.
[Liella!] It should've been Keke's bday today. But staff decided to change it to the 17th after the 1st reveal.
Bday tweet for Keke has been moved to the 17th

— Love Live! Wikia (@LL_Wikia) July 6, 2021
To those who weren't aware, this was taken from the July '20 volume of the LLDays magazine pic.twitter.com/UUA0Oz2Dyc

— Love Live! Wikia (@LL_Wikia) July 6, 2021
According to the latest Tweet by LoveLive! Wikia (Fandom website) via Twitter, her birthday was initially on July 7. This was initially revealed at the July 2020 issue of the LoveLive! Days Magazine.
But then, upon at their debut in the School Idol World, her birthday has been noticeably changed a long time ago. But then, what was the history or reason on her change of her birth date?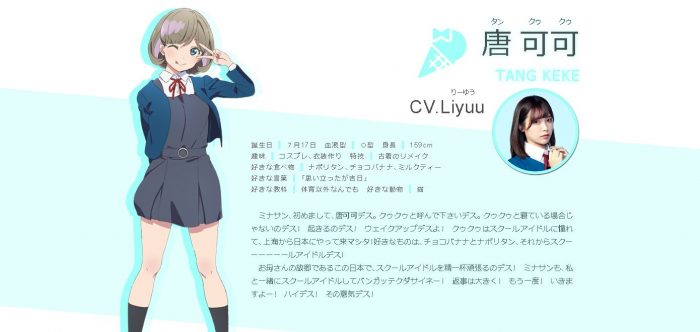 On the official website itself, her birth date has been later changed from July 7 to July 17. But then, there is a mystery behind on the changes of her birth date.
Definitely, this is not a typo error, or whatsoever from the LoveLive! Series Team.
From the Twitter thread by the LL! Wikia, you can see some replies there. (Some replies below were unedited to remain faithful from the source)
"It's becauee of the conflict between China and Japan. Since Keke's a chinese character they don't wanted to trigger anybody."
"I'm not 100% sure but there was a military conflict that was primarily waged between the Republic of China and the Empire of Japan. There was a bridge Incident on thr 7th July 1937 who started the war between them. If you want to read more abt it: 2nd Sino-Japanese War!"
According to the replies by a certain Twitter user, this is somehow in line with a coincidental historical event, in which it may trigger a certain group or ethnicity.
July 7 is also the day that references the Marco Polo Bridge Incident, in 1937, where the Chinese and Japanese forces had started war. Keke Tang's birth date was coincidentally marked into this date. Since she was believed to be a half-Chinese and half-Japanese, she is somehow representing of what was written in the previous sentences in this paragraph. So, in order to protect the respect and integrity of the LoveLive! Series and Liella!, her birth date was changed.
Keke Tang is one of the members of the Liella!, a next-gen School Idol, and she was voiced by Liyuu (also a half-Japanese and half-Chinese VA).
LoveLive! Superstar!! is expected to be aired and be streamed in Japan TV networks, and on on-demand streaming websites this coming July 11, 2021.