EPISODE 19: Movie Screening Events
Disclaimer and Reader Warning
All actual real-life people, places, things, and events were having their names replaced with something else. So that in order to protect the privacy, integrity, and rights of those things mentioned in this blog post series.
Some phrases and/or paragraphs may trigger an individual, group, or ethnicity. And some parts of this blog post series may contain profanity, which is not suitable for young readers and audiences. Viewer and reader discretion is advised.
---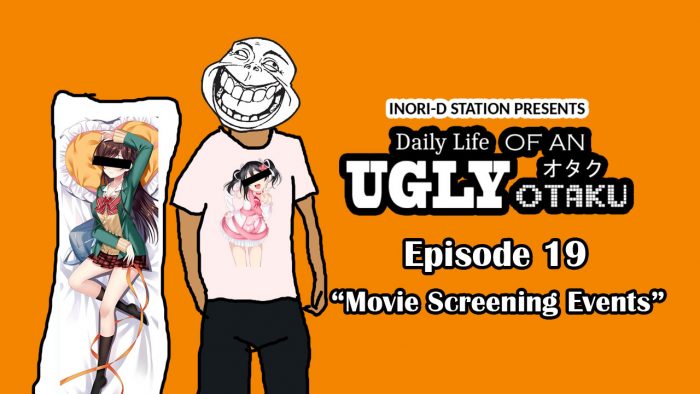 Hello, Otaku peeps! This is me, Slob! This is your Ugly Otaku speaking! Yeah, and of course, the page views of the previous Episodes don't really count, no matter how many I write, and that's sad.
Anyway, how about we go on to the next one! It is about movie screening events! Have you heard something like Fan Screening or some equivalent words? Then, this is something that we are going to tackle and discuss about!
Whether Anime, or any genre, movie screening events can be anything. Actually, they can be some "Delayed Live Viewing" or DLV screening events! But then, which one is more popular? It usually depends on the amount of fans in that fan base.
Movie screening events can be expensive, depending on that movie or film. And then, it only goes expensive and costly, due to the noted amount of "freebies" given during that fan screening event. Finally, these kind of fan screening events, especially Anime, are more likely to be sold out in just few minutes or hours, depending on that Anime series or movie.
So then, what are the perks when you go to a movie screening, which appeared to be a fan screening, or a DLV event? First, you could get to meet some new friends here, especially when you are in the same universe as them. Second, You could get some "limited freebies", in which they were imported directly from Japan, or any country. And third, though expensive, you could get to explore more of that Anime series, whenever you haven't watched or seen it yet!
And then, there are some things to note here, when there are movie screening events like these. Firstly, if there is a "CAMRIP" version of that film or movie, just months before the screening date to that country, the people are just be tended to watch that ripped version instead. What happens afterward? Of course, more and more people are likely to be decreased in going to the cinema. For example, that XYZ Movie is released originally in December 2020, and the fan screening of that movie is on February 2021. When the CAMRIP version of that XYZ movie has appeared in some download and/or torrent sites before the fan screening date, then this can be a problem already.
Basically, what I have learned is that whenever there is a delay in the releasing of that movie (also in Anime shows) on that region, people are resorting themselves into illegal downloading and torrenting, which is basically one of the reasons why people do pirate Anime shows online. One-hour delay? Two-hour delay? Irregardless. And if that show or film is not available in your country, you are resorted to illegal downloads and torrenting. That's it.
Just remember that in order for some artists (and some Anime series that we follow) to make more Anime shows and movies for us, then we just need to support them. Support them by buying their official merchandise, as well as buying their official home Blu-Ray and DVDs!
And this is Slob. Over and out.
Next Episode!
How about something that some Otakus do really play them, but hate it due to the playing mechanics? Something like "Free to Play", yet "Pay to Win"?
Next time, "Gacha Games". See you next Episode!
RETURN TO MAIN PAGE BACK TO HOME PAGE