EPISODE 28: Tarot Card Prediction
Friends and rivals may work and win together. But sometimes, they clash at each other to see who's the best.
The Idol Chasers are currently facing this new enemy in the darkness. This rival in the darkness is hopping from timeline to timeline, and their disturbance is the reason on why did they want to stop them.
This known enemy group, or likewise, the enemy in the darkness, who shows hatred towards School Idols, are called as… the Black Lace Ribbons.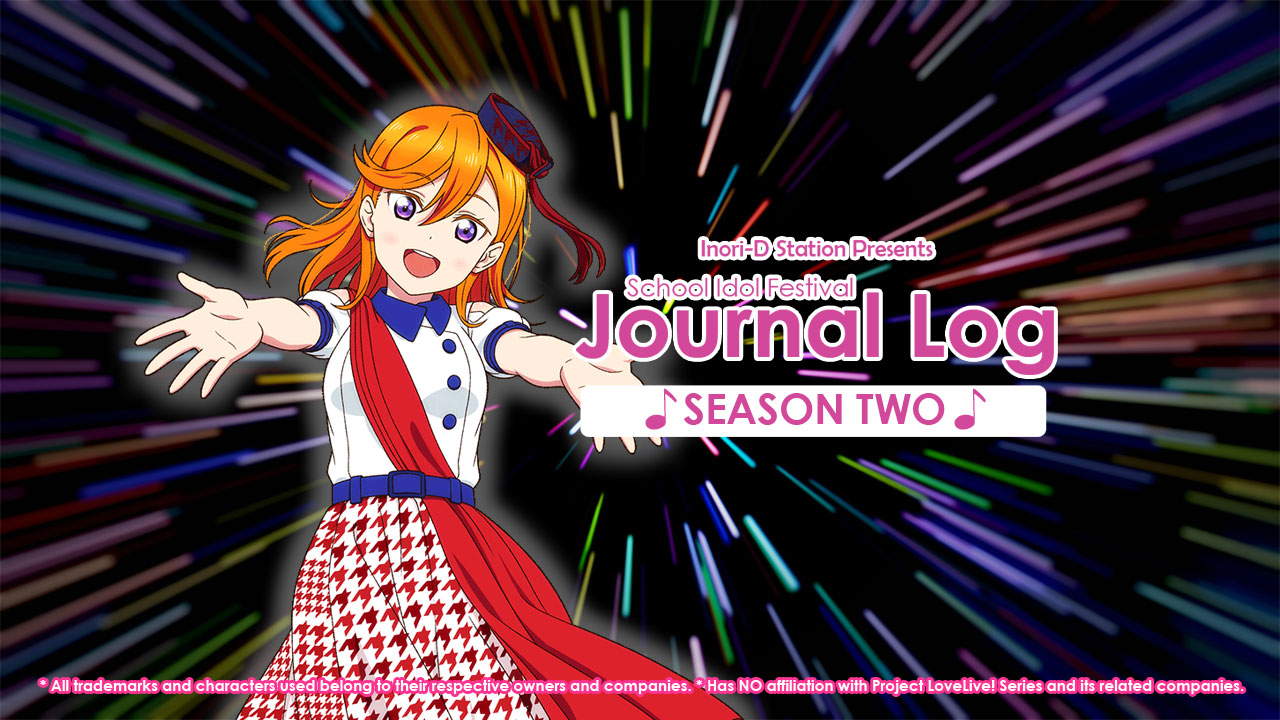 STORY EPISODE
It seems that Chiharu and Aika have done everything that they could in order to have their appeals outstand their 100th Session Rival, who is Inverse Lierre. The Session has ended, thus ending both of the parties in a Draw.
"It seems you are well growing stronger with your own companions, my other self," said Inverse Lierre.
"That Session match was great, though," said Lierre to her. "I think my girls just need to train themselves more."
"Really? Basically, just doing your own best is still not enough!"
"So as long as my companions are with me, we could overcome any odds."
"Is that so? Have you forgotten that I created this Live Arena Tower? Which means, I can control everything according to my wishes!"
"What?"
"For now, it ended in a draw. No matter how skillful you are, the Total Emotion Points that you can get is just proportional to my own Emotion Points!"
Takayoshi got surprised and said, "Hey, that's unfair! And call it cheating by the way!"
"What the?" asked and said Sho. "Does that mean Aika and Chiharu had already won? And that dark idol just manipulated everything?"
"Well, call it a desperate move," said Komari. "I guess it's time to —"
Inverse Lierre has decided and said, "Well, I guess I have to let you guys go for now. In fact, this Parody Universe that you are in is very pointless to be stayed for now."
And so, Inverse Lierre used a digital tablet book, which is somewhat similar to Lierre's Digitariel.
"Self Destruct. Teleportation." She then activated that system, and she sent the Idol Chasers back to their original world.
And now, the Idol Chasers are back inside the maid cafe, in the Idol Chasers HQ.
"Whew, that mirrored Lierre is somehow the worst!" said Chiharu.
"At least, we are all returned safe here," said Aika.
"It seems we already know that she is behind with the cases on why are the people have gone missing when they became undecisive!" said Takayoshi.
Suddenly, Saki enters the room.
She said and asked, "Oh, it looks like you are all back! Did something happen while I was gone?"
"Mom!" said Takayoshi. "I was about to ask you that question! Where did you go last time, and I was looking for you everywhere!"
"Huh? Don't worry! I just went to a market buying some ingredients for our restaurant foods!"
"Oh, thank goodness…"
Lierre then joins and said, "It's a long story to tell, Saki. And it seems that I had found the true person who is behind in attacking and changing Riko Sakurauchi into a guy."
And few minutes later, Saki and the Idol Chasers are all in a briefing in their meeting room.
"I see…" said Saki. "So that's why I got transported also in that strange Parody Universe earlier."
"Good thing you were safe and sound, Mom!" said Takayoshi.
"Thank you. Now I know that Mikako and the Black Lace Ribbons aren't really just our enemies here. But then, the other self of Lierre should be the one to watch out for here! I also know that she can be a dangerous threat to us!"
"Now, we know! It seems that she will surely attack us without any warnings. It is better to be prepared rather than nothing!"
Lierre then talks to Saki and asked, "You said earlier that you got transported to the Parody Universe created by my other self, right?"
"Indeed," replied Saki. "In fact, I had met a School Idol when I got transported there by myself."
"A School Idol? Who was she?"
"That's right, Lierre. She has talked to me about of what could be my own future. And she is using her signatured tarot cards."
"Tarot cards? Hmm… Maybe I know this School Idol."
"Her name is Nozomi. She also told me that you guys shall be meeting her in the near future."
Chiharu finally jumps into the conversation with Saki and Lierre, and said, "Nozomi! She was one of the members of that Legendary School Idol Group! That's right, she was along with Honoka!"
"Oh, that girl? She has never changed her habits since then. But then, her cute innocent voice is just keeping me to be turned on, somehow."
"That Nozomi… She can almost predict everything, which included our futures! I can tell that she is like a goddess with a third eye."
"Well, she told her that we could get to meet her in the near future! We can definitely find and meet Nozomi when the time comes!"
Lierre got a call from Rika Kamiya via her Digitariel. She answered it and she understood.
"People, I shall be back in a while for a few moments. Just wait here." said Lierre and she teleported away.
At the time that the Idol Chasers are waiting, Sho and Komari are talking about something.
"Well, it looks like I have already learned something new in our mission."
"What have you learned, Sho?"
"I have learned on how to become… responsible in making decisions in life!"
"Oh, is that it?"
"But then, I remembered that time when I got scolded by Ma'am Kitagawa herself!"
"Yeah, and don't ever do that again without any consent!"
"I am just only wanted pleasure, and I wanna see Yohane-sama's true beauty!"
"I see… So you really loved Yoshiko Tsushima that much as you even could?"
"Well… Umm…. The truth is…"
"Yeah… I understand now. Sometimes, you can't even control your own pleasures without even you noticing! But then, that's even normal! However, you should already know the consequences if something happens to her because of your irresponsible actions! And when that happens, you would never be able to see your Yohane-sama ever again on the stage along with Aqours!"
"I understand. Sometimes, my own infatuation for her has limitations. And I have my own limitations, too."
"Well, if that's the case, then I can be your first friend, from now on."
"Komari… Then, I can be your first friend, too!"
"Yeah! For now, let's talk and share something about our own mutual preferences!"
"Something like… What do we want to talk about?"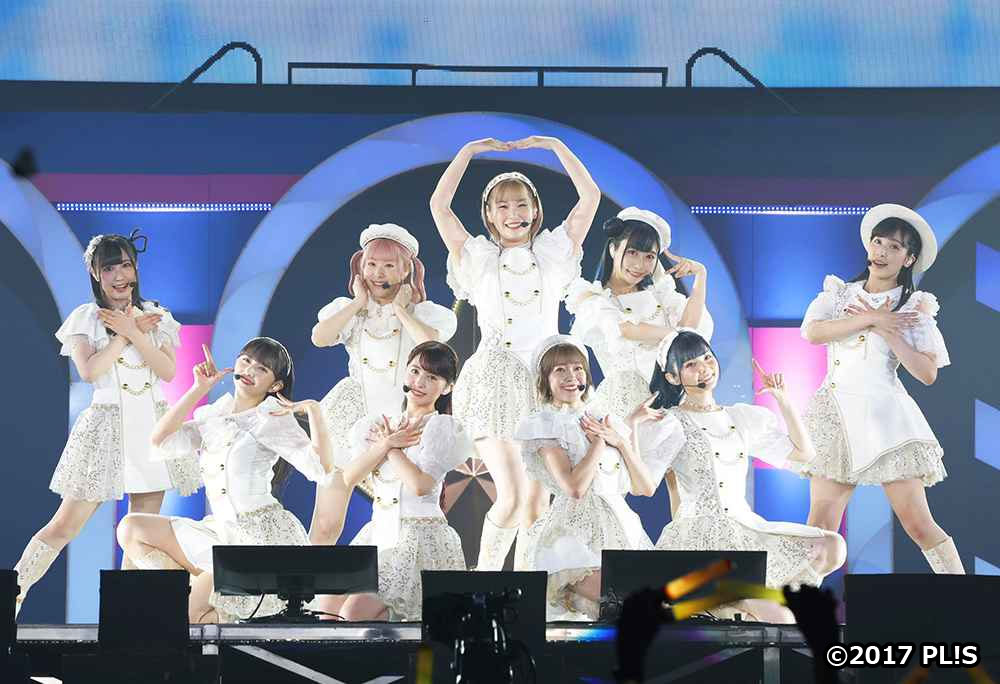 HEADLINES
We are in an another Episode where everything is a mystery! That's right! We are unravelling the mysteries behind with the LoveLive! and the School Idols (Just like a detective in the woods)! Whoops… Just kidding.
Speaking of the news and updates (and that new strain of COVID-19 variant again), what are the things which were spotted recently in the School Idol Universe in this week? Check 'em out!
μ's UPDATES
Happy Birthday, Honoka Kosaka!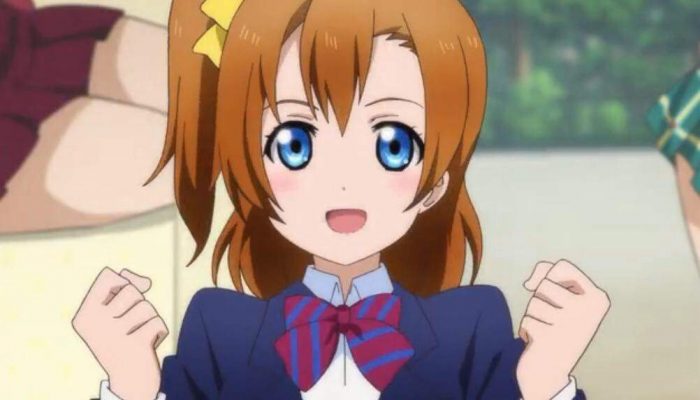 Well, it's her birthday last August 3rd! I am going to tell them to her on what I feel!
Dear Honoka,
It's great to have you as my School Idol Companion — in my endless journey in your own world. I have learned a lot of things, especially when it comes to your make-your-dreams-come-true stuff, and some other inspirations that also helped me to do other things, like that sewing some small clothes for my small Anime figures! It's also great when I see you together along with Chika Takami.
Thank you for everything. Because basically I would be really staying in the LoveLive! Universe even more because your sea of dreams are endless. I hope that you should be also giving your cheers to the Idol Chasers, just like me! We shall be keeping to support you, and to love you until the very end!
Happy Birthday, dear Honoka Kosaka! We fans love you very much!
Aqours Updates
Happy Birthday, Chika Takami!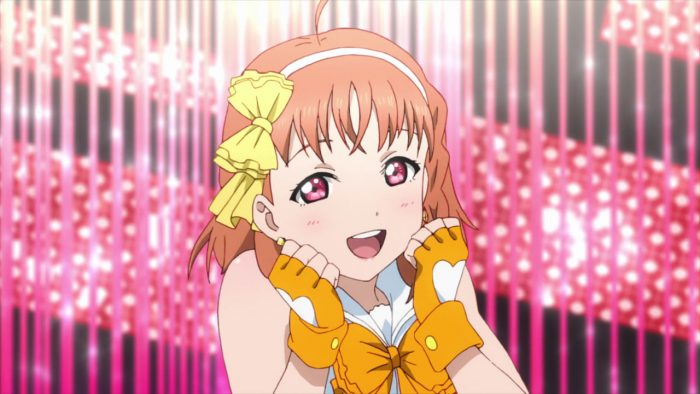 Yeah, a Happy Birthday to my best School Idol! I am going to tell them on what I feel!
Dear Chika,
I have known the LoveLive! Universe — It's all thanks to you for letting me enter your own world. And because of you, I have also met Honoka, your true predecessor.
How does it feel standing on the top? Now that you have reached the farthest dream that you can reach, I am really sure that Honoka is really proud of you. I am also proud for your lifetime achievements, in which they can be written in your history books, forever. Anything more that I can say? Whatever the future or situation is, just keep up the pace, because you were just like my little sister.
So then, I shall be continuing to journey in the World of School Idols… with you!
Happy Birthday, dear Chika Takami! We fans love you!
NEXT WEEK: Numazu Jimo-Ai Matsuri
Next week is the Numazu Jimo-Ai Matsuri Event in Kiramesse Numazu, in Japan!
And then, on Thursday, it shall be the "first part" of this Event, which is a radio show, on August 11, 2022!
And the second part of this Event shall be a two-day Live and Fan Meeting Event, which shall feature some members of Aqours, except Anju Inami (Chika). Let me remind you about this on the next Episode, while the radio show, on the other hand, shall be happening on Thursday, on the date mentioned!
And don't forget that the overseas paid live streaming has been already announced since as of a couple of days or weeks! Enjoy, otherwise, if you had bought your streaming ticket!
As this Event shall be commencing next week, even if Anchan is not present (due to her other attendance or schedules to other series), will you able to celebrate your Summer Festival memories with Aqours, together?
Look forward into this Event this coming Thursday, and next weekend!
Nijigasaki Updates
A Birthday Message for Setsuna Yuki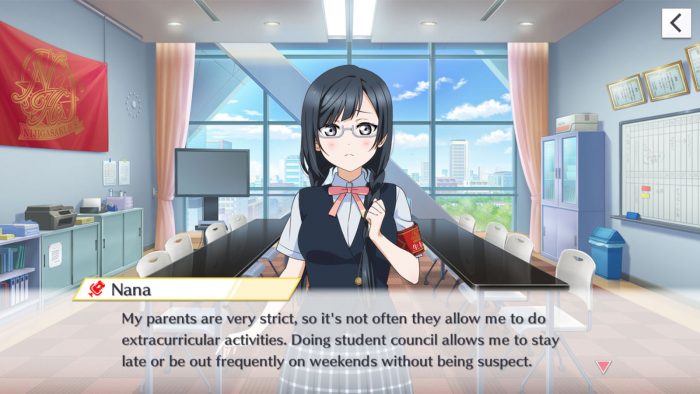 Setsuna Yuki is just actually her "stage name". Her actual name, when she was in her "student president" mode, is Nana Nakagawa. She may be both, but did you know that her parents are really strict, and she actually doing some school work and being a School Idol at the same time? She can multitask at things, and that's Setsuna Yuki for you!
Her birthday is celebrated on August 8, every year, and her voices were done by Tomori Kusunoki.
Scout on her new Birthday Limited UR (Brilliant Jewelry) on LLSIF if you are lucky enough! And you can go also on the paid box scouting, if your funds can make it!
And then, my birthday message for this girl shall be included next Episode! Look forward into it!
RECENT: Kanata's VA is Tested Positive for COVID-19
Akari Kito (Kanata) announced at her Twitter account that she is feeling unwell (Notably after her recent Nijigasaki Livestream with Aguri and Moeka).
Her talent agency, Racoon Dog, has announced last July 29 that she has took a PCR test. And on July 30th, she is declared positive with the virus.
Stay on the feed for more updates. More likely, this news update shall be outdated in the future, should Akari be recovered from the virus.
Liella! Updates
RECENT: Kanon's VA is Tested Positive for COVID-19
Last July 30, Sayuri Date (Kanon) is feeling unwell, and was unable to participate on the last livestream last weekend. Because of that, she was being replaced by Nako Misaki that time before the scheduled livestream.
Her talent agency, Apollo Bay, has announced at their website via Twitter that she is declared positive for COVID-19. Therefore, her new upcoming streams and events shall be postponed until her recovery (While for others being pre-recorded prior to her sickness).
This headline or update shall be outdated in the future, should her staff announced that she is recovered.
LoveLive! Superstar!! SEASON TWO Episode 3 Review!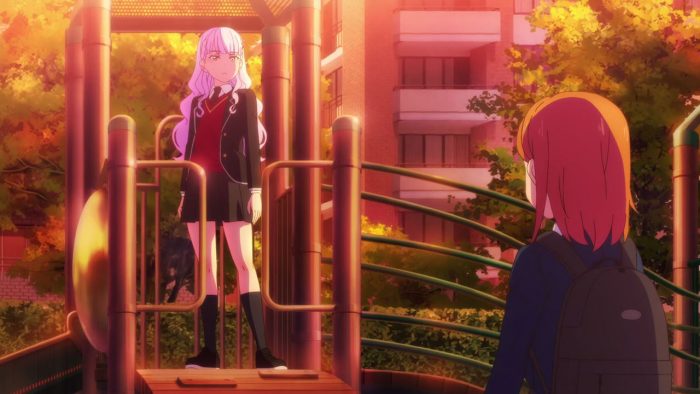 Starting in that Episode Review, there would be a new part or "extra" in my post, called the "Liella! School Idol Files"! Be sure to check that one out!
Liella! 3rd LoveLive! Tour Series Announced
Announcements followed afterward when the airing of the third Episode has been finished. It is finally announced that the Team Liella! shall be having their upcoming 3rd Live Tour Series, which shall be done in a series again, just like their First Live!
The title is Liella! 3rd LoveLive! Tour ~WE WILL!!~, and it shall be held on at least seven (7) venues across Japan, consisting of at least 2 days on each venue — for a total of 14 live shows! Yep, another history-changer in the School Idol Universe!
Stay tuned at their feeds for more info!
Official Page:
https://lovelive-anime.jp/yuigaoka/live/sp_3rdlive/ 
---
So then, we should really be careful. Nope. The VAs and School Idols should be careful with the new strain, too.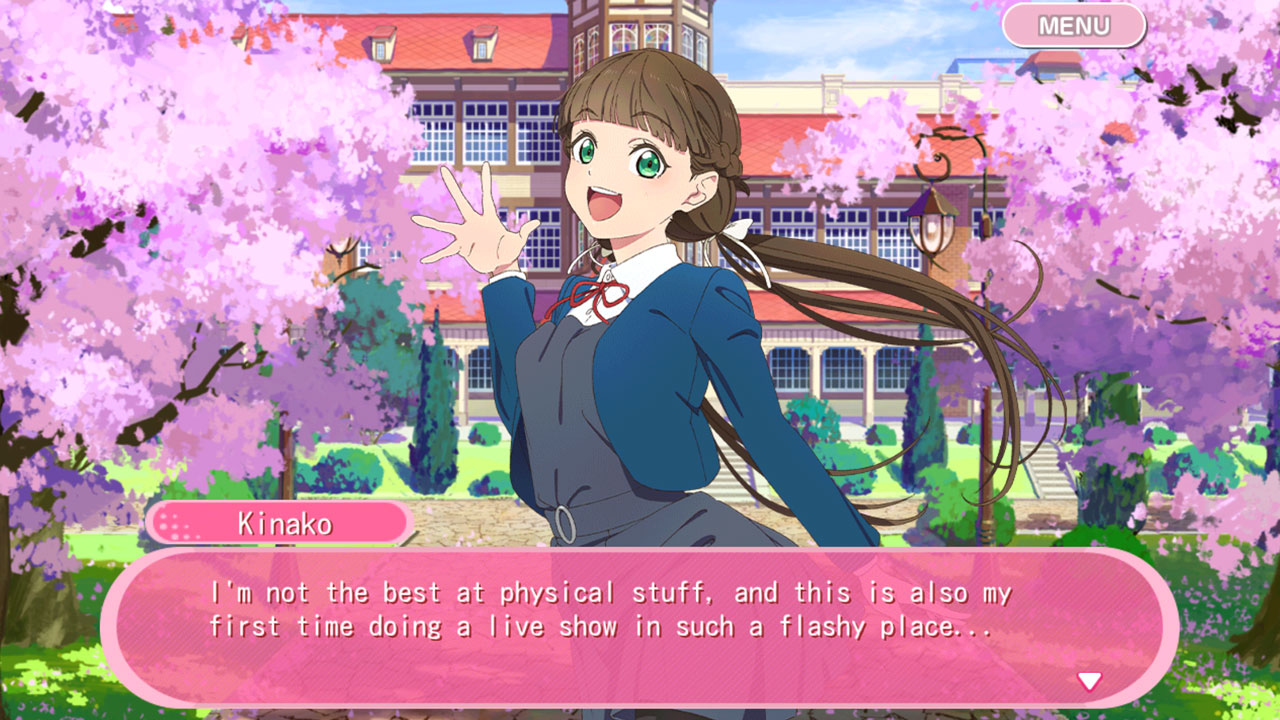 LLSIF HIGHLIGHTS
Liella! TV Anime Campaigns… Live Arena… And that Event that has started since yesterday… They are the reasons why I kept playing in this game for almost six years! And those Login Bonuses won't even allow me to break my reigning Login Streak (in my JP Side)!
So far, what are the things to look out in this Episode? Stage Start!
Round 22 Live Arena
Make sure to reach for at least EXPERT or ROYAL EXPERT Category Class in order to win Kasumi Nakasu (UR Smile) as reward, when the period ends!
Live Arena Guides and Tips here.
And also, as of this Live Arena Round, the amount of Free Daily Autoplays have been increased to 10, previously from 5.
Good luck, and be victorious!
Icon Collection: Wonderful Tea Time
This Event has been started since yesterday, and it shall be in the Aqours Side! And now, my JP Side is already on fire taking on to this Icon Collection Event! Basically, I know already on what to do, do I?
The Event UR to be obtained is You Watanabe, while Kanan and Yohane shall be acquired from Scouting! Use those members in order to drastically increase your Event Points gain! And that's not all, since those Event URs already are of G2-Tier now. So use this opportunity to hunt a particular UR, if you are really deciding to form your own Encore Meta Team!
Somehow, this shall last for at least 10 days, and after it, then I have to wait for another month for the next Event! And did I already mention it before on the last couple of Episodes, talking about the changes in Event Schedule?
And as usual, my Event grinding progress shall be talked about on the next Episode! Look forward into it!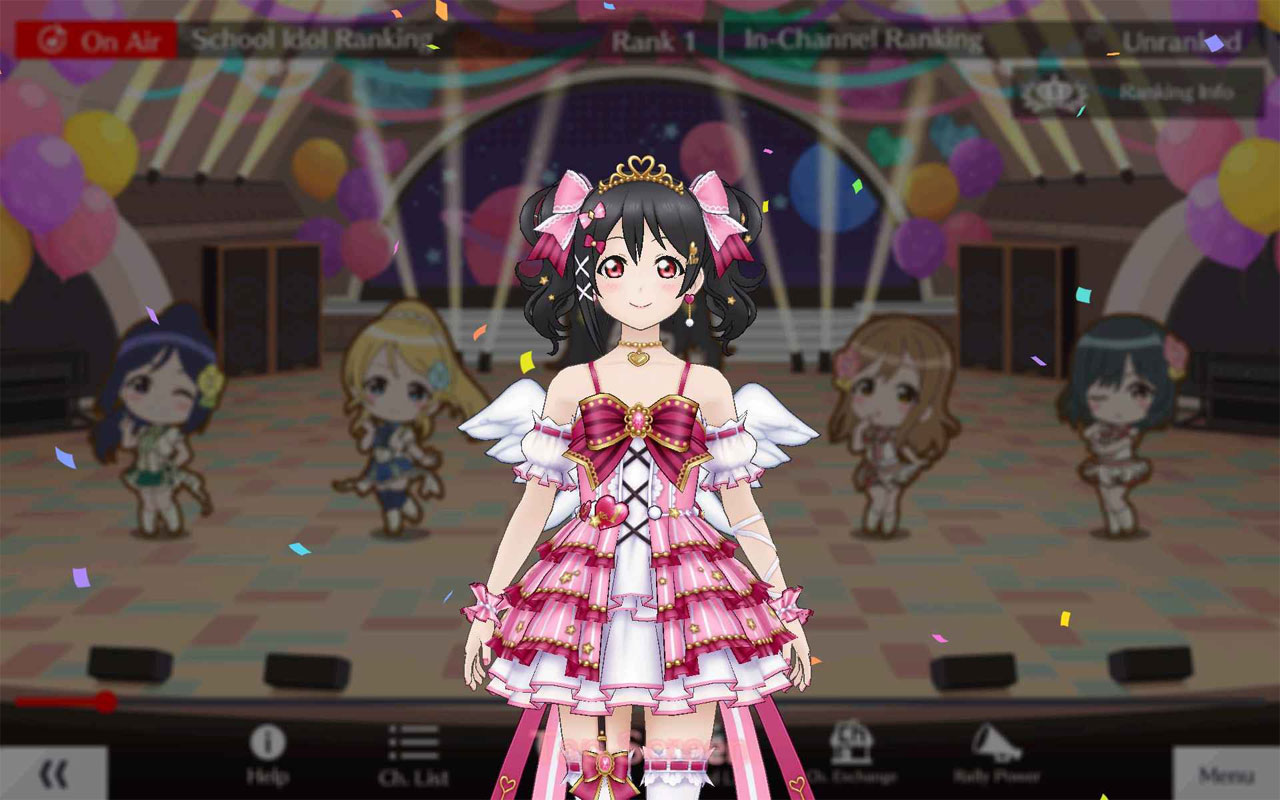 ALL STARS HIGHLIGHTS
That's it! We are almost nearing to the new Season of LoveLive! ALL STARS. Or otherwise, it is called as the 3rd Anniversary Event, where you could encounter some exciting campaigns… Like that Free Scouting, for example! And yes! We are just a month away from the celebration!
Speaking of the highlights and updates, what are the things which were recently encountered in this week on LLAS? S.I.F. !!
Round 26 SBL (Highlights)
This Event shall be ending later, and I didn't have enough time to grind along! Anyway, let's have it some details, just at the time before it is ending in a few hours from this Episode.
The featured three songs to compete on are:
(μ's) A song for You! You? You!!
(Aqours/AZALEA) Torikoriko PLEASE!!
(Nijigasaki) La Bella Patria
If you could catch up until 2:59 pm JST for the last round, make sure to play with all of your power!
School Idol Channel Weekly Bulletin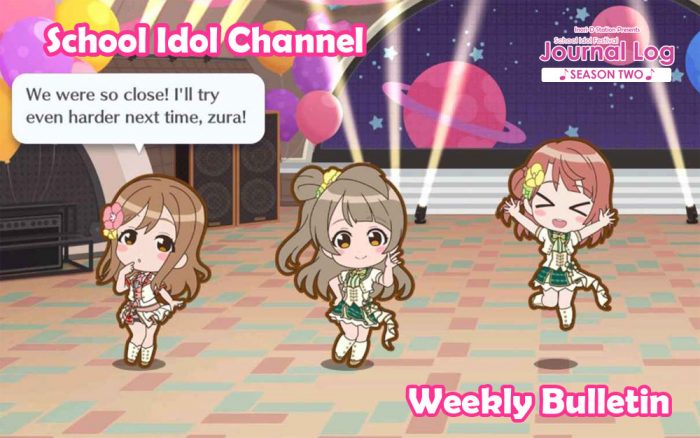 For the recent weekly channel ranking, Chika Takami from Aqours won the first place! It's been a year since she got her win for the first time within her birthday.
If you are not within Chika's channel to celebrate her win, but on a channel of the other School Idol that you love, did she make it to the top ten? Find out in this weekly tabulated bulletin below!
JP Side – #70
| RANK # | SCHOOL IDOL | GROUP | AVERAGE CHEER POINTS |
| --- | --- | --- | --- |
| 1 | Chika | Aqours | 21,871 |
| 2 | Kasumi | Nijigasaki | 5,378 |
| 3 | Ruby | Aqours | 4,460 |
| 4 | Kanan | Aqours | 4,453 |
| 5 | Shioriko | Nijigasaki | 4,369 |
| 6 | Mari | Aqours | 4,331 |
| 7 | Shizuku | Nijigasaki | 4,292 |
| 8 | Eli | μ's | 4,130 |
| 9 | Hanamaru | Aqours | 4,118 |
| 10 | Setsuna | Nijigasaki | 4,084 |
Global Side – #57
| RANK # | SCHOOL IDOL | GROUP | AVERAGE CHEER POINTS |
| --- | --- | --- | --- |
| 1 | Chika | Aqours | 14,530 |
| 2 | Kanan | Aqours | 3,944 |
| 3 | Shioriko | Nijigasaki | 3,277 |
| 4 | Ai | Nijigasaki | 3,033 |
| 5 | Kasumi | Nijigasaki | 2,929 |
| 6 | Hanamaru | Aqours | 2,714 |
| 7 | Eli | μ's | 2,628 |
| 8 | Setsuna | Nijigasaki | 2,626 |
| 9 | Maki | μ's | 2,616 |
| 10 | Honoka | μ's | 2,491 |
I placed on Chika's Channel with a Rank of 106.
So then, my best girl in Aqours has dominated in the first rank! Too bad that I didn't have enough time to grind for higher ranks in her channel due to my several house chores and… errands!
I wondered on who's going to be the next one? Honoka Kosaka should be the next top one ranker here, as predicted by me in the previous Episodes! Then, Setsuna Yuki shall be the next right after Honoka!
And that's it for the School Idol Channel Weekly Bulletin!
EXCHANGE: Sunset Summer Challenge!
This Event shall be commencing tomorrow, just after this Episode was published! And the contents of it shall be the SAME as in the JP Side.
Refer to the tabulated list below for some members to be obtained from this Event! And also, take note of the songs in the other tabulated list for some Voltage Score Rank competition!
RARITY
CHARACTER
OBTAINED FROM
ACQUISITION RATE
(EXCHANGE POINTS)
UR
Kotori Minami
You Watanabe
Scouting
100%
UR
Rina Tennoji
Exchange
30% (50% Max)
SR
Ayumu Uehara
Scouting
50%
SR
Umi Sonoda
Setsuna Yuki
Exchange
15% (30% Max)
| SONG | RECOMMENDED DIFFICULTY |
| --- | --- |
| (μ's) Bokura no LIVE Kimi to no LIFE | Expert |
| (Aqours) Thrilling One-way | Expert |
| (Nijigasaki) TOKIMEKI Runners | Expert |
Make sure to get the highest average Voltage Score among these three songs to get some higher rankings in the Voltage Scores!
And the featured song to be introduced in the future Main Story Chapter shall be Saika by DiverDiva. That song is bundled in the Vol. 4 Blu-Ray set of Nijigasaki Anime (First Season). Take time to listen to that song, while thinking of its song gimmicks in the future! And make sure to clear that song daily to get some Daily Rewards in the Event!
Progress report shall be next Episode, while the finals shall be on the other Episode! Look forward into it!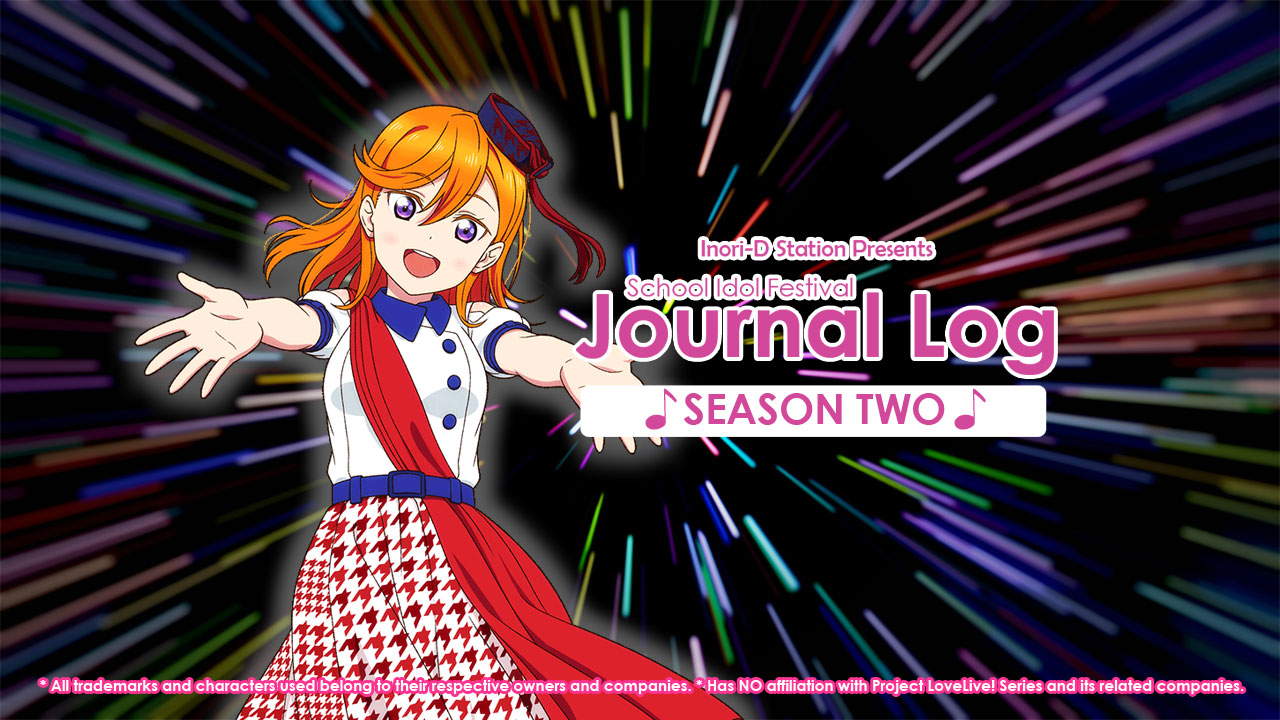 STORY EPISODE (EPILOGUE)
And finally, Lierre is back in the HQ. This time, she was with an another person, and it appears that the Idol Chasers have encountered him before.
"Eh?? Is he back for real?" asked and exclaimed Aika. "Gen Sakurauchi?!"
"Lierre!" said and asked Chiharu. "But why Gen is back here?"
"Oh man, here we go again…" said the surprised Takayoshi.
"People," said Lierre to the Idol Chasers. "He ain't the previous Gen Sakurauchi that you have been encountered before. In fact, his sanity has changed!"
And finally, the man, who is Gen Sakurauchi, said, "Idol Chasers, I shall tell you everything what I know about the Black Lace Ribbons, and Mikako Kira."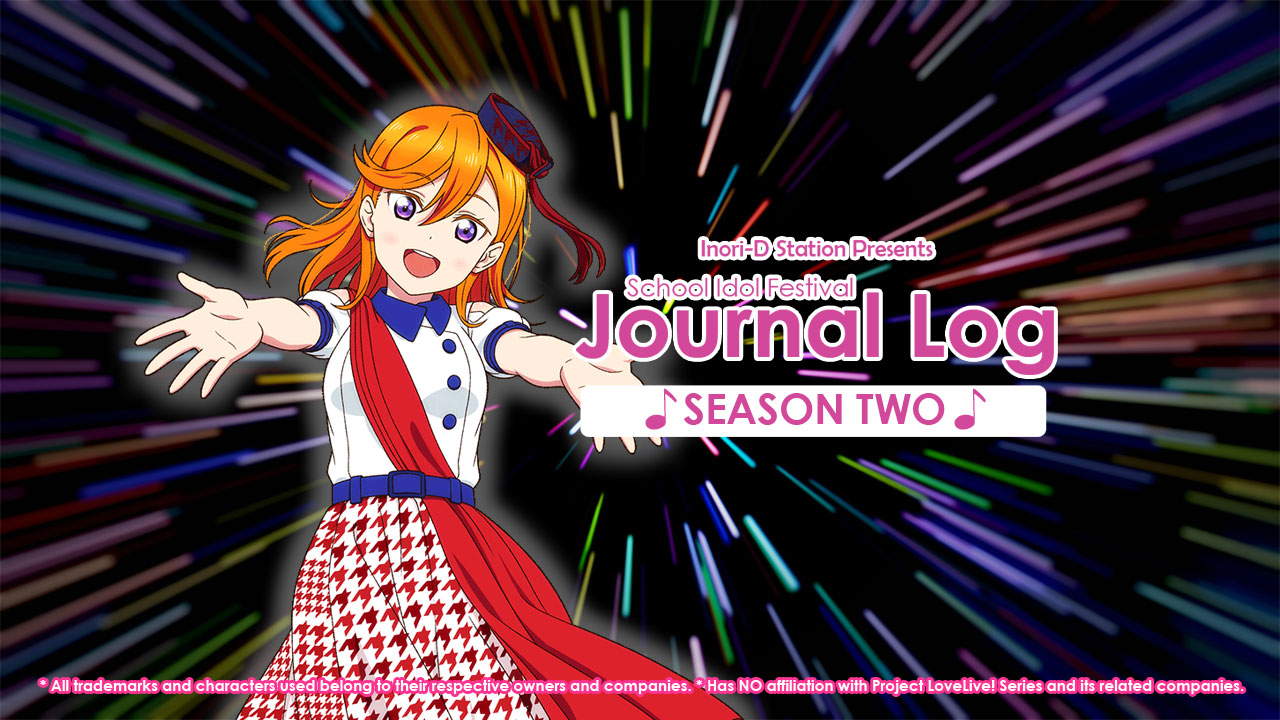 NEXT PREVIEW
Trust and betrayal. At the time before Saki Kitagawa becomes the manager of the maid cafe in Akihabara, she is a known to be a School Idol in the past. Her past stories shall now be revealed. And did you know that Saki and Mikako used to be best friends, and they run a duo-unit School Idol Group?
Next time on SIF Journal Log SEASON TWO, "Saki and Mikako – Part 1".
Now, let's make our dreams come true together!
The Bonus Stage
"Here we go, the new us!"
Will they able to find out their reason why they wanted to achieve their dreams, and win? Along with those four new girls, they are fated to perform together in one big stage.
And so, their stories still continue… In the other side of the countless stars.
LoveLive! Superstar!! SEASON TWO!
Every Sunday at 7:00 pm JST, on NHK E-TV Network in Japan!
Check your local Anime licensors per country or region for the time and availability!
LLSIF TV Anime in-game campaigns now going on!
Official Website:
https://lovelive-anime.jp/yuigaoka/ 
RETURN TO MAIN PAGE BACK TO HOME PAGE