EPISODE 22: Missing Riko
Now that Chiharu has figured out that the mysterious man, Gen Sakurauchi, is actually Riko Sakurauchi! Thanks to Tsuki Watanabe on telling her and Lierre about the incident happened.
Right now, their investigation continues, as they are heading to the Idol Chasers HQ for a brief meeting, while Tsuki joining them afterward.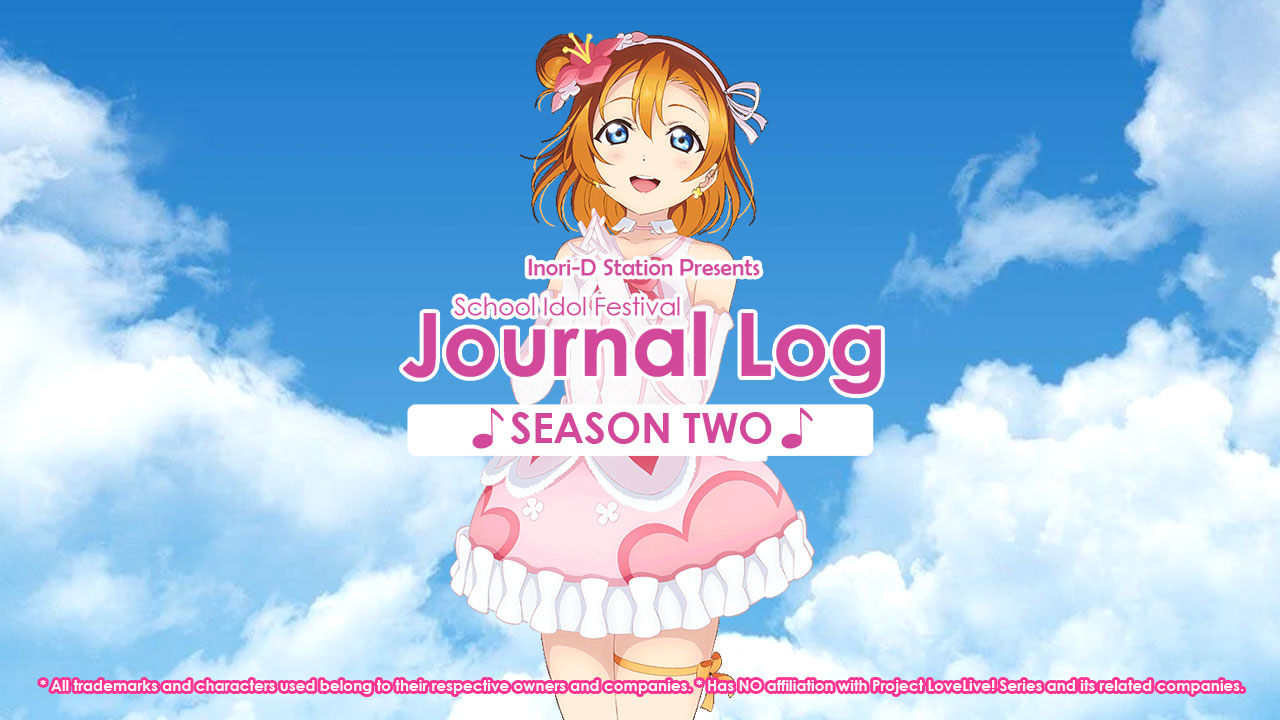 STORY EPISODE
"I see…" said Chiharu. "So Gen is actually Riko after all."
"I think I already know the one who's responsible for this." said Lierre.
"That is the only small details that I can share, so far!" said Tsuki.
"Thank you, Ms. Tsuki!"
"By the way, would you really come with us to the maid cafe for the meantime?"
"You're welcome! Hmm, maybe I should come along with you to tell your crew what has happened."
"Alright! We are going to tell this to Saki now!"
"For now, you must come along with us!"
"Alright!"
And then, the girls headed immediately to the maid cafe.
As the maid cafe is already at its closing time, the Idol Chasers, Saki, and Tsuki are all having up a meeting.
"That's right. I had heard everything from Tsuki Watanabe." said Saki to the Idol Chasers.
"So, all we need to do is to find Gen and turn him back to normal!" said Chiharu.
"Quite surprising that Gen is actually a girl, huh?" said Takayoshi.
"It's just like crossdressing a guy, as a woman though." said Aika.
"And he is claiming that Riko is his sister? How ridiculous!" said Sho.
"Knowing about the small details, I already know who's responsible for all of this." said Lierre.
"So, do you already know who's the one responsible?" asked Tsuki.
And then, Lierre replied everyone with answers and said, "It is none other than the group of dimensional evil idols, the Black Lace Ribbons."
"Black Lace Ribbons?" replied the others.
"Black Lace Ribbons is actually a group or organization, now falling under a group of Dimensional Evil Idols. And yes, they were led by a former School Idol, named as Mikako Kira."
Saki then talks to Lierre, says and asks questions.
"Mikako Kira? I know this person! She was my former School Idol Rival whom I had defeated in the LoveLive! Finals! After her disappearance 10 years after our disband, she is now back!"
"She's back, and now her hatred towards School Idols are growing up."
"I can't believe that she's doing that to Riko or to other of my fellow School Idols! This is going so far!"
"According to my history written here in my tablet, she began disrupting the flow of time by altering any scenes. Or otherwise making a parody of that original timeline itself."
"Hah, it makes sense now that we are currently under attack by my former rival's evil schemes!"
"That's right, and we are all unaware of what's happening. Maybe her next target shall be…"
Somebody enters the meeting room. It is none other than Komari Ohara and said, "It seems you guys are in trouble. Want me to help you in finding Gen?"
"Komari…" said Chiharu. "We want your help."
"It seems. I think it is now the time to fix my wrongdoings. I am gonna help you now!"
"Thank you! Please, tell us on how we could find Gen!"
"That's a simple task! All you need to do is to have one of yourselves act as a bait!"
The Idol Chasers don't have an idea on who could be acting as a bait.
"Nope, I can't even do that," said Tsuki. "Even that Gen guy doesn't really know me."
A few seconds later, somebody has decided to act as a bait.
"I shall be acting as a bait instead," said Lierre. "And I am the only person that Gen is aftering."
"Maybe that's a risky strategy, but we got no choice!" said Takayoshi.
"And now, we need only a place where we could lead Gen into a trap!" said Chiharu.
"Hey, maybe I know a place where we could catch him!" said Aika.
"Now, where could be that place to catch him?" said Sho.
Saki interrupts and said, "Guys and girls, we are receiving transmission from Dia Kurosawa of Aqours."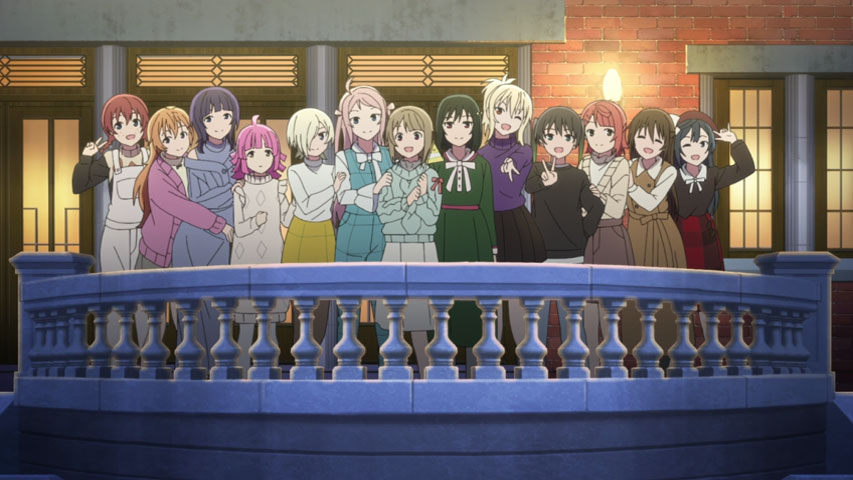 HEADLINES
The Nijigasaki Anime SEASON TWO is almost drawing to a close with its upcoming Final Episode to be aired and streamed at the few weeks ahead! But then, that doesn't mean its over for them! In fact, we got some incoming "5th Live" of theirs, which shall be happening a few months later from this Episode!
Meanwhile, Liella! is in their second week of their ongoing Live and Fan Meeting Tour Series! But then, this shall be given a little priority, since they haven't announced anything yet. But then, heads up to those who are looking forward to the upcoming SEASON TWO of LoveLive! Superstar!! Anime, to be released starting on July 17th, next month!
And otherwise, what are the other news and updates which were encountered in this week's Episode? Please read more to continue!
NEXT WEEK! Aqours 6th LoveLive! Part 3 (WINDY STAGE)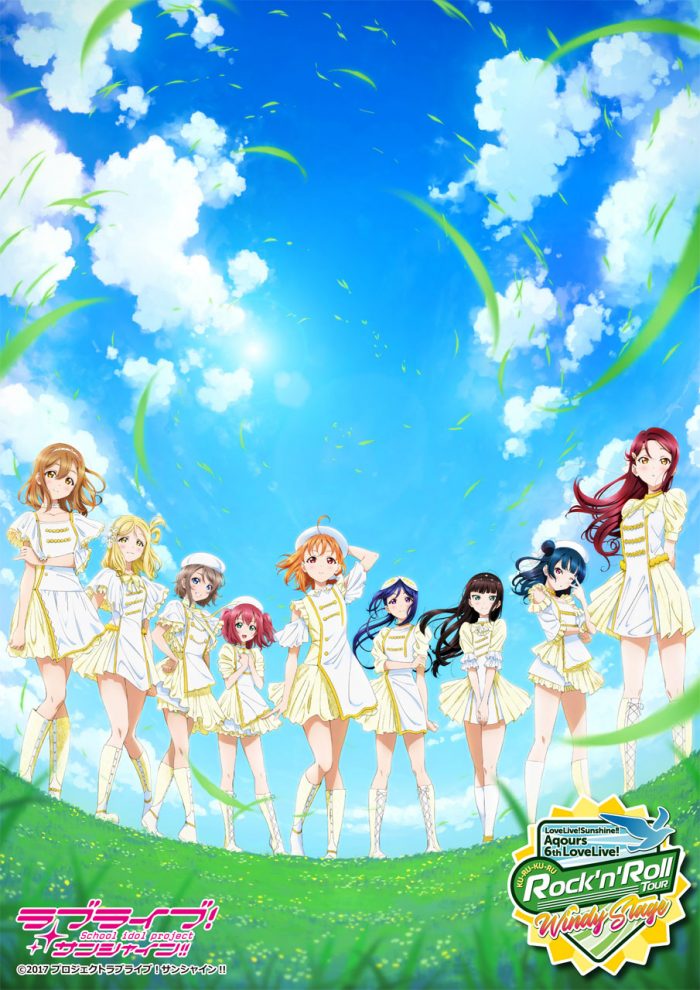 And this is it, ladies and gentlemen! This Event is happening next week, take note! Definitely, it's time for the final 6th Live showdown with Aqours!
And to give details again in this Episode, this live performance event shall be commencing on June 25-26, 2022 JST, at Tokyo Dome, Japan. The performers shall be the Team Aqours, and the Uranohoshi Symphony Orchestra band, led by Tatsuya Kato.
Overseas paid live streaming has been announced as well, and online ticket price shall be costing for at least 6,000 JPY per day. Meanwhile, on-site venue price shall be at least 8,000 JPY per day, which included freebies, like that colorful memorial big towel! Sadly, overseas fans outside Japan can't even get these freebies. Hoping that there would be delayed live viewing (DLV) screenings again in my place (I missed going there so much), so that I can receive those such freebies, like the poster and the postcard!
What else could be expected in their upcoming live performance next weekend? Find out by watching it, if you had purchased your online ticket! If so, look forward to seeing Aqours again in the WINDY STAGE — the final (Part 3) part of their 6th LoveLive! Tour Series!
Happy Birthday, Mari!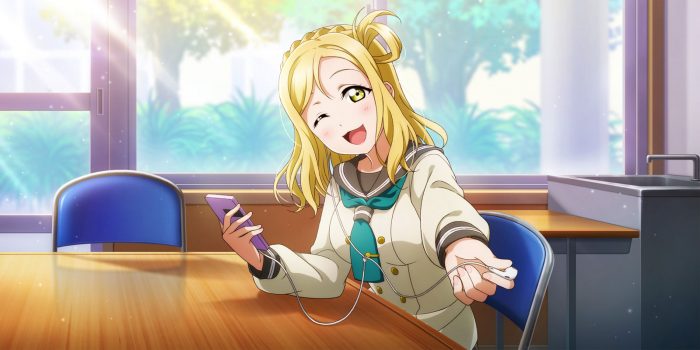 Her birthday was celebrated last June 13th this week! Let's greet her with this Birthday Message!
Ciao, Mari!
How's things so far? But then, you had witnessed your defeat in the last School Idol Channel Rankings, at the time of your birthday.
It's not yet over for you, right? Definitely, you shall be winning and that's a promise!
Just keep on cheering your fans, whenever they are lonely and failed to get your featured "Brilliant Jewelry" UR in the LLSIF game. It is because they are always around you to cheer you up, too, if you are also lonely without everyone else around.
By the way, I had created my "Story Episode" character, and she was actually your "future" daughter in the other parallel world. I haven't created her character image yet, though her dialogues are already present in my ongoing Story Episodes in SIFJL S2. But soon, you shall be meeting her when the time comes. That character shall be one of the future members of the group, called the "Idol Chasers" — the group who does love, support, and follow these School Idols from the LoveLive! Series.
Happy shiny birthday, dear Mari Ohara from Aqours! We fans love you so much!
And also, be sure to check out her recently released music album in the "Second Solo Concert Album Series – THE STORY OF FEATHER"!
TODAY: Liella! Live and Fan Meeting Tour Series – Part 2
Today is the Part 2 of their Fan Meeting Tour Series. It shall be held on Tokyo Garden Theater, in Tokyo. The stream shall be using the last session of their live peformance and talk show.
Meanwhile, the last part (Part 3) of their series shall be held on Nagoya, at NTK Forest Hall on June 25-26, 2022. This might be concurrently occur with Team Aqours' 6th Live also on the same date range. So then, after you watch this one (either Day 1 or 2, or both), then you have to watch Aqours 6th Live next!
While the last part of their Live and Fan Meeting Tour shall be next week, be sure to stay tuned, since they might be releasing the full trailer video of their upcoming "LoveLive! Superstar!! SEASON TWO" Anime, to be broadcasted and streamed starting on July 17, 2022! Just like what I had said before, just go with the Day 2!
Otherwise, enjoy if you had bought your streaming ticket!
Nijigasaki Anime SEASON TWO Episode 11 Review!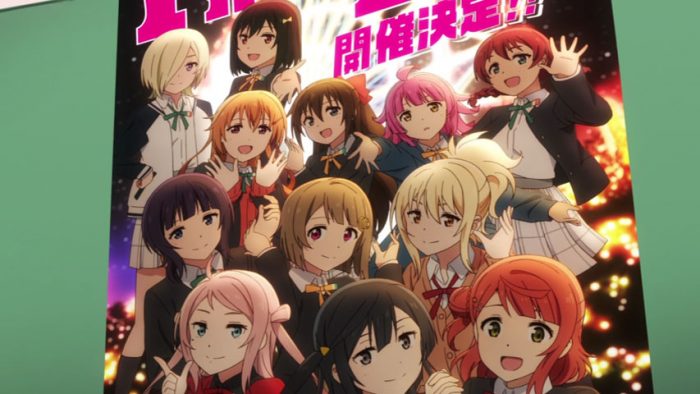 It seems that they heard rumors that their club is getting a promotion by their student council in the Nijigasaki High School! But before anything, they must undergo major exams first!
Nijigasaki Livestream (June 22, 2022)
This upcoming livestream from Team Nijigasaki shall be happening on June 22, 2022, at 8:00 pm JST! Hosts shall be Miyu Kubota (Karin), Maria Sashide (Emma), and Akina Houmoto (Lanzhu).
Aside from the fact that they are going to talk about their upcoming "Nijigasaki 5th Live", which shall be happening in a few months away from this Episode, they might give out other info, such as their upcoming misc. events (i.e. Bushiroad 15th Anniversary Live Event in Belluna Dome), CDs and other merchandise, and some other content updates in the respective LoveLive! games!
But other than that, what else they might be talking about? Moshikashite… Homin's cutesy face or something? Something like that! Likewise, don't forget to tune-in to get latest info from the girls of Team Nijigasaki!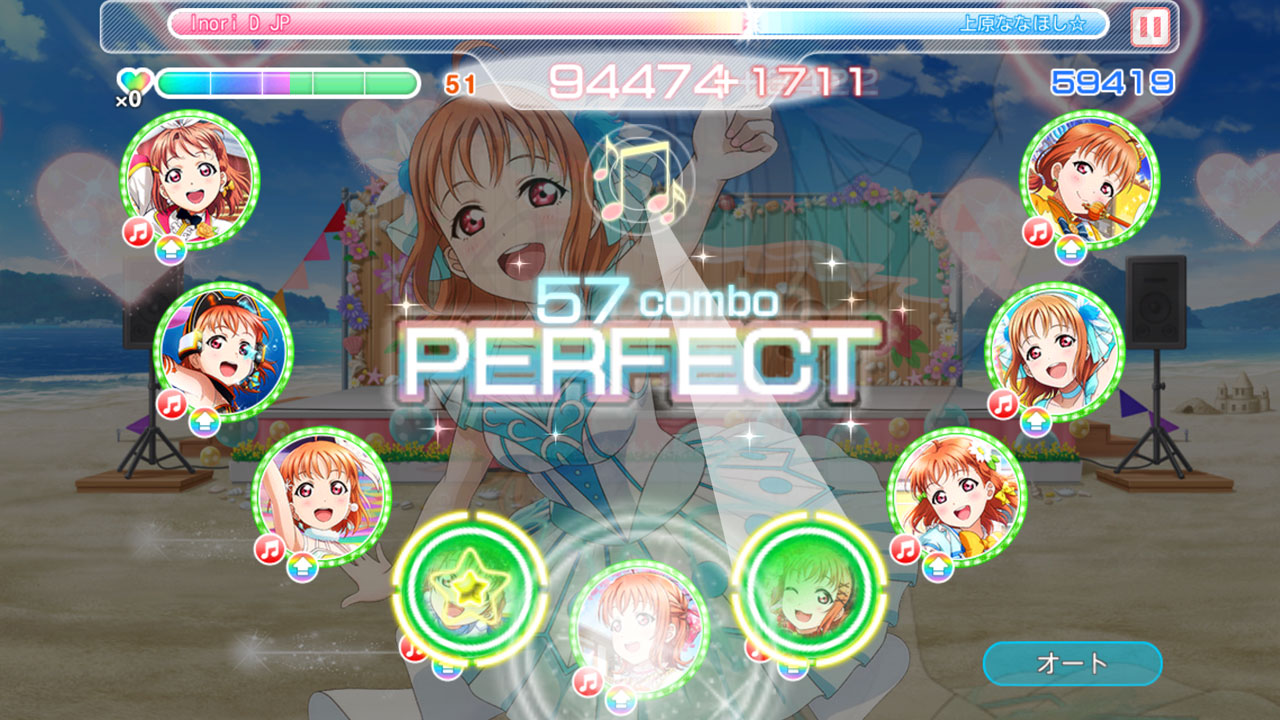 LLSIF HIGHLIGHTS
We are almost at the final stretch of the game's 9th Anniversary Celebration Event! But then, that doesn't mean that I am going to relax in grinding for the next upcoming Event this coming June 20-30, 2022!
So then, what are the other things which were spotted in this week, on LLSIF? Check it out!
Aqours Limited-Time B-Side Songs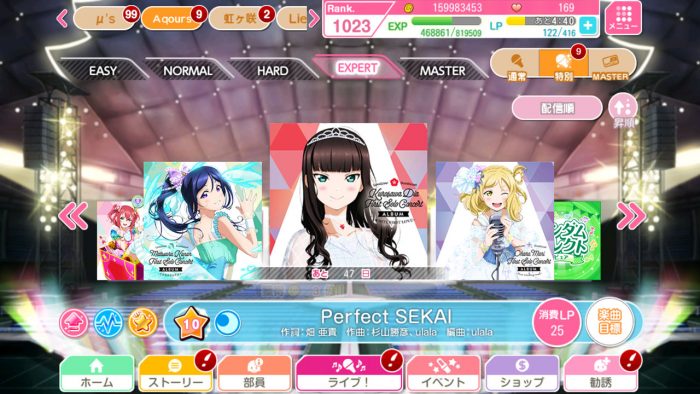 This was already highlighted in the previous Episode 19! You can find these songs on your B-Sides, whether you play on EN or JP! These songs are coming from their recent First Solo Concert Album Series albums!
These songs are available on all difficulties except MASTER. And they shall last until July 31, 2022 JST, so you got enough time to finish them all, and to land Full Combo finishes to these songs in their EXPERT difficulty!
Icon Collection: LLSIF 9th Anniversary Month 3 (Final)
In my final showdown with this μ's Event, I am in serious panic, especially if I saw my Event Points Rank dropping down drastically like a diving dolphin. But then, I had discovered a tip, so that the next time I encounter these, I should know how to deal with these.
First and mostly, try playing live shows on any songs, mostly on EXPERT or MASTER difficulties. The fact is that they always give the same amount of Tokens, and playing on lower difficulties can give you lower Tokens amount. Just remember to NOT MISS any of these Tokens while playing, since missing them can make you fall short in needing more Icon Tokens to play the featured Icon Collection Song. EXPERT and MASTER difficulties, so far, can give at least 27 Token Icons per play, and you can gain 108 of them if your LP usage is set to x4.
Don't worry about your Rank going down drastically when you saw it. It means your rivals are already using their Tokens to grind more points in this Event. Which means, you must also release your stored Tokens in order to grind up higher ranks! But then, don't forget to land a very high score in the Icon Collection Event song, so that you can place higher in the Score Rankings to get better rewards when the Event ends!
【LoveLive! SIF】

? EVENT REPORT ?

LLSIF 9th Anniversary Month 3 (1st-Half

<μ's> Icon Collection

Pts.: ? 683 | 1,571,917 pts.
Score: ? 2,568 | 6,670,972 scr.#lovelive #スクフェス #LLSIF #スクフェス9周年 pic.twitter.com/xU97WegvNq

— INORI DONZ | Inori-D Station (@InoriDONZ) June 15, 2022
For my grinding progress and report, I can hardly grind harder, since my chores and errands are always coming in my way. And also, my blog draft works, as well as writing my draft in this Episode are weighing my time and schedule frame, preventing me to play longer. But then, I was able to defend it somehow until the Event has been finished.
This Event has been finished, while I am placed with a Gold Tier Ranking on Event Points, and a Silver Tier Ranking on Event Score on the featured Icon Collection Event song.
Setlist Events? G&T Post Coming Soon
So then, it is already appearing as a regular "Pre-Event" session now. I am going to make some G&T Post soon, if I got motivation to do so!
The mechanics are still the same though — Get higher Emotion Points in order to get some corresponding amount of Love Gems depending on your Rank (i.e. Rank AA)! So far, the use of meta teams are a must here, in order to ensure higher Rank victory! And be sure to not forget to draw on the box lottery to get some UR Exchange Tickets for the past Event URs that has appeared before in the previous Events.
As you can see from my embedded Tweet, the lineup of songs could be the same, except on one thing. In the Aqours Side of the Setlist, there are at least four (4) songs to challenge with, in which they can't be found from your Aqours B-Sides library. The last song number 38 has already appeared before in your B-Sides, and has already expired.
KU-RU-KU-RU Cruller!
Wake up, Challenger!!
Namida ×
not ALONE not HITORI
First time seeing them? Then, it's your opportunity to challenge these songs, though that they don't have MASTER difficulties yet! And you have until June 30th to finish them all. You have to move and finish them now, and that could be a VERY LONG grind.
LoveLive! Superstar!! SEASON TWO Event Campaign
So then, the upcoming premiere of the anticipated "LoveLive! Superstar!! SEASON TWO" is just around the corner. And we expect exciting campaigns which would commemorate the TV Anime's release on July 17th!
So then, what to expect? As usual, we got some incoming weekly Login Bonus items! You know the rules, right? Be sure to login in all of the days to receive all of those weekly Login Bonus Items!
And so, the team has also announced their upcoming song for this game. It is much like Takaramonos from μ's, and the Aqours trio-unit songs, like New Romantic Sailors.
Just stay tuned at their feeds for more details about this! They might be announced soon in the future, especially if the Liella! Anime SEASON TWO is now broadcasting in between!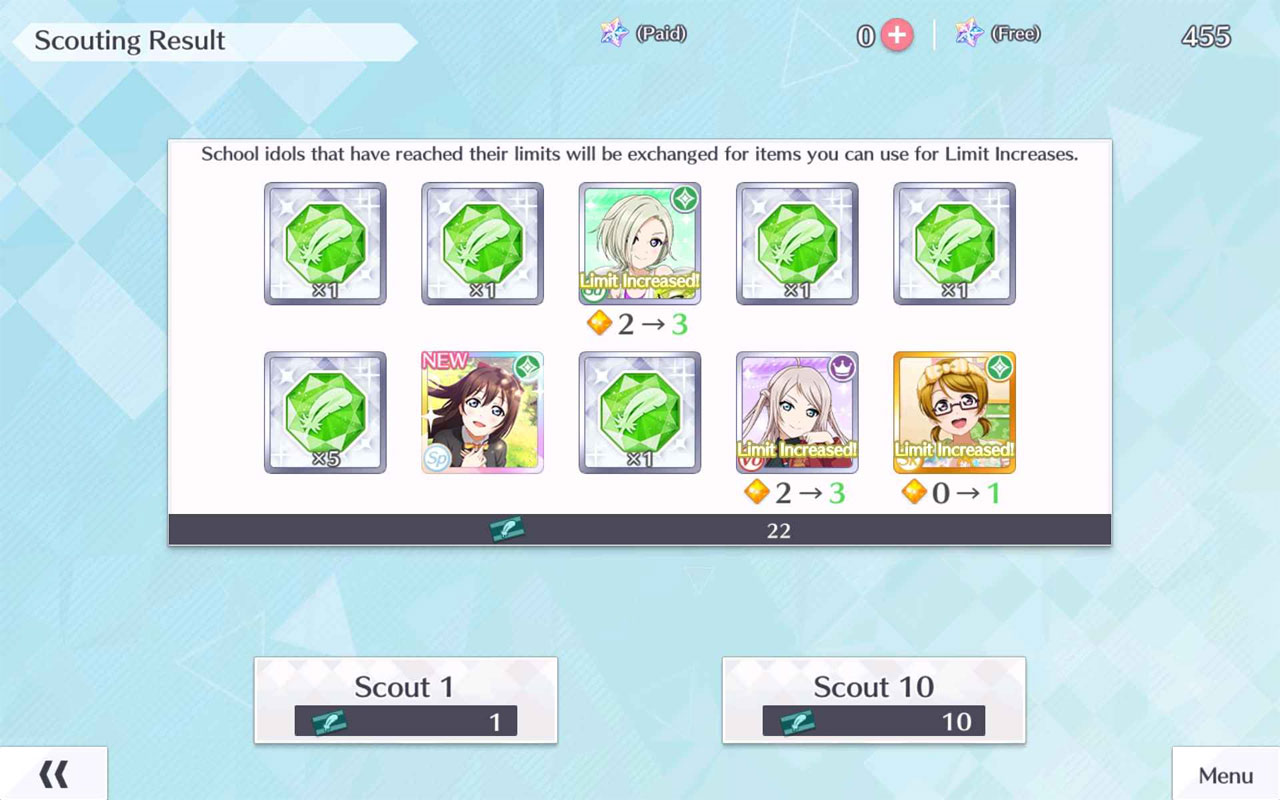 ALL STARS HIGHLIGHTS
So as long as my fires keep burning, I keep playing in this game, no matter what! It doesn't matter if I play or not, so as long as I am keeping to enjoy myself.
But then, the time for becoming stronger in this game is just a long way ahead. Though that I ain't making changes or progress, like reading the stories, doing School Idol and Accessory upgrades, I am trying my best to collect as many resources as possible — like gaining more Star Gems!
Other than that, what are the things highlighted in this Episode? Stage Start!
EXCHANGE: Hear the Sound of My Soul! (Final)
【LoveLive! ALL STARS】

? EVENT REPORT ?

<EXCH.> Hear the Sound of My Soul!

〈Points〉
JP: ? 34,396 | 85,675 pts.
GL: ? 8,608 | 85,525 pts.

〈Voltage Score〉
JP: ❌ DNP
GL: ? 4,414 | 3,200,586 Vlt.#lovelive #スクスタ #LLAS pic.twitter.com/3YgQohZsCt

— INORI DONZ | Inori-D Station (@InoriDONZ) June 14, 2022
This Exchange Event has been finished, placing me on the following brackets:
My JP Side placed on the Bronze Tier Ranking for Event Points, while for Voltage Score, it did get a DNP (Did not participate) result due to not playing the featured event songs. Meanwhile, my Global (EN) Side got a Silver Tier Rank on both Event Points and Voltage Score.
For my Event grinding report, I think I had given this a little time to give out details. But then, I was able to get the featured Event SR and UR rewards (barely). So then, if you are really aiming to get the featured Event UR reward, and some other SRs, just play casually whenever you can. But then, don't just cram when if you are in the last minutes of the Event which is about to end, especially if you are rushing for your best Voltage Score to survive in the rankings to get better rewards.
Despite that both of my accounts almost have the same Total Event Points gained, they have a different ranking bracket. In short, the player base in the JP Side has a LOT MORE than in the Global (EN) Side, which explained why I am always placed in a higher ranking bracket in my Global Side, than in my JP Side.
But then, at least, I can relax. I am just readying for the next Event, and who's the featured Event UR to be obtained this time.
Expert and Challenge Difficulty Songs?
As you can see from this embedded Tweet, you can see songs that are from the Expert Category. Almost all of the songs are coming from their original three basic difficulties (Easy, Normal, and Advanced). While some of the songs from Advanced difficulty are indeed difficult, how much more if you could ever challenge it to its Expert and Challenge difficulties?
Speaking of difficulties, the ACs (Appeal Chances) are a lot more difficult and notorious, such as you need to blow at least 400,000 SP Voltage Skill to clear it, or even triggering at least 10 or more Skills of your characters before the AC ends. Aside from these notorious ACs, you can encounter high damage notes, as well as lowering drastically your Appeal power by a certain number of notes. And these are the things that you could really expect to encounter in a typical Expert or Challenge difficulty song!
However, there are certain songs which are indeed not available on the three basic difficulties, such as "Sweet Eyes" and "Zensoku Dreamer" (as shown) by Nijigasaki. So then, you shall be facing them without even facing them on their lower difficulties, and that's a challenge!
So then, how could you win against them, and to land a Voltage Rank S victory to these kind of songs?
There are at least two hints there. One is to upgrade your currrent School Idols' "Bond Boards". They are essential, especially if you are just using a lower-rarity member in order to clear that song (or due to the skills). Always remember to have habit in upgrading your School Idols' Bond Boards in order to get stronger, no matter what rarity are you using!
The second hint here is the use of your School Idol Units and Skills. Sometimes, certain School Idols are only dedicated on that song, or even that team build is only designed for that certain song. Keep in mind that not all the times that you can use these "meta URs" in order to win in all situations. Sometimes, even the weakest UR can even help you win a harder song! And so, therefore, attribute and type matching is a must here!
Now and then, there are lot more Expert and Challenge difficulty songs which are added in the library, and I haven't even starting yet to take them out one-by-one. It's a matter of fact that patience is really required in order to get stronger here.
School Idol Channel Weekly Bulletin
We got some good news, and some bad news! Which one should be said first?
The bad news is that the birthday girl, Mari Ohara, whose birthday was celebrated last June 13, has failed to get the top one spot in the channel rankings! At the day of her birthday, she didn't win, but Nozomi has won instead.
The good news is that my prediction with Mari Ohara to be in the top one "twice" in a row is correct, somehow. And then, the current School Idol Channel Ranking period (not the one in the table shown below) has already Mari leading in the standings now.
If you are not in the channel of Mari Ohara now, but in your best girl now, what is her previous ranking or standing? Did she make it to the top ten?
JP Side – #63
| RANK # | SCHOOL IDOL | GROUP | AVERAGE CHEER POINTS |
| --- | --- | --- | --- |
| 1 | Mari | Aqours | 13,439 |
| 2 | Nozomi | µ's | 8,052 |
| 3 | Kotori | µ's | 4,414 |
| 4 | Karin | Nijigasaki | 3,655 |
| 5 | Setsuna | Nijigasaki | 3,513 |
| 6 | Shioriko | Nijigasaki | 3,439 |
| 7 | Eli | µ's | 3,273 |
| 8 | Kanata | Nijigasaki | 3,230 |
| 9 | Shizuku | Nijigasaki | 3,155 |
| 10 | You | Aqours | 3,146 |
Global Side – #50
| RANK # | SCHOOL IDOL | GROUP | AVERAGE CHEER POINTS |
| --- | --- | --- | --- |
| 1 | Nozomi | µ's | 14,338 |
| 2 | Mari | Aqours | 7,633 |
| 3 | Setsuna | Nijigasaki | 3,877 |
| 4 | Eli | µ's | 3,374 |
| 5 | Shioriko | Nijigasaki | 2,980 |
| 6 | Maki | µ's | 2,853 |
| 7 | Kotori | µ's | 2,805 |
| 8 | Ai | Nijigasaki | 2,805 |
| 9 | Kanata | Nijigasaki | 2,798 |
| 10 | Rina | Nijigasaki | 2,795 |
Nozomi won over Mari twice in a row in the Global Side, despite that Mari's birthday is on June 13, where the previous ranking period has also ended. And to add it up, her average cheer points is bit bigger than in the JP Side, where Mari is the current top one there.
The rest is just history. Setsuna finally gained her winning top ten streak once again. But then, will both Kotori and Setsuna continue to dominate once again in both sides?
Before I end this, let me just remind you to switch to Karin Asaka's channel, when the current channel ranking period has ended. She is more likely to be in the top one ranking next time, because her birthday is just a week ahead!
And that is for this week's School Idol Channel Weekly Bulletin! See you next Episode!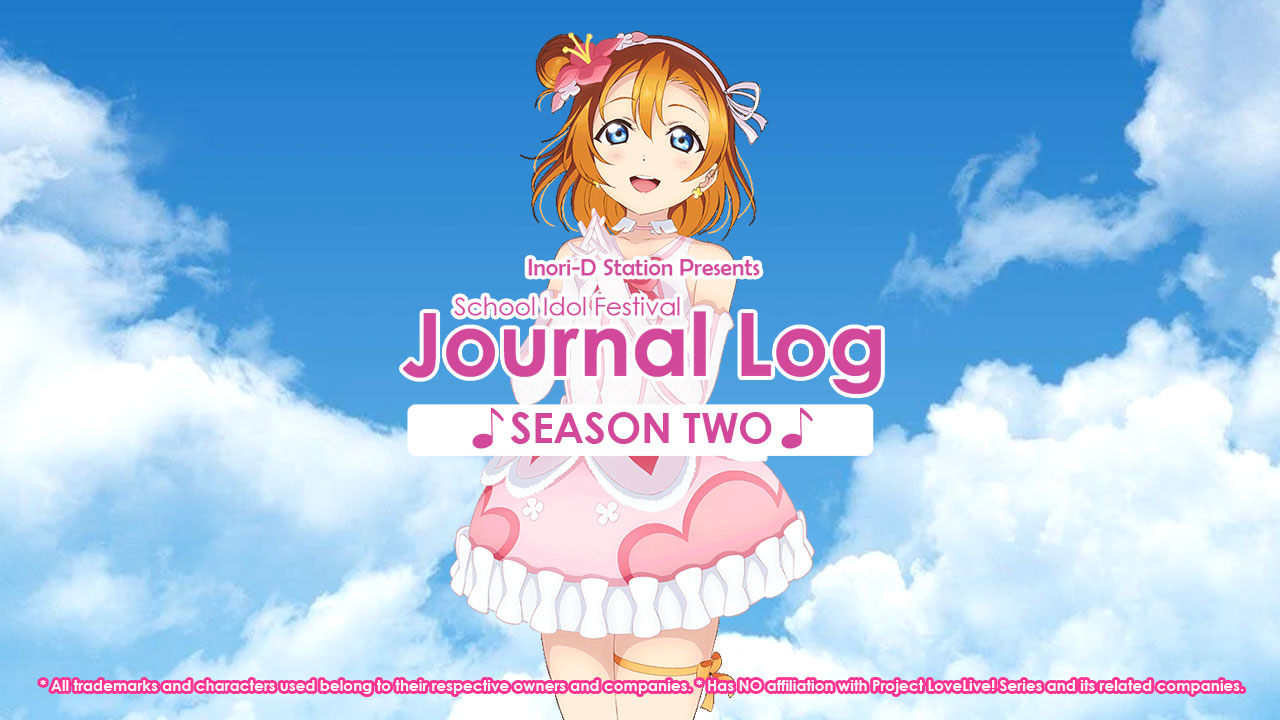 STORY EPISODE (EPILOGUE)
And then, Dia appears on the screen and talks with everyone.
"Everyone. I had already knew about the disappearance of our member, Riko. And Chika and others were so worried. We are supposedly to have our live performance to go on as scheduled this weekend. But then, because of that incident, we decided to…"
"Ms. Dia! Don't!" said Chiharu. "I already know on how we could find and save Riko!"
"What?"
"Riko got transformed into a man, and he was named as Gen. Upon transforming into a guy, she lost her memories! And then, me and Lierre had already devised a plan on how we could turn Riko back to normal!"
"I see… And so, how could you turn Riko back into a girl again?"
"First and mostly, we, Idol Chasers, are needing your help!"
"Our help?"
"Please, Dia Kurosawa! Please lend us your help!"
"Alright. I will call Chika and others as well to prepare. But then, just tell us on what to do."
"Okay!"
And then, Komari is getting nervous and said, "It seems that things are getting exciting here. And I am already becoming nervous…!"
Saki already planned the strategy and said, "Idol Chasers, Aqours! Let's plan a rescue strategy for Gen, and turn him back into Riko, her original self!"
The Idol Chasers replied, "S.I.F.!!"
"This time around, we can't just let their upcoming live performance to be cancelled by any means!"
Meanwhile, it was already midnight. And at the open fields of the city, notably at a nearby Sakura tree, Gen is standing.
With his mind and face are serious, Gen is thinking nothing, but hatred.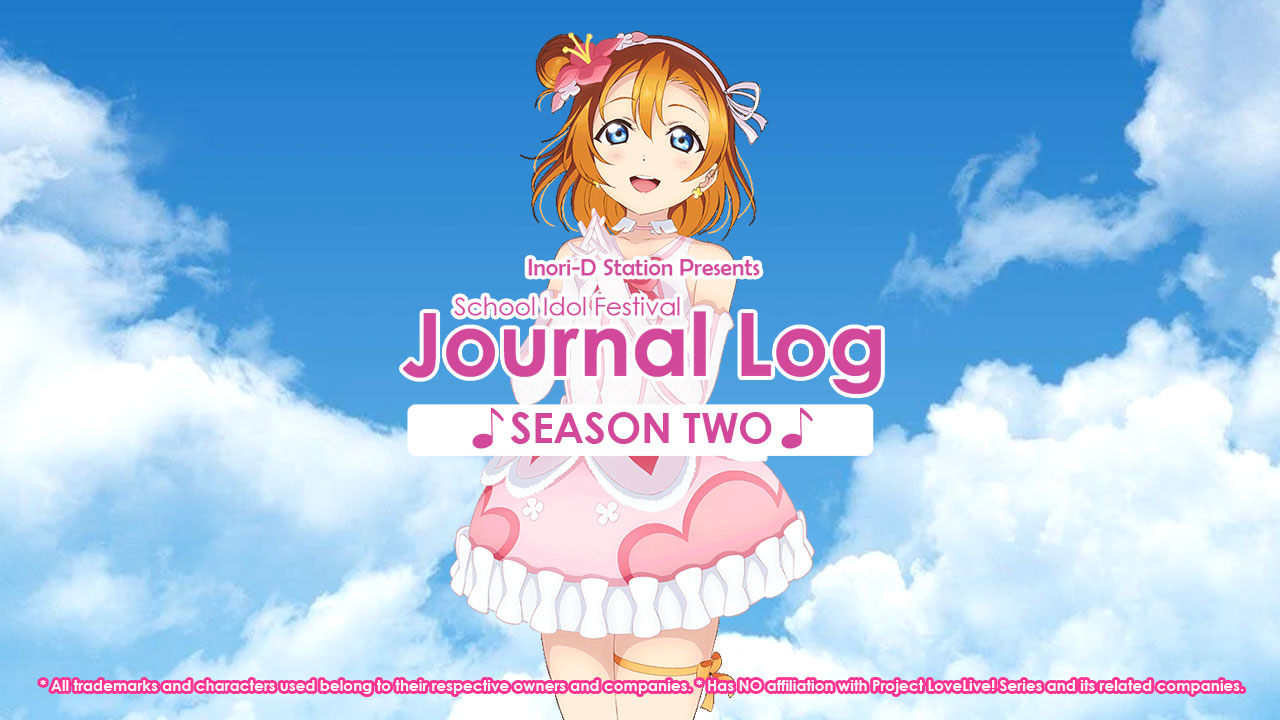 NEXT PREVIEW
Next Episode will mark the Part 3 of Aqours 6th LoveLive!, known as the WINDY STAGE! Please look forward into their live performance, thus marking the conclusion of their 6th LoveLive! Tour Series! The next Story Episode shall somehow connect to their live performance!
Will the Idol Chasers be able to turn Riko back to normal, and to save Aqours' day of their live performance?
Next time on School Idol Festival Journal Log SEASON TWO, "The New Aqours".
Now, let's make our dreams come true together!
The Bonus Stage
In this second season, Kanon and the other four girls of the original "Liella!" are in their sophomore years. In their next semester of their schooling in the Yuigaoka Girls' High School, they have met the four new girls, who were in their new fresh years.
Their stories still continue… In the other side of the countless stars.
LoveLive! Superstar SEASON TWO!
Starts airing on July 17, 2022, on NHK E-TV Network in Japan!
Overseas streaming coming soon! Stay tuned at their feeds for more updates.
Also, celebration campaigns for LLSIF rhythm game is coming soon!
Official Website:
https://lovelive-anime.jp/yuigaoka/
RETURN TO MAIN PAGE BACK TO HOME PAGE