Gaiden Episode 02: What Awaits On The Door to Future
The following day, Coco and Yuri are indeed preparing for their livestream. They are seemed to be prepared and more confident this time.


Alright, Yuri! Let's finish this livestream ourselves!

Okay! We are on the last stretch!
Part 1


Welcome to our livestream again!

We will finish everything what we have started here!



This is the School Idol Station! Stage Start!

Previously, we had talked about the Idol Chasers.

That's right! And they were present in the Story Episodes of the SIFJL segment!

Hmm… I can't believe that these kind of people have existed in the School Idol World just in order to support us!

Indeed. And many more projects are totally made continuously, thanks to the never-ending support of the fans worldwide.



As School Idols ourselves, we can be both School Idols and Supporters. To what School Idol group are you keeping to root for?

Eh? What a sudden question. Alright, I am going to answer. For me, it is going to be Aqours.

Aqours? I love them! I really love them to see that they have started from nothing to total stardom! And now, they are shining like brilliant jewels!

Okay, I have answered your question. For you, Coco, who is your favorite School Idol Group?

Me? Before Aqours, I do really love this School Idol Group from the bottom of my heart. It is none other than μ's!

I see. They were considered as the real, Legendary School Idols! Now, although that they were not physically present in the stage forever, they were always spiritually present among the future and present generations of School Idols today!

After μ's, there are lots of Next-Gen School Idols that are appearing from left to right!

Who could be those groups that are now present, as of today? Let's find out!
The School Idol Groups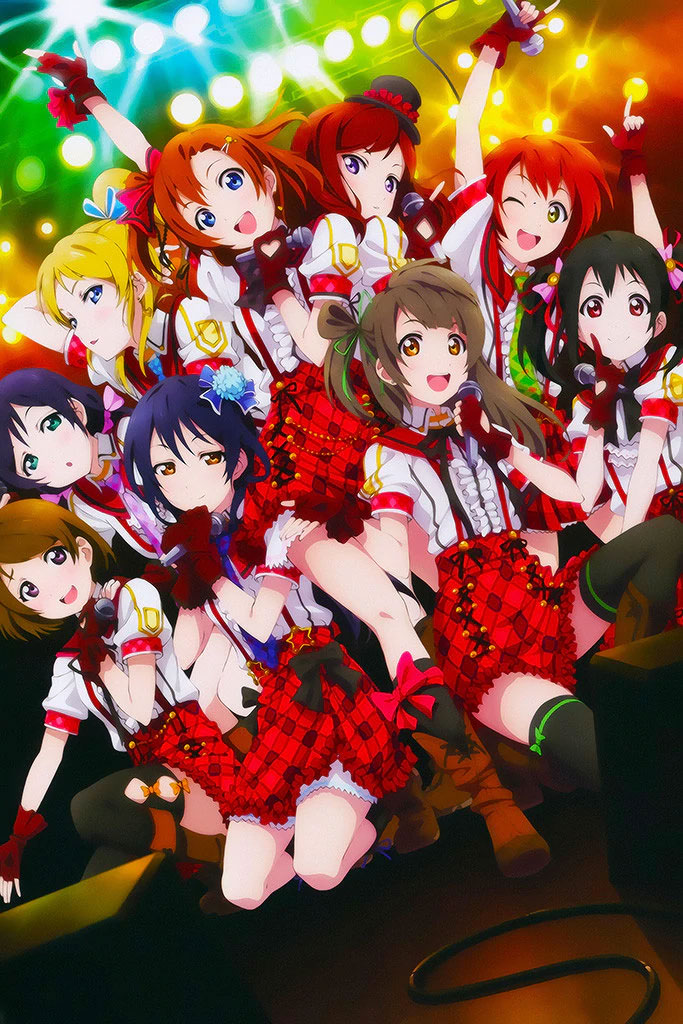 "µ's! Music… Start!!"
µ's existed way back in 2010, just at the time when they debuted with their first song and PV, called Bokura no LIVE Kimi to no LIFE.
µ's consisted of at least nine members, and they were the following:
| CHARACTER | ACTRESS |
| --- | --- |
| Honoka Kosaka | Emi Nitta |
| Eli Ayase | Yoshino Nanjo |
| Kotori Minami | Aya Uchida |
| Umi Sonoda | Suzuko Mimori |
| Rin Hoshizora | Riho Iida |
| Maki Nishikino | Pile |
| Nozomi Tojo | Aina Kusuda |
| Hanayo Koizumi | Yurika Kubo |
| Nico Yazawa | Sora Tokui |
µ's has released over at least 50 different songs, and at least about 50 albums under their group name. Their most popular song, called Snow Halation, has become a trend and it has sometimes topped into the Japan music rankings in the past.
µ's has collaborated with several companies, video games, and some other Anime series in order to boost up their popularity and audience.
µ's finally rested in live performances and other related activities, ever since their last day of their Final LoveLive! live performance in April 2016. Not for long until January 2020, they had made their final blow on the LoveLive! Fest event, which was done in order to celebrate LoveLive! Series' 9th Anniversary.
Their legacy has been passed down on the future School Idols who wished to follow their footsteps in searching for their true radiance. Ever since then, they are granted with the title, "Legendary School Idols".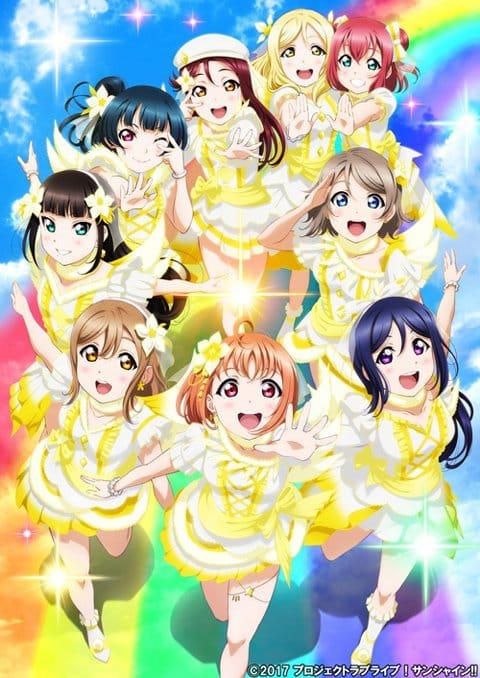 "Aqours… Sunshine!!"
Aqours debuted in the universe or series since October 7, 2015, with their first animation PV and single, titled as "Kimi no Kokoro wa Kagayaiterukai?"
Currently, the members are:
| CHARACTER | ACTRESS |
| --- | --- |
| Chika Takami | Anju Inami |
| Riko Sakurauchi | Rikako Aida |
| Kanan Matsuura | Nanaka Suwa |
| Dia Kurosawa | Arisa Komiya |
| You Watanabe | Shuka Saito |
| Yoshiko Tsushima | Aika Kobayashi |
| Hanamaru Kunikida | Kanako Takatsuki |
| Mari Ohara | Aina Suzuki |
| Ruby Kurosawa | Ai Furihata |
Aqours has released over 50 different albums and singles, which also include the ones from their sub-units counterpart (namely as CYaRon!, AZALEA, and Guilty Kiss).
Aqours has also done several major live shows, which included one-man live shows and fan meetings, under their School Idol Group name. This group has done at least over 10 major live show performances. Their very-first live performance was done since February 25 and 26, 2017, titled as "Aqours First LoveLive! ~Step ZERO to ONE~".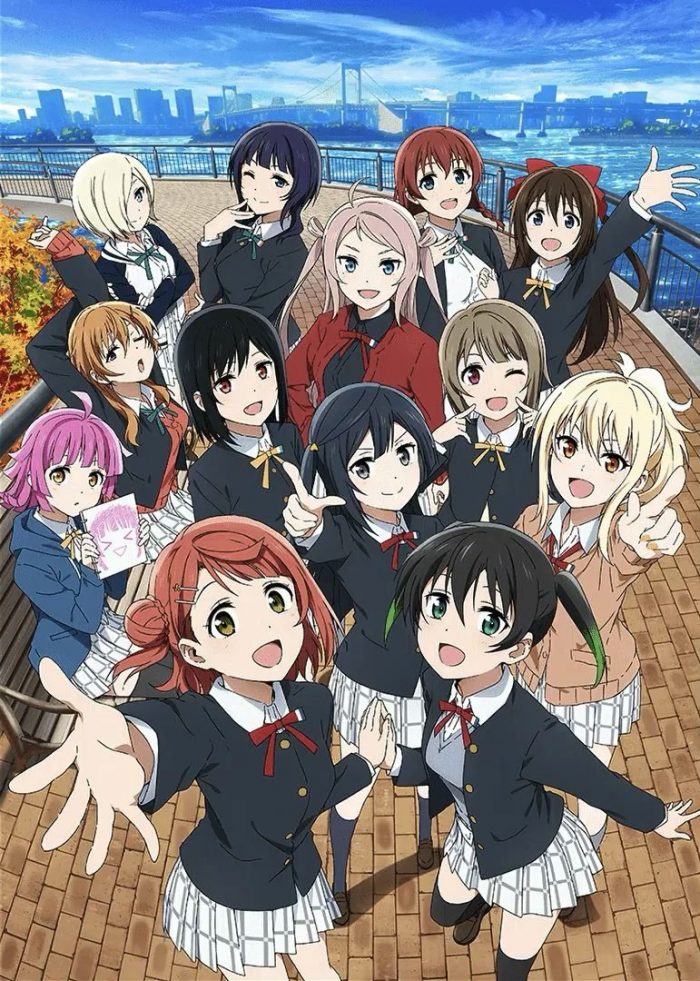 "Sound up, TOKIMEKI!"
The current members are:
| CHARACTER | ACTRESS |
| --- | --- |
| Yu Takasaki | Hinaki Yano |
| Ayumu Uehara | Aguri Onishi |
| Kasumi Nakasu | Mayu Sagara |
| Shizuku Osaka | Kaori Maeda |
| Karin Asaka | Miyu Kubota |
| Ai Miyashita | Natsumi Murakami |
| Kanata Konoe | Akari Kito |
| Setsuna Yuki | Tomori Kusunoki |
| Emma Verde | Maria Sashide |
| Rina Tennoji | Chiemi Tanaka |
| Shioriko Mifune | Moeka Koizumi |
| Mia Taylor | Shu Uchida |
| Lanzhu Zhong | Akina Houmoto |
Nijigasaki High School Idol Club is actually a different kind of School Idol Group, which is not actually a group, unlike from µ's and Aqours. In fact, all of the members there are considered as either friends or "rivals". Sometimes, even though that they clash by their superior live performances, there are times that they were re-united because they were all having one common goal. And that is, they wanted to make their own dreams to come true. But what is that "dream" that they wish to come true?
And that is why, girls can become both a "School Idol" and a "Supporter".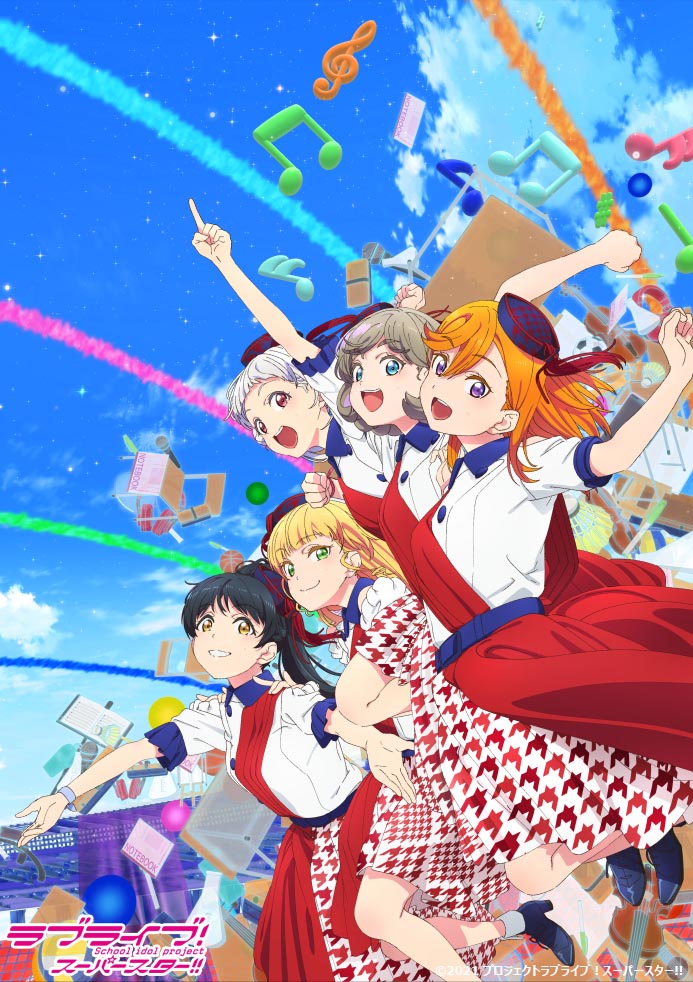 "We are the Yuigaoka Girls' High School Idols Liella!"
Liella! had debuted in the series, since the release of their first song and PV, entitled Hajimari wa Kimi no Sora, since April 7, 2021.
The current members are:
| CHARACTER | ACTRESS |
| --- | --- |
| Kanon Shibuya | Sayuri Date |
| Keke Tang | Liyuu |
| Chisato Arashi | Nako Misaki |
| Sumire Heanna | Naomi Payton |
| Ren Hazuki | Nagisa Aoyama |
The group name, Liella!, was a combination of French and Spanish words, namely lier and brillante, respectively. Lier means to bind or connect, and brillante means brilliant or to shine. This group name has been decided and picked up through an online poll by Dengeki G's Magazine, which was done between August 17 until 31, 2020.
Part 2

This is absolutely amazing! I can't believe that they all perform in one stage!

That's right, and we absolutely envy them.

We wish that we could actually sing and dance with those School Idol Groups… Someday!

Yeah, someday… Time will always come.

So then, we are done on the previous one!

Coco, I think it's now the time to reveal it!

What did you mean that we must reveal it?

I guess it is the time! It is time to reveal some stuff in which we could expect to encounter in the Story Episodes of SIFJL SEASON TWO!

Oh, that's right! We are about to enter a brand new chapter — Or a new cour!

Everyone, please check it out! You can check it out by reading below the details!
Upcoming Characters
So then, there are some characters who had appeared before. Somehow, you could finally get to meet them soon in the future Story Episodes of SIF Journal Log SEASON TWO! Here it goes!
Name
Komari Ohara
小原こまり
Blood Type
AB
Height
159 cm
Birthday
August 27
Hobbies
Unknown
School Idol Sign
Mari Ohara
Komari Ohara is a mysterious character from a Parallel Universe who appeared as an "Interdimensional Agent".

She is a known daughter of the one of the Aqours members, Mari Ohara. She has inherited some traits from her mother, having yellow eyes and hair. But her shorter hair, as well as having an appearance of a typical "Bishonen", makes her having a "tomboyish" appearance and characteristics.

Komari's job is to travel to any Parallel Universe, and to investigate and fix any abnormalities with that certain timeline, such as noting that scene or event which is somehow looking a "parody" of that original timeline, scene or event (Much like "Doujin" parodies).
Name
Gen Sakurauchi
桜内幻
Blood Type
B
Height
163 cm
Birthday
February 23
Hobbies
Unknown
School Idol Sign
Riko Sakurauchi
Gen Sakurauchi is also an "Interdimensional Character" who appears to be mysterious… Somehow, a long-lost brother of one of the Aqours members, Riko Sakurauchi.

Gen is being stopped by Komari from allowing him to achieve his plan — In order to travel to that Dimension just in order to see his sister again. But then, Komari is already warning him about the consequences, if Gen attempts to go to that dimension or timeline, just in order to find and meet his sister, Riko, again. It was already written and told in the Episode 11 of the Story Episode.

There is a mystery, somehow, where Riko Sakurauchi, does not exist in the current timeline or dimension of the Idol Chasers. And Gen still have no clue on who really he was, while having his memories altered or lost.
Name
Hyoshiro Kiriyama
霧山拍子郎
Blood Type
O
Height
163 cm
Birthday
January 29, 2014
Hobbies
Video Games (Rhythm Game)
School Idol Sign
??
In fact, his details are still unknown. He is set to appear soon in the future Story Episodes of SIFJL S2. Stay tuned.
Story Episode: Cour 2!
So, you already know the upcoming characters, right? Right now, let's head on to the things on what to expect to encounter in the future Story Episodes!
Cour 2. It means we are in the "second part" of the story of this season!
As the Idol Chasers have been formed, so does to their new encounters of challenges and… rivals?
Sometimes, your yesterday's enemy or rival is your today's friend or fellow. Vice-versa as well!
And what is this mystery about the "Interdimensional Characters" that appear in the current timeline of Idol Chasers? Has it something to do with the School Idol Oracle, Lierre? Meanwhile, Lierre has some portion of her memories that were lost at the time when she has become a School Idol Oracle. Will she able to find out on who truly she was? Can Chiharu be able to unravel the mysteries about Lierre, in which she can be a bridge to the different Parallel Universes of School Idols?
New Timeslot!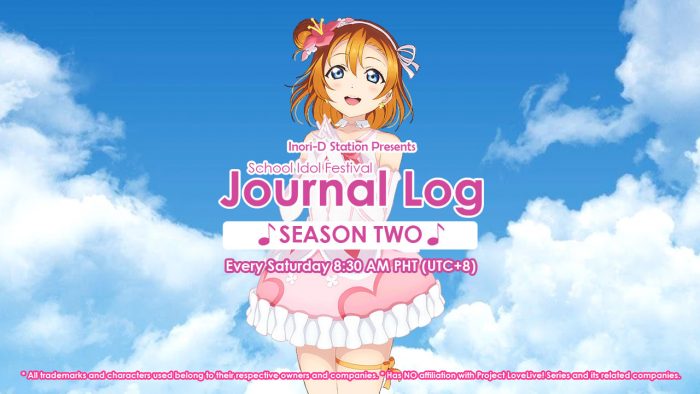 School Idol Festival Journal Log SEASON TWO shall be changing its usual Friday timeslot into a new timeslot!
Therefore, new succeeding Episodes shall be published every Saturdays at 8:30 AM PHT (UTC+8)!
This is something to look forward into. Don't miss it!
Epilogue!



It looks like we had done our part today.

Indeed. It seems that our part is over.

With everything announced so far, please be sure to follow the story of the Idol Chasers until the very end!

Finally, and be sure to read the SIFJL S2 Episodes every week to know more about LoveLive! Series! — its news and updates!

And this ends our livestream!

We know that it's very short. At least, you had enjoyed watching us.

We can see each other again somewhere… Someday!

This is Yuri Mido, and thank you very much for watching until the very end!



School Idol Station!
Now, let's make our dreams come true together! Bye-bye!!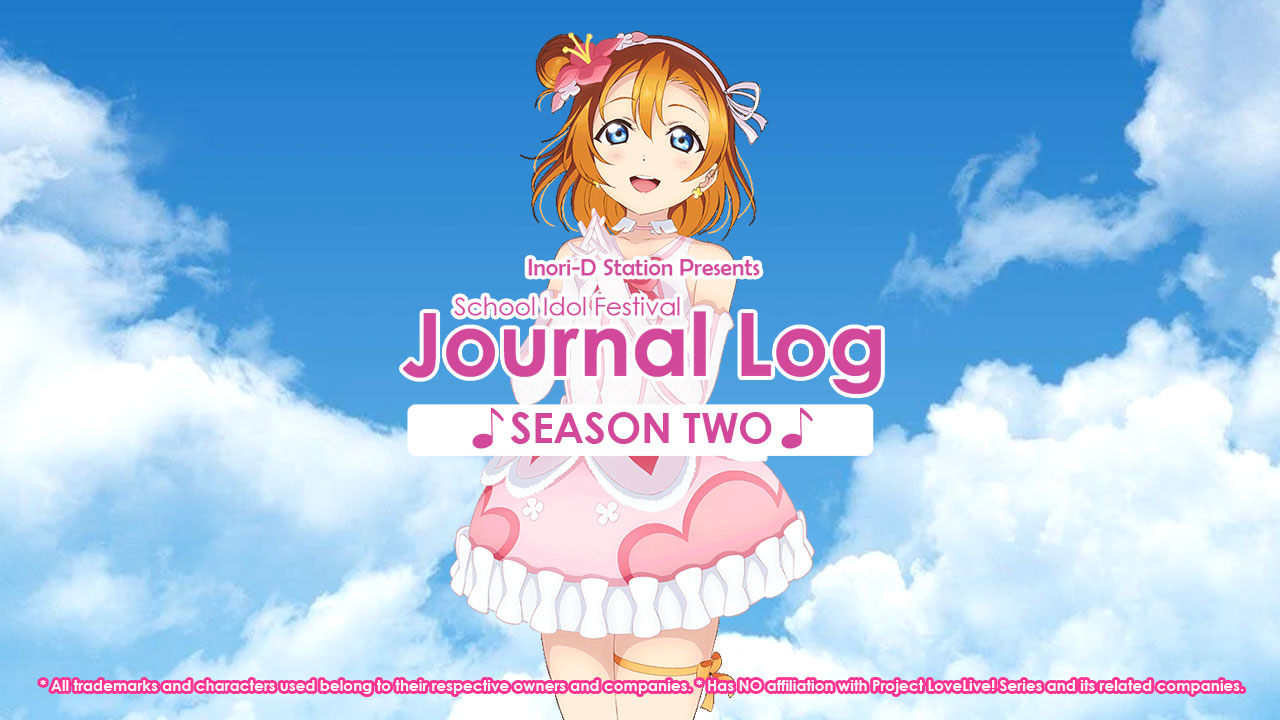 Next Preview
School Idol Festival Journal Log SEASON TWO shall publish its next Episode on April 23, 2022 (Saturday), at 8:30 am PHT (UTC+8).
With the Idol Chasers had begun their First Mission, they are tasked to bring an envelope containing a special photo and a letter. But then, although that they have the name of the person that they should find and meet, they don't have an idea on where to meet that person! Could it be a test to their unity and friendship? What should they do?
Next time on School Idol Festival Journal Log SEASON TWO, "A Fan of School Idols".
Now, let's make our dreams come true together!
The Bonus Stage
The girls of Nijigasaki are back in this second season! Shioriko Mifune, Mia Taylor, and Lanzhu Zhong are now added to the stable!
Once again, these girls are seeing each other — sometimes as friends or rivals everyday.
They all have one, common dreams! And that is, somebody like Yu Takasaki, can support these twelve girls in making their dreams come true!
And once more, they are chasing for their dreams, along with their new friends and rivals at their side!
So then, they wanted to have an Event once more, in order to put these girls, whether friends or rivals, together! This Event is called as the "School Idol Festival".
However, the different concurring activities in school can make themselves having a hard time organizing this come-together Event. Can Yu be able to put these girls together, and make their dreams come true? This is the story of Yu Takasaki and the twelve School Idols, in their quest for unity and with their rainbow-colored friendship adventures!
LoveLive! Nijigasaki High School Idol Club SEASON TWO!
Starts airing and streaming on April 2, 2022!
For overseas simulcast, check with your local Anime licensors per region for the time and availability in your area!
Also, LLSIF and ALL STARS in-game celebration campaigns now going on!
Official website:
https://lovelive-anime.jp/nijigasaki/
RETURN TO MAIN PAGE BACK TO HOME PAGE