The World of Ice Hockey
This blog post may contain minimal spoilers. Please read them only if you have seen this Episode.
EPISODE OVERVIEW
A group of media men came and they interviewed the girls, including the staff of the Nikko Dream Monkeys. In their interview, they talked about the history on how their ice hockey team formed, such as it was formed in order to inspire young people to play the ice hockey sport. Also, during their interview and filming, their second week of trial classes has begun, and some girls were beginning somehow to become less interested in playing, and they were slowly losing motivation. One girl is named Naomi, and she was being helped by Riko, who keeps cheering her on.
Riko Saginuma is actually a daughter of one of the pro players of Nikko Dream Monkeys in the past. That pro ice hockey player is actually her father.
At the night after their trial class, Manaka receives a call from Mami. And then, she was surprised on what Mami has told her!
EPISODE REVIEW
Alright! We are finally at the series' second Episode, where some usual twists occur!
In this Episode, it's like more of an introductory Episode, than the actual story Episode, where things happen in a timely manner. But then, I didn't see much of a story progress here because about 70% of the Episode talks about the background of the Nikko Dream Monkeys, where the girls are currently in. Mostly, it incorporates some little history about the ice hockey sport, as well as its mechanics on how to play it, and how many members are there per team to play. And also, the Nikko Dream Monkeys were formed because not only they were inspired by ice hockey sport, but also they promote this sport to many younger people to make them be encouraged to play this icy sport game.
Rather than having the common 'male' players who play ice hockey, the ice hockey team is focused more on recruiting players who were female or girls! And that is, they were promoting ice hockey sport to most girls and young women.
Okay, going back to the proper storyline. We can get to know more about the girls. This time, it shall be with Naomi and Riko. Basically, Riko is a sporty, yet bubbly girl, and she even go to Naomi's room just to wake her up from the bed. Naomi is just calm, and there are times that she becomes lazy if she can't take it anymore. Overall, what I can describe with Riko and Naomi are that they were just opposites of each other. Namely, one is very energetic and the other one is lazy.
At the night after their class, Manaka finally finds out that Mami is breaking up from their group. It is because, Mami suddenly told her that she is going to transfer to another school soon. I already expected this twist already, and this was mentioned by me during my Episode 1 Review. Yep, and as seen from their official website, Mami is drafted into a new ice hockey team, in which also new members of that team are yet to be announced.
And finally, at the end, there is someone who will join the Dream Monkeys soon, with Mami Ono's exit. Her name is Yu Kiyose. What could be her role to the girls of Nikko Dream Monkeys? This is a question to be answered in the next Episode Review!
ICE HOCKEY HISTORY!
Last time, we had introduced an info which tackles about the history of the ice hockey game. This time around, let us discuss about on how the ice hockey became a professional sport in leagues.
The first professional hockey league has been formed and organized in year 1904, and was called as IPHL, or otherwise called as the International Professional Hockey League. Most players hired by this league are from Canada, which believed that it is the country which is popular when it comes to professional hockey sport.
Also, during the 20th century, several leagues had been created and developed. And this includes the establishment of the most governing body of all professional ice hockey games and leagues, called the International Ice Hockey Federation (IIHF) in 1908.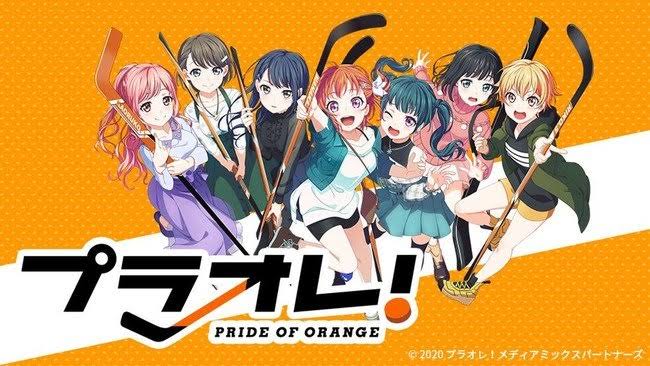 Pride of Orange (2021, dubbed: PURAORE! (プラオレ!) -Pride of Orange-) is Japanese Anime series about ice hockey sport. This Anime series was produced by CyberAgent/EXNOA, and character designs were done by Craft Egg (known for BanG Dream! Girls Band Party smartphone video game). Animation style was done by C2C. This Anime series has been aired and streamed since October 6, 2021, with its first Episode.
In Tochigi Prefecture in Japan, at Nikko City, an ice hockey sport season has opened for girls who wanted to aim for the ice hockey world championships.
A female junior high schooler, named Manaka Mizusawa, has become interested in playing the ice hockey sport. While she invited her girls who were her friends, they entered and tried for this sport game.
Their journey for aiming their first win, indeed, begins when they had experienced the world of ice hockey sport!
©2020 プラオレ!メディアミックスパートナーズ