Shuts down for the second time.
It is reported that the Philippines server division of Ragnarok Online, a classic PC game by Gravity Corp., is announcing its date of shutdown.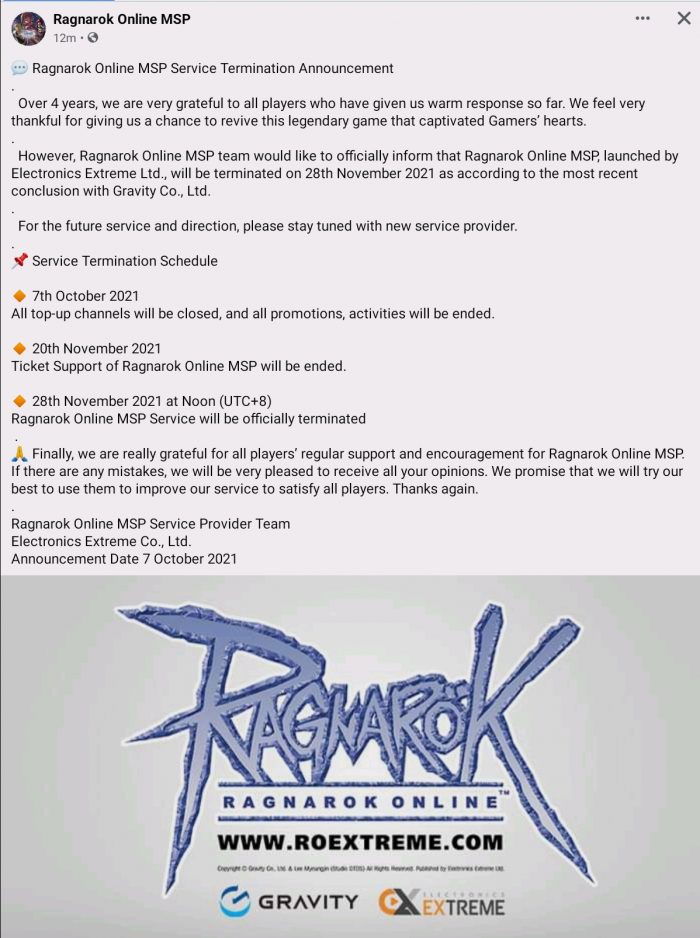 To summarize, the Ragnarok Online MSP Server shall shutdown its gaming services for players on November 28, 2021, at 12:00 pm PHT (UTC+8). The top-ups and other such in-app purchases within the game has been terminated since October 7, 2021. And all other services, a week before the game server shutdown, shall be terminated, also.
The cause of its shutdown is not just by the feedback of the players who play this game, but the rising popularity or trend of its other smartphone game counterparts (Ragnarok M and Ragnarok X) are beginning to take over this game. But then, the Electronics Extreme Co., Ltd., the publishing licensor of the game, has announced that the end-user license contract with Gravity Corp. has already expired.
From: Ragnarok Online MSP Website via Facebook
ABOUT RAGNAROK ONLINE
Ragnarok Online (dubbed: Ragnarök) is an MMORPG desktop PC video game created by Lee Myung-jin, and published by the South Korean Company, Gravity Corp. in August 2002. Players play in an semi-3D environment where it gradually changes with the passage of time.
Ragnarok Online has spawned many spinoffs, as well as its featured TV Anime, Ragnarok The Animation, in year 2004.