The Alternative Endings: True Ending
Last week, we had talked about the Bad Ending, where it is mostly the sad and, at the same time, the worst part of the game or story when it is finished. It occurs when the protagonists had made a mistake in the later part of the story where they made a certain action that can affect the flow or the ending of the story.
In this Episode, we shall talk about the last type of the ending: The True Ending.
The True Ending is basically the same as in the Good Ending. But then, it is considered to be more exciting as it is. Basically, it is just the 'extended' version of the Good Ending.
At the time when you had defeated your true boss enemy, the battle is not over yet. In fact, you need to defeat him/her twice in order to achieve this ending!
So then, we should not waste any time anymore! Let us head on to the 46th Episode of School Idol Festival Journal Log!
CONTENTS
PRE-EPISODE HEADLINES
Many stuffs had happened during this week! I am going to give you some of the highlights encountered! Please read more to continue!
Happy Birthday, Ai Miyashita!
Her birthday was celebrated last May 30th, and it was too late! But then, I had wrote her a birthday message, and it is better than never! Alright, here it goes!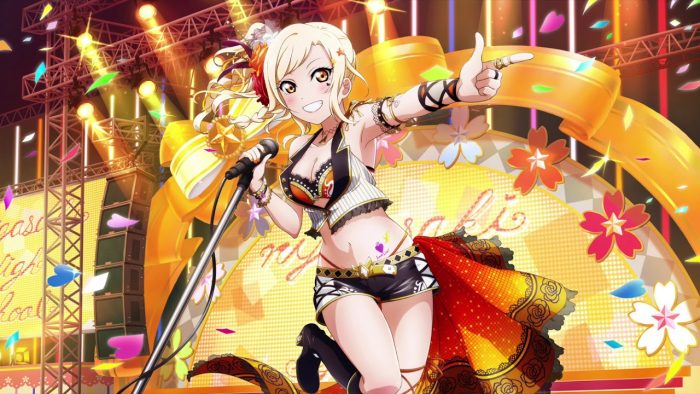 Dear Ai Miyashita,
You are so energetic and you are considered to be the 'cheerleader' of the Nijigasaki girls. You are always love to use your puns when you create your own sentences, as if you are just like making a lyrics for a rap song. You are indeed the smartest girl among the Nijigasaki girls. Just continue of what dreams that you have, and I am sure that you can achieve it by any means!
Never give up the good fight! Happy Birthday, dear Ai Miyashita!
Nozomi Tojo's Birthday (Message Next Week)
On June 9, it is the birthday of the lovely Nozomi Tojo! Her birthday campaigns are now ongoing at the LLSIF rhythm game, and make sure to scout for her birthday UR if you are a fan of hers!
As usual, I am going to post her birthday message here next Episode, and look forward into that!
LoveLive! Superstar!!
【💫TVアニメ情報💫】
TVアニメ「ラブライブ!スーパースター!!」の放送開始日が決定❗🎉💫
NHK Eテレにて7月11日(日)午後7時から放送スタートです🌟

放送まで約1ヶ月…❗お楽しみに✨https://t.co/vh7LAtRd9Y

#lovelive #Liella pic.twitter.com/yzZt3ZkuUE

— ラブライブ!シリーズ公式 (@LoveLive_staff) May 28, 2021
The airing date for the anticipated TV Anime of LoveLive! Superstar!! has been confirmed! It is now scheduled for a July 2021 release! The first Episode airing shall be on the 11th day of July, on NHK ETV!
Meanwhile, overseas can receive viewing and streaming of LoveLive! Superstar!! via with their respective local Anime licensors per country! Please see your local Anime licensor/distributor for more info!
And also, expect some login bonus campaigns on your LLSIF and ALL STARS games in the later date!
Aqours Second Solo Concert Album Series
【☀️CD情報☀️】
2021年8月1日の高海千歌の誕生日を皮切りリリースされる「Aqours Second Solo Concert Album」の店舗特典が決定❗️

店舗特典⏩https://t.co/2OAuaIkouE
商品情報⏩https://t.co/5WgLP5EtqF

是非予約してゲットしてくださいね✨#lovelive #Aqours pic.twitter.com/OCCmpVJULO

— ラブライブ!シリーズ公式 (@LoveLive_staff) June 1, 2021
As part of their ongoing "We Are Challengers" project, they are going to release the 'season 2' of their solo concert album series!
Starting with Chika Takami again on August 1, they are going to release the Second Solo Concert Album Series! The contents format is the same as in the previous First Solo Concert Albums, having one exclusive song with the other songs included as solo song versions. This time, it can have one original song, with the solo versions of the songs coming from the TV Anime series.
Release dates of these Second Solo Concert Albums shall be on the respective birthdays of Aqours members!
Whew, so far, we are done with the highlights. But then, this Episode is not yet over!
Right now, what were the things that happened in the past week, and this week on the School Idol Festival rhythm game? Please read more to find out!
LLSIF HIGHLIGHTS
Things are going to change here a bit. So right now, JP and Global Sides shall be unified as one! In fact, the upcoming server merge of the Global Side is now confirmed, and this could be the turning point where things shall be more exciting from now on.
So right now, let us go to the things that happened on both JP and Global Sides! Read!
Icon Collection: Aqours' Incubation Strategy! (Final)
【ラブライブ!スクフェス】

🐣 The Beginning of Ending 🐣

Icon Collection: Aqours' Incubation Strategy! (Results)

🥇 Points: Rank 364 | 1,137,062 pts.
🥇 Score: Rank 2,742 | 2,215,103 scr

There are 1,024 Icon Tokens left when the Event has finished.#lovelive #スクフェス pic.twitter.com/aChiBdYjKb

— いのりどんず (INORI DONZ NETWORK) (@InoriDONZ) May 31, 2021
Finally, we are at the final results of this concluded Event!
Thank goodness, and I had finished another Tier 1-1 in the Aqours Side! If only there is an EXP modifier sidelining within this Event, then I am gonna lose for good! Good thing that the Bond Points multiplier has given me time to max out the Bond Points of any available SR/SSR members that I haven't yet! So far, so good, and I was able to save more Love Gems without spending them for LP restorations!
Speaking of the final results, I had finished with a Tier 1-1 standing. And this marks my 10th Tier 1-1 Event victory in the Aqours Side. I can still go for more if I am able not to get lazy.
Round 8 Live Arena
🎵第8回ライブ♪アリーナ「白のハートを射抜いちゃえ!」開催🎤

スクールアイドルたちとのセッションを勝ち抜いて報酬をゲットしよう🚩
報酬にはUR #エマ・ヴェルデ (覚醒済)が登場👀

開催期間:6/25(金)まで#lovelive #スクフェス pic.twitter.com/2kQpG6ot2O

— 【公式】ラブライブ!スクフェス事務局 (@lovelive_SIF) May 31, 2021
The 8th Round of this Live Arena has finally begun! Simply the same rules shall apply. You just need to reach Expert or Royal Expert Category in order to win a UR Emma Verde!
Do you need some more explanations in surviving and winning in the Live Arena? Then read this guide in order to have an idea!
Ongoing: Persona Series & LLSIF Collaboration Campaign
✨ペルソナシリーズ×スクフェスのコラボが決定✨

コラボに先駆けて、スペシャルコラボキャンペーンガール投票を開催🎵
μ'sの9人の中からキャンペーンガールに選ばれたメンバーは、
特別なUR部員として #スクフェス に登場🎉

投票はこちらからhttps://t.co/2pbjZWPvwD#lovelive #ペルソナ pic.twitter.com/I07hlmPGbf

— 【公式】ラブライブ!スクフェス事務局 (@lovelive_SIF) May 27, 2021
Since May 27, the ongoing voting campaign is still on. This was actually highlighted last Episode!
Simply, players shall have to vote for a µ's member during the voting period. Voting period shall last until June 9, 2021. The winning µ's member shall be chosen as a collaboration image girl, and she can be chosen to have a special UR to be used in the forthcoming collaboration event with the Persona Series!
Nozomi Tojo Birthday Campaign
【ラブライブ!スクフェス】

Nozomi's birthday limited scouting is now up!

What had you noticed? Instead of ending in her birthday, it shall be extended until June 17, for Global Side players to catch up!#lovelive #スクフェス #東條希 https://t.co/KULSADoZrs pic.twitter.com/vX9Q8HdDHY

— いのりどんず (INORI DONZ NETWORK) (@InoriDONZ) June 2, 2021
As of today, Nozomi's Birthday UR Scouting is now up, and it shall last longer! In fact, it shall last beyond her birthday on June 9, and it shall end until June 17! And that is for the players in the Global Side who would like to catch up for her birthday box, due to an incoming major 2-day maintenance and a server merge!
Be sure to scout on her birthday UR if you are a fan of hers, and show your true love and dedication for her!
Changes in My Event Grinding and Tiering
So then, as mentioned earlier, I am going to make my changes in grinding and tiering with the future Events! Since the Global Side is now syncing with the JP Side, my Global Side account is considered now to be my 'second' account in the JP Side. Same goes with my JP Side considered to be my second account with the Global Side.
So then, starting with the upcoming Event on June 5th, things shall change. And on every Events, I am going to alternate in between on my two accounts! What does that mean? So then, if I am going for the µ's Side, for example, I am going to use my Global Side account to grind and tier in the Event, while my JP Side account shall be resting and on standby. If it is an Aqours Event, then my JP Side shall be on its turn, while the Global Side shall rest and standby. Meanwhile, the results of my progress in the Events shall be posted on the alternating accounts, instead of posting them together at the same time.
For example, if I am going to post the results of the Event, it is going to be a one account basis. If I am going to post the results of the µ's Event, then I am going to post in on my Global Side account only. Same goes to the JP Side as well, if it is going to post the results of the Aqours Event.
So then, it is going to be like this: µ's is for Global Side and Aqours is for my JP Side. That's how it goes!
FEATURE OF THE WEEK!
We got something to feature for this time of the week! Guess who?
This week, we are going to feature… Guilty Kiss!
Guilty Kiss! Guilty Kiss? Guilty Kiss!!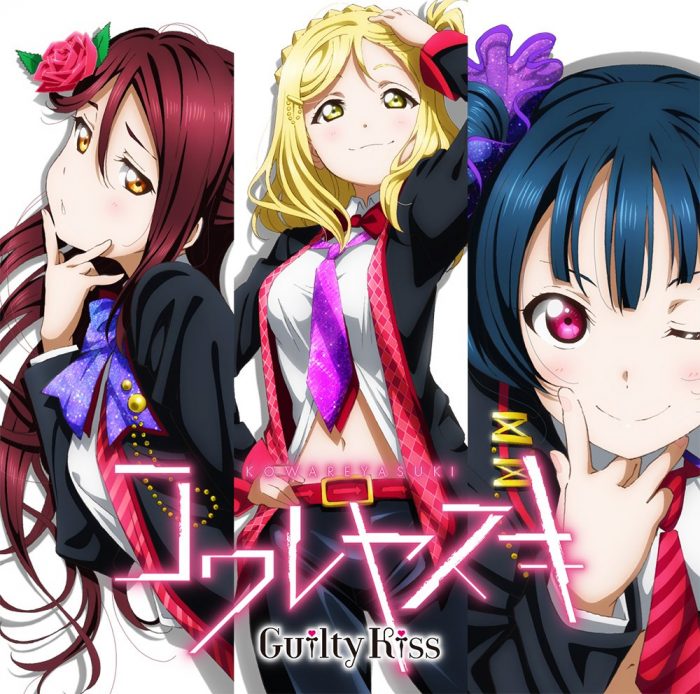 Guilty Kiss is an Aqours sub-unit trio consisting of Riko Sakurauchi, Yoshiko Tsushima, and Mari Ohara.
Guilty Kiss' expressive songs can make a listener go in their 'wild' instinct, since their songs can make your inner self go out. Most of their songs are somehow a bit 'adult-oriented' in terms of tuning and voicing, especially when it comes to rock and disco pop. Their range of voices can eventually sync you as you go along with their music.
Notably, their popular songs shall include Strawberry Trapper, Guilty Eyes Fever, and their latest song, the New Romantic Sailors. This group has produced more than five songs under their sub-unit name.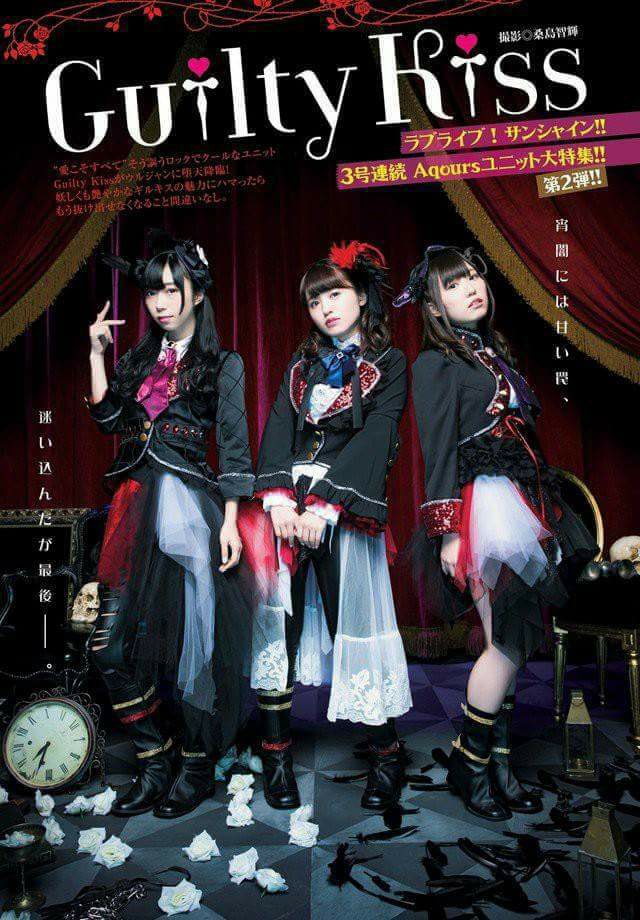 So far, what's your favorite Guilty Kiss song?
Will there be a Continuity? Next Season? Next Episode?
Right today, things will be changed forever, and people must need to be used for it.
Now that the Global Side of LLSIF shall now join forces with the JP Side, it is now time to make a stand! It is now time to prove that we are strong enough to overcome the odds and trials!
And thank you for reading the latest Episode of School Idol Festival Journal Log! I hope that you had enjoyed reading everything today! Anything that will occur later after this published Episode shall be included next week!
See you next Episode and cheers! Happy weekend everyone!
Back to Episodes archive | Return to Home Page
Facebook Notice for EU! You need to login to view and post FB Comments!