I am the cutest School Idol!
The ranker website in Japan, goo, has ranked the LoveLive! characters according to their cuteness. This was done and was posted since April 25, 2021. The 28 characters from the LoveLive! Series (except Liella!) are ranked according to the number of votes that was done recently since December 2, 2020.
So far, here are the results of the votes (Ranked according to number of votes):
Nico Yazawa with 79 votes
Kotori Minami with 63 votes
Maki Nishikino with 39 votes
Eli Ayase with 33 votes
Honoka Kosaka with 32 votes
Rin Hoshizora with 28 votes
Nozomi Tojo with 24 votes
Umi Sonoda & Hanayo Koizumi with 20 votes
Dia Kurosawa with 18 votes
Chika Takami & Hanamaru Kunikida with 15 votes
Riko Sakurauchi, You Watanabe, and Mari Ohara with 14 votes
Yoshiko Tsushima & Ruby Kurosawa with 13 votes
Kanan Matsuura with 12 votes
Ayumu Uehara, Shizuku Osaka, Kanata Konoe, and Emma Verde with 10 votes
Kasumi Nakasu with 9 votes
Ai Miyashita & Rina Tennoji with 6 votes
Karin Asaka with 5 votes
Yu Takasaki with 4 votes
Setsuna Yuki with 3 votes
So far, who is your best LoveLive! girl? Did she make it to the top?
The Love Live! Series is a Japanese Anime multimedia project. This was produced by the collaborating companies, the Japanese Anime music label Lantis, animation studio Sunrise, and Dengeki G's Magazine, a magazine by ASCII Media Works (KADOKAWA Group label).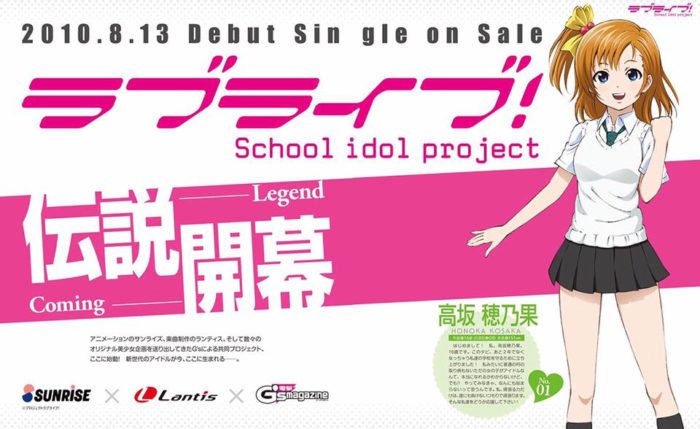 This project began somewhere in 2010 and it starts as a multimedia project, where it introduces female high school characters who were grouped and formed a group together. This project was dubbed as the 'School Idol Project'. The girls will produce music and singles, as well as making a full music animation video out of that music.
LoveLive! School Idol Project first appeared in 2010, and its TV Anime counterpart was aired around year 2013. It was then followed by LoveLive! Sunshine!! in 2015, and its Anime counterpart was aired around 2016 to 2017. The third series, the LoveLive! Nijigasaki High School Idol Club TV Anime Series has appeared since October 2020. Meanwhile, the upcoming Anime series, the LoveLive! Superstar!!, was scheduled to air in Japan TV networks this coming July 2021.
Sources: