Thrilling Halloween!
What comes into your mind when you hear the word Halloween? Is it about pumpkins? Ghosts and monsters? Or even scary haunted houses? There is a history about the celebration of Halloween, which in fact has become a traditional celebration. You can do a research for that.
Speaking about this Episode, this is where the thrill shall start, since the Halloween celebration is just a day away! Let the Episode 17 of School Idol Festival Journal Log begin!
PRE-EPISODE HIGHLIGHTS
There are exciting upcoming events and highlights for LoveLive! fans to enjoy! See below!
SIF Series Thanksgiving 2020 Online!
?【#スクフェスシリーズ感謝祭2020 ~ONLINE~「生放送情報」公開!】?
特設サイトは10/31(土)12:00 OPEN✨

更に!感謝祭を記念した様々な生放送を実施!
キャストサインボードキャンペーンも開催しますので、お楽しみに?

▼詳細はこちら▼https://t.co/LvjJZJtxJp#lovelive pic.twitter.com/hkhoy50tbm

— ラブライブ!スクスタ公式 (@LLAS_STAFF) October 26, 2020
Though LoveLive! ALL STARS isn't yet in my coverage in my SIF Journal Log Episodes, I might include them a bit here in this pre-Episode Highlights. So then, let's have a relevant info about this event!
The SIF Series Thanksgiving 2020 Online is a yearly major event which features LoveLive! games, the LLSIF and LL! ALL STARS. It shall be in a form of a live streaming event this time because due to the ongoing COVID-19 pandemic today, and mass gatherings are still not allowed. This event shall take place in almost all parts of the days in November. See the next paragraph below for some schedule!
The opening ceremony shall take place at the last day of October 2020, and it shall be the LLSIF part (somehow includes updates and some challenges). The next part shall be the start of the upping of the official news and info about the Thanksgiving event. Also, the next part shall be the corner for the ALL STARS game (JP, Global, and CN Sides) which include some challenges and some latest info and updates of the game! And finally, some closing ceremony, which in fact they might announce something in the end.
To know more about this upcoming event, you can refer to the embedded Tweet above for details, and find the URL that can lead you to the details of the event (Japanese)! Look forward to these and enjoy! I might gather some info with regards to the LLSIF game from there, and I might include them in the next Episode!
A Birthday Letter: Happy Birthday Rin Hoshizora!
Since Rin Hoshizora's birthday (I call her Rin-Rin) is on November 1st, and it is just only two days away from this Episode, I would just celebrate her birthday in advance! Since celebrating her birthday next week can be very sad for her, I would rather do it in this Episode today instead! Yeah, and I do not want Rin-Rin to be sad either. Okay, let's read a letter for Rin Hoshizora from µ's, and from the sub-unit Lily White!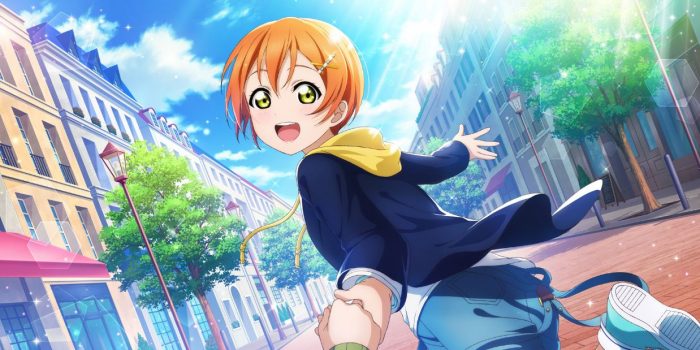 Dear Rin Hoshizora…
You love eating ramen noodles, right? You are a very cute, short-haired girl for me. Some of the few fans out there are teasing you, and they are calling you as 'Rinboi', or in the sense that you are a boy in a form of a girl's body. That's not true! You are indeed a true person that possesses a true feminine side. Remember that there are people who are still following you, and they still love you very much.
As a LoveLive! fan, I, myself, would like to wish you a fruitful future, wherein you can find something that you have been looking for at the time that you have become a School Idol. Dear Rin-Rin, just be yourself and just continue to do anything that you wanted to be in your life, so as long as you can't hurt others' feelings. For me, you are a very cute personification of a normal cat, and any cute costumes can fit you very well!
Once again, Happy Birthday, dear Rin-Rin, member of the legendary µ's, and a member of the sub-unit, Lily White!
I hope that this letter can reach Rin Hoshizora's feelings! Right now, her birthday campaigns are still ongoing! Keep reading since they shall be highlighted on the JP and Global Sides of LLSIF!
Alright! Let's continue the thrill until the very end! Let's head on to the JP and Global Sides of LLSIF!
JP SIDE HIGHLIGHTS
LoveLive! Nijigasaki High School Idol Club TV Anime Campaign – Episode 4
【ラブライブ!スクフェス】

Nijigasaki High School Idol Club TV Anime Campaign – Episode 4

Login in all seven (7) consecutive days to receive all of the items below! Test yourself by trying out Ai Miyashita's song to be released soon in the B-Sides!#lovelive #スクフェス pic.twitter.com/kfKP5Wp0TY

— いのりどんず (INORI DONZ NETWORK) (@InoriDONZ) October 24, 2020
So right now, it shall be a regular sub-segment here in the JP Side of LLSIF, until the TV Anime broadcast ends! In this Episode, it shall feature the genki-girl, Ai Miyashita!
As usual, you just need to login in all seven (7) consecutive straight days to receive all of the items above in the login bonus! If you miss one day in that login bonus, it's over and you won't be able to get the last item above, which is an SR exclusive that can be obtained in the serial code via the purchase of the TOKIMEKI Runners album (Of course, codes do have an expiration)! In other words, don't miss a login.
Also, be informed that her solo song from the TOKIMEKI Runners album shall be also available on your B-Sides! Test yourself, and play and clear it before it expires!
MY STATUS: Nijigasaki TV Anime Version SSRs Collection
【ラブライブ!スクフェス】

FOUR out of NINE.#lovelive #スクフェス #虹ヶ咲 pic.twitter.com/xppNOb5aeK

— いのりどんず (INORI DONZ NETWORK) (@InoriDONZ) October 24, 2020
With regards to the status of my SSR collection of the Nijigasaki TV Anime Version girls, I had collected so far four of them out of the nine members. So which means, I got five remaining girls to collect in the succeeding weeks! Just remember to login to your LoveLive! ALL STARS JP Side account to get this! This highlight is well explained in the previous Episodes, starting from Episode 14!
Rin Hoshizora Birthday Campaign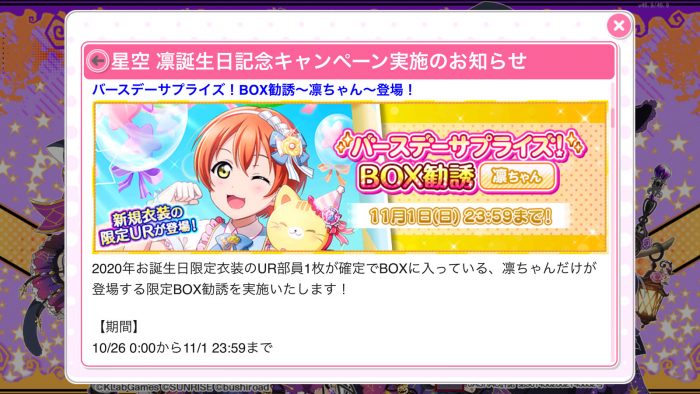 Also, ongoing along is the Rin Hoshizora Birthday Campaign! It has started since October 26, and shall last until Rin's birthday on November 1.
Her Limited Birthday UR Scouting boxes, as well as her solo song on the B-Sides, shall appear! Scout if you are really loving Rin, and also play her solo song on the B-Sides! Try forming a Rin-only team and show off some love and skill!
Round 45 Score Match: Aqours and the Autumn of Sports
【ラブライブ!スクフェス】

All Event Points rewards complete… In less than 12 hours since the Event has started.#lovelive #スクフェス pic.twitter.com/041su06bel

— いのりどんず (INORI DONZ NETWORK) (@InoriDONZ) October 20, 2020
Still ongoing in this side is the Round 45 Score Match! As promised, I am going to give you some highlights in this Score Match Event!
The featured Event UR to be obtained as rewards is Dia Kurosawa. Event URs that can be obtained by scouting are You Watanabe and Hanamaru Kunikida. Ruby Kurosawa is the featured Secret SSR that can be obtained in the Event as rewards, as well as some previous Event SRs ever released! Make use of them as Yell Units to boost up some Event Points acquisition when you play!
For the entire highlights last week and this week, my grinding has become a lot more harder than before! Yes, it can be either easy or hard one! Also, it has become a win-lose situation for me!
In less than 12 hours, just after the Event has started, I was able to reach the 600k total Event Points mark obtaining all of the rewards. Going beyond the 600k, I tried to play even more so that I could even raise up my Score Match Points. But then, I am consequently losing every Score Match plays, and placing me always in the 4th position, and having my Score Match Points lost in process. Also, placing in 4th position everytime makes me gain only small Event Points, which in fact, making me harder to defend my Event Points Rank. So then, I have to grind in this Event for more Event Points, and at the same time, I have to defend my Score Match Points Ranking.
This Event shall continue, and shall end tomorrow in less than 30 hours from now, just after this Episode was published. The final highlights of it shall be written here next week!
GLOBAL SIDE HIGHLIGHTS
Token Collection: A New Kind of Valor, a New Kind of Song
【LoveLive! SIF】

A New Kind of Valor, a New Kind of Song – Results

? Event Pts Rank: 90 at 366,670 pts
? Event Score Rank: 440 at 2,297,397 scr

Final Standing: Tier 1-1#lovelive #LLSIF pic.twitter.com/oqrJMOIXUI

— いのりどんず (INORI DONZ NETWORK) (@InoriDONZ) October 26, 2020
What an ending! I am not really surprised of the results! The Event has been concluded since October 26 with a Tier 1-1 standing. And yeah, the Token Collection Event featured song is just too hard, and some only few players were able to land an FC finish and to land a very high score on it. MASTER songs are now a new norm in LLSIF, so I got no other choice but to get be used to it.
【LoveLive! SIF】

Shocking Party by A-RISE is completed. All goals done in EXPERT mode! ?#lovelive #LLSIF pic.twitter.com/PLV2sF4WcD

— いのりどんず (INORI DONZ NETWORK) (@InoriDONZ) October 23, 2020
For the final highlights, I just recently finished all of the goals of the A-RISE's Shocking Party song. But too bad, I haven't managed to clear all of the Goals in its MASTER counterpart yet. How sad.
COMING UP: Rin Hoshizora Birthday Campaign
It is just basically the same format as in the previous birthday campaigns (Eli, Kotori, Ruby, and Riko), and you shall have to scout for her Birthday URs, as well as her new Birthday 2020 UR! Also, you shall have to play her mini-game in order to get her previous Event SRs! Sadly, the Step-Up Scouting is now removed as of the previous Eli Ayase Birthday Campaign, due to the fact that the Version 7 Update has finally taken place. And finally, play her solo song on the B-Sides, and let's see if you can easily clear the song and land an FC finish to get a free one Love Gem as a prize! Yep, there are related Goals to that either.
SIDE EVENT: 2020 Aquarium Stamp Extravaganza
Ever since the last Token Collection Event has ended, this one is also ongoing right now!
Only in Global Branch! You shall have to play this game in order to receive some awesome rewards, such as the SR and above Support Members Ticket, Max Up Jewels, Love Gems, and more! Those rewards can aid you in your team's strength and Skill Level, and to help you to score efficiently in Live Shows!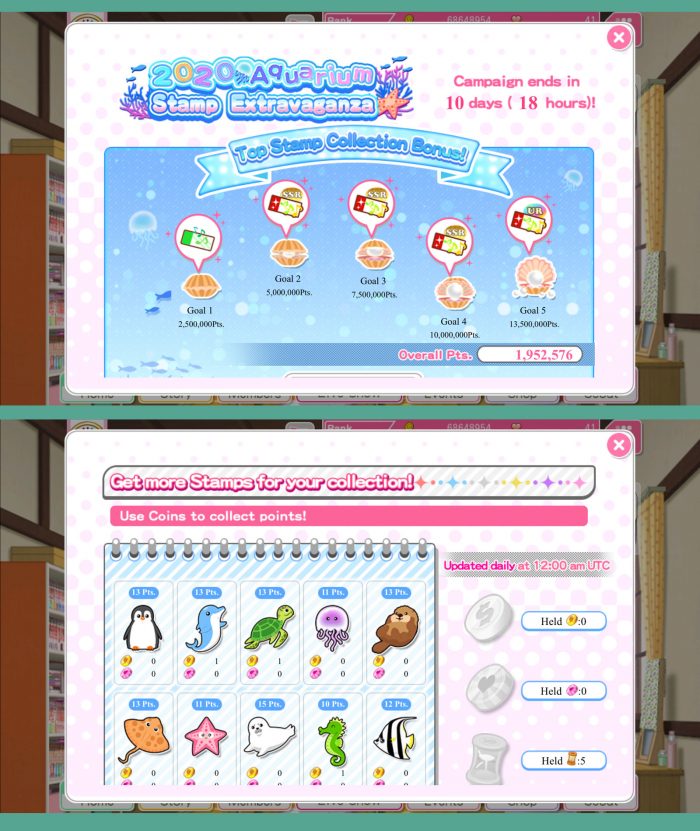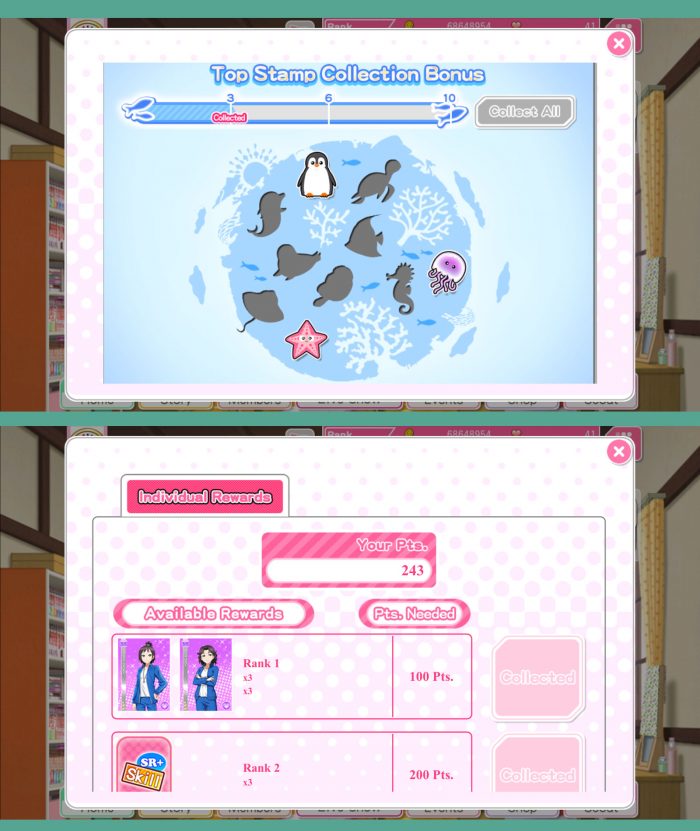 In order to access this Side Event, you just have to look up and tap the Event Banner located at your Home Screen!
Somehow, this Side Event is a bit complex than the previous ones that I had previously played. You just have to pick up some Stamps in which that Stamp is the featured of the day, and the other is the featured lucky Stamp of the day.
I can't give you some complex details about this one. And this highlight might get any longer if I am going to try to include and explain them right here! The best part is to explore and try to read and understand the mechanics and rules of this Side Event. There are some users or group of players who can predict of what could be the next featured Stamp for the day. My advise for you is that you should try to gather some intel and info from the various groups that you are in. And that is in order to find out what could be the Stamp that should be the next target.
Good luck (and also me!) in finishing this Side Event!
UP NEXT – Round 19 Challenge Festival: Chapel Series
【LoveLive! SIF】

NEXT EVENT

Round 19 Challenge Festival: Chapel Series

So then, this is the last 7 SRs Event. The next future Event onwards after this shall be a UR, a Secret SSR, and Event URs that can be obtained by scouting!#lovelive #LLSIF pic.twitter.com/IexbOhAHiw

— いのりどんず (INORI DONZ NETWORK) (@InoriDONZ) October 29, 2020
Also, we got this new Event to be commenced soon, in less than 8 hours from now. This Challenge Festival Event shall be the last Event to feature 7 SRs as prizes to be obtained when you play it!
Highlights shall be written next week! To be continued…
SCHOOL IDOL QUIZ CORNER
It's time for another School Idol Quiz! Today, I am going to reveal the answer!
Ai Miyashita's family business is a restaurant, and it is known for what food that they are selling?
A. Takoyaki
B. Okonomiyaki
C. Monjayaki
For the answer, it is Letter C! Monjayaki! Alright, let's explain it!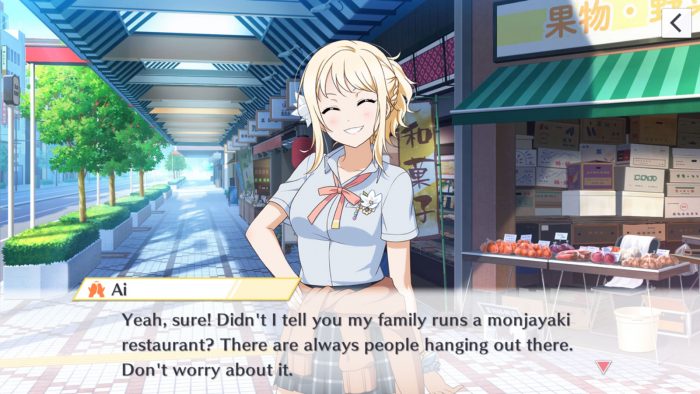 As seen in her Bond Episode 7 from the LoveLive! ALL STARS game, and in some Side Episodes and Event Stories, Ai is running a restaurant business by her family, and it is known for monjayaki as their best-seller food.
Monjayaki is an another variant of okonomiyaki, and it uses different ingredients from the said food. You can read more about that from Wikipedia given below!
https://en.wikipedia.org/wiki/Monjayaki
It's the another stretch!
So then, you have read and seen the thrills — the fear of making your money and wallets to be crushed! And also, some of the surprises that you have seen had already hit you! But then, no matter what, you should not be letting your guards down. Since Halloween is just tomorrow, you are just about to face the true fear… I mean, thrills!
Finally, a thrilling Happy Halloween to all of you! I hope that you will enjoy the weekend and to enjoy what's coming up new in the School Idol Universe! Tune in next time in my IDS website for another Episode of School Idol Festival Journal Log! See you next week and cheers! Happy thrilling weekend!