EPISODE 09: Appeal is a Factor!
In this world, there are group of girls who inspire people to chase for their dreams. They have splendid and beautiful performances that can touch everyone's hearts. They are just girls who started as students having their own dreams from scratch. These young and cute ladies were called as "School Idols".
Appeal should be needed in order to draw your fans' attentions. It doesn't matter whether you are cute and sexy, while wearing your beautiful frilly costume. It is really something that you should need, so that they could easily be attracted or be infatuated at you!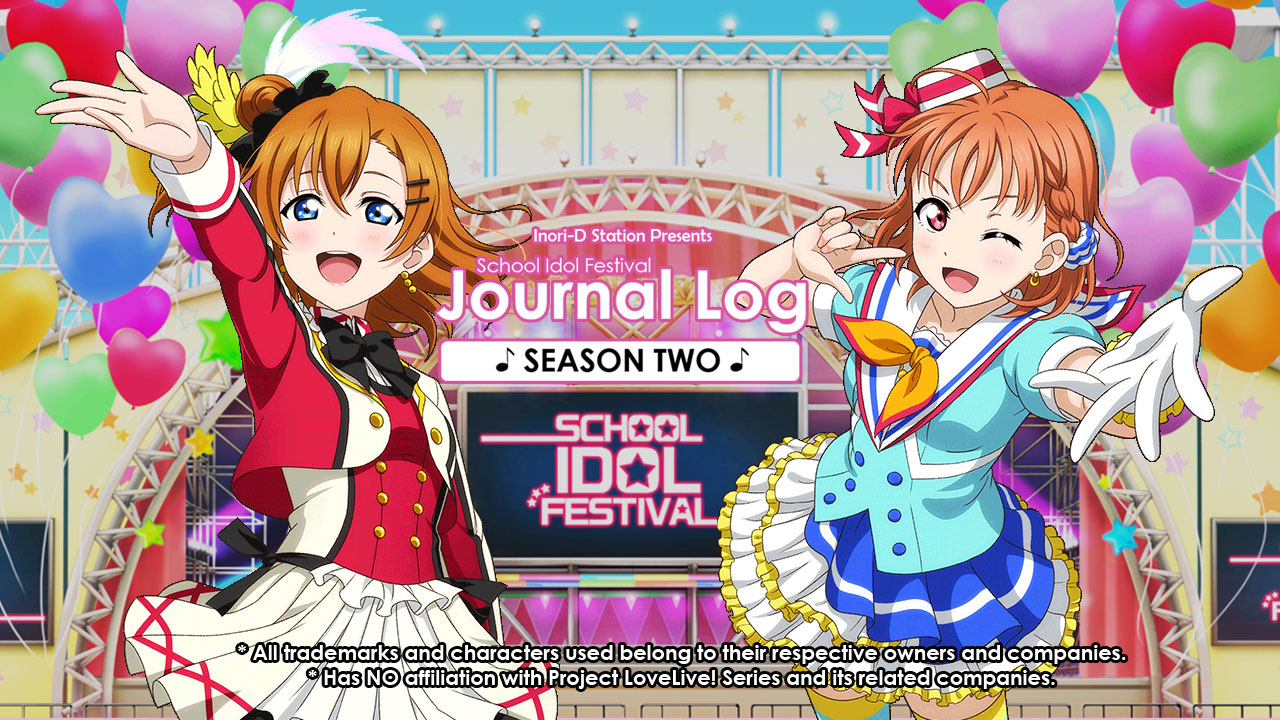 STORY EPISODE
One day, in an apartment building somewhere in Tokyo, Aika is busy sewing and finishing her latest cute costume.
"It is almost finished! I am going to use and wear this in my work shift tomorrow!"
When she had worn her own, completed costume, she noticed something.
"Okay, so I am generally making a costume that is the same all over again. My previous works were just the same. It seems that I am bit realizing what my boss said to me."
After that, she remembers the flashback from her boss, who is the maid cafe manager, yesterday.
"I am just going to tell you something. You can't attract someone with your appearance. Irregardless if you are cute and sexy or not, you can't even attract them without it!"
"Aika, I am referring to a thing that attracts people. It is of what I call, the appeal. If you can't project your own feelings to them, they can't even go closer to you!"
And back to reality, she said, "Appeal… Is this what I am lacking after all? It is just learning that no matter how cuter and beautiful my clothes are, I can't just draw their attention by means of showing myself in a cute or beautiful costume to them! But then, what is an appeal? How could I do it?"
Later, she was walking around in the streets of Tokyo, until she has reached around Akihabara. And then, she saw many Anime posters and billboards displayed in various places. She also saw a big jumbotron at the front of her. And then, at the jumbotron screen, she saw some School Idols dancing there. When she watched it, she was somehow amazed and infatuated, at the same time.
"Wow, School Idols! And their costumes are so friggin' cool and cute! I would like to use them as references for my next costume project!"
She then pops out her smartphone camera from her pocket. When she is about to take some pictures, a mysterious person in shrouded clothes has whispered in Aika's ears.
"Hey, I think I knew you. Come and let's go with me!"
"Eh? Who are you?"
"Just go with me!"
This person in shrouded clothes has took Aika's arm and dragged her, as if she is like being kidnapped.
"Eh?? Wait! Where are you going?"
"Don't worry. I am not a molester!"
"What? Stop it! Or I will call a police!"
"Shh…. Do you want me to teach you about on how to attract more of your fans?"
"Huh? Attract more fans? What do you mean?"
"Enough questions! Let's go somewhere so that we could talk clearly!"
"Ah, right. I hope this is not a torture session! If that's the case… Somebody save me!"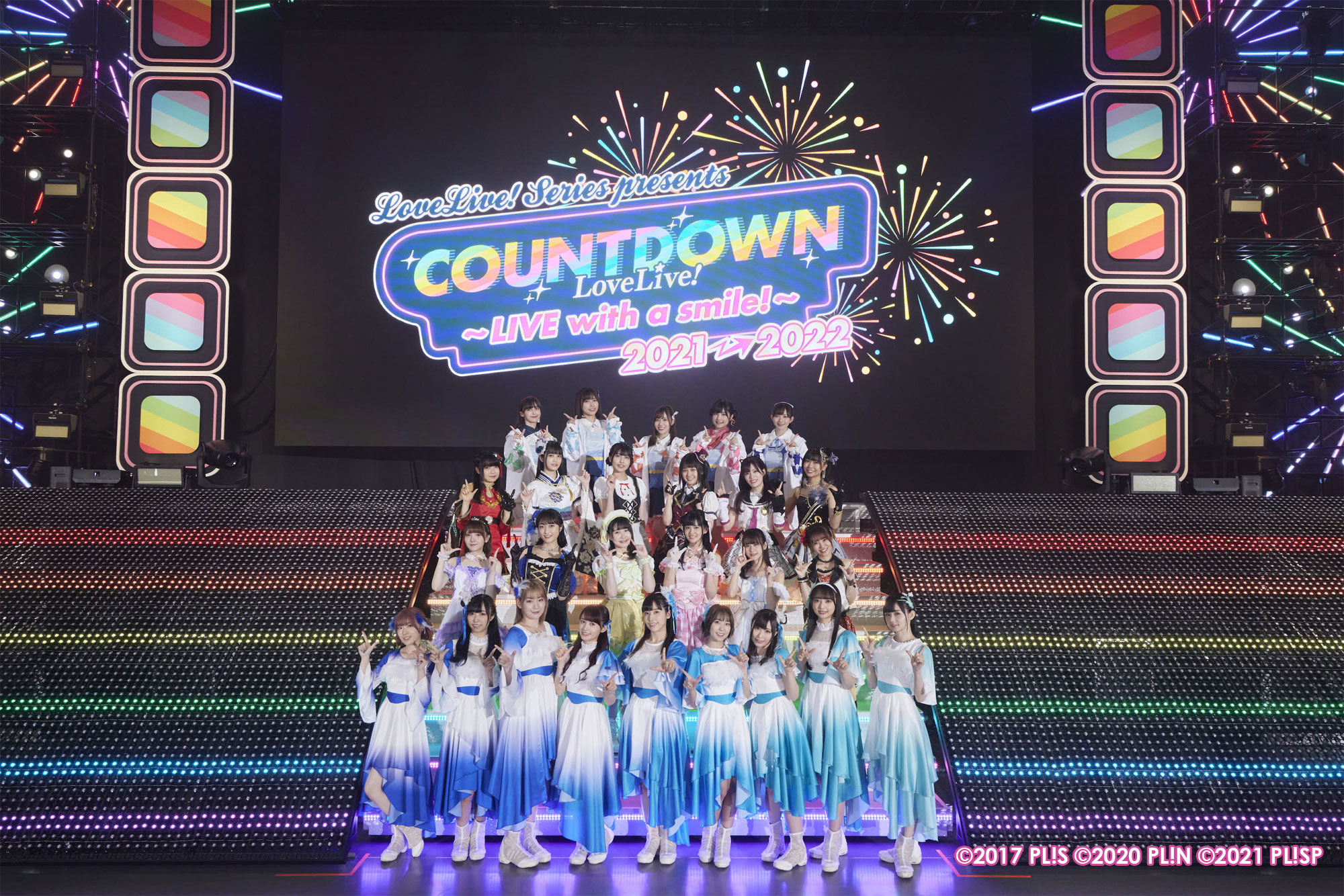 HEADLINES
The party is not over! In fact, we got still around three (3) more incoming live performances remaining! And also, we are going to celebrate the birthday of that School Idol, along with the other one just days ago!
Be sure to read them… With a smile!
TOMORROW: Aqours 6th LoveLive – SUNNY STAGE
☀️ライブ☀️
3/5(土)・6(日)開催#Aqours 6th LoveLive!
<SUNNY STAGE>
@メットライフドーム
(3/1~ベルーナドーム)

本日2/19(土)正午より
一般発売(先着)と有料生配信のチケット販売がスタート✨

?一般発売(先着)
→https://t.co/g0JCh5AsR8
?有料生配信
→https://t.co/mkLILL8tyG#lovelive pic.twitter.com/3Xiu3LMUFJ

— ラブライブ!シリーズ公式 (@LoveLive_staff) February 19, 2022
Last week, we got Nijigasaki High School Idol Club.
And in this week, and in tomorrow, we got Aqours coming up next!
That's right, their live performance shall be held on Saitama Belluna Dome.
If you had purchased your tickets for the paid live stream, as well as for the on-site venue (for Japan only), enjoy! This is your final showdown with Aqours on their 2nd part of their 6th LoveLive! live performance Event.
Make sure to watch out for some sudden announcements, if there are any! And "7th Live" of theirs can be possible.
NEXT WEEK: Liella! 2nd LoveLive!
?ライブグッズ情報?
ラブライブ!スーパースター!! #Liella! 2nd LoveLive! ~What a Wonderful Dream!!~ オフィシャルグッズ
横浜公演の会場受取販売の受付を本日18時より開始いたしました❗️✨

→ https://t.co/b5fcY2RuFA

※各アイテムには上限がございます

お申し込みはお早めに?#lovelive pic.twitter.com/0sbzTAl2cx

— ラブライブ!シリーズ公式 (@LoveLive_staff) February 24, 2022
You thought that Nijigasaki and Aqours are the ones who had performed? Think again.
Right after Aqours, next week shall be Liella!'s turn!
Liella! 2nd LoveLive! ~What a Wonderful Dream!!~ shall be commencing next weekend, on March 12-13, 2022, at Pia Arena MM, in Yokohama, Japan. But there's more! Their 2nd part of their 2nd Live shall be held on Nagoya, at Nippon Gaishi Hall on April 2-3, 2022.
This time, Sunny Passion shall be joining with the girls around.
The ticket price shall be costing for at least 5,000 JPY per day. Official goods are also up for preorders, and you can preorder them with your respective local Anime licensors per country or region!
Stay tuned, since the overseas paid live streaming for fans outside Japan is still TBA.
Happy Birthday to These Two School Idols!
Today, we are going to read the birthday messages for not just one, but two School Idols! Let us celebrate by reading them! Here it goes!
Happy Birthday, Ayumu!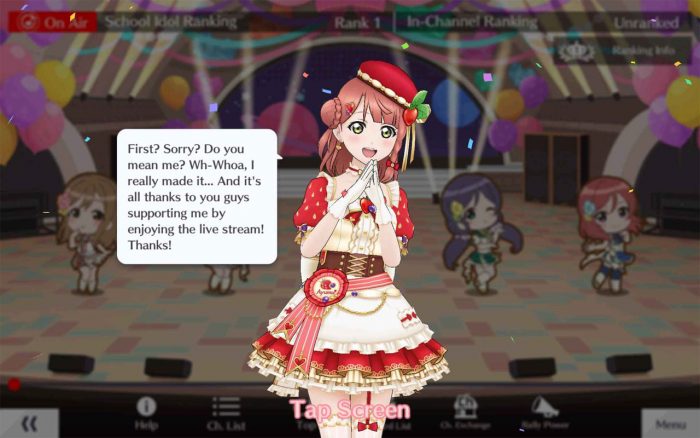 Dear Ayumu,
I was born in this world because I have a mission. And you are born in this world in order to see me. You are a girl who is like a rose or a flower, that needs everyone's radiance (the sun), and the sea of dreams (waters) to grow. I am one of your fans who is keeping to feed you some water, in order for you to grow stronger. Everyone is just around, and they are just making you grow, remember that!
You need some guidance. And we are always here for you because we are following your own dreams and endeavors! I know that you cannot do them all by yourself without me and us at your side!
Happy birthday, Ayumu Uehara from the Nijigasaki group! There is only one sentence that you should hear from me! 1… 2… Daisuki!!
Happy Birthday, Hanamaru!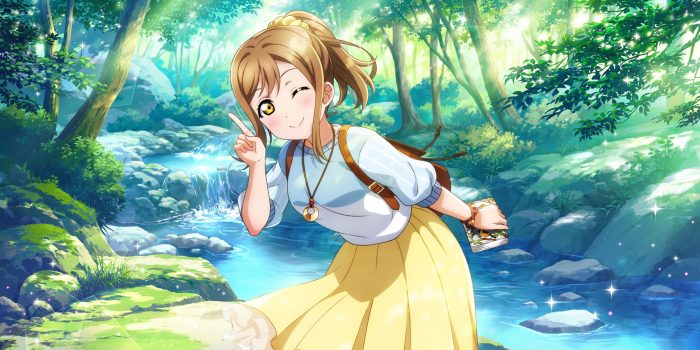 Dear Hanamaru,
You are doing very well, from the past years. It seems you had become inactive for a year because of your health issues. But then, we didn't give up in supporting you because we believe that you can still continue and fight as a School Idol!
Just keep up the pace, and you can still find the answers to your own questions in life! It is a fact that we fans do really love to hug you a lot because you are feeling sad and lonely because that time last year, you weren't able to perform.
Keep sailing ahead, my dear Hanamaru! There is still a long way ahead to go!
Happy Birthday, dear Hanamaru Kunikida from Aqours! Just like to Ayumu, I say… 1… 2… Daisuki!!
And finally, don't forget to scout on her UR in her limited-time UR Box Scouting! If you are well dedicated for her birthday, go scout! Otherwise, you can also scout if you are in need of her powerful Skill (Assuming that she is a G2-Tier SLB UR already)!
Nijigasaki Livestream (March 7, 2022)
【?後夜祭生放送?】
「ラブライブ!#虹ヶ咲 学園スクールアイドル同好会生放送 4th Live! ほんまにありがとう後夜祭 めっちゃLove the Live We Live!」のお知らせ?

3月7日(月)20:00 ~

?イベントの感想お待ちしてます?

詳細はこちら✅https://t.co/4hD2PuaeI6#虹4th_day1 #虹4th_day2 https://t.co/1pEsS30HxZ pic.twitter.com/pDMcjz5LYB

— ラブライブ!シリーズ公式 (@LoveLive_staff) February 28, 2022
Witness the highlights of the Nijigasaki 4th Live once again by tuning-in to their upcoming livestream! Aguri Onishi, Chiemi Tanaka, and Moeka Koizumi shall be hosting the stream!
Their livestream shall be made on March 7, 2022, at 8:00 pm JST!
Most likely, they shall be talking about the highlights on their recent Nijigasaki 4th Live. But other than that, what are the other things to watch out there? Basically, they shall be revealing the trailer announcement video of their upcoming TV Anime Season Two, give out content updates for the ALL STARS and LLSIF, and more! In fact, this is something that needs your attention, though.
In other words, don't miss their livestream.
Virtual School Idols… Soon?
【新情報】
ラブライブ!シリーズの新規プロジェクトとして、バーチャルスクールアイドルの活動が、2022年秋よりスタート!

新たに生まれるラブライブ!新プロジェクトに、どうぞご期待ください!

▼ティザーPVhttps://t.co/hjoxXwMGcq

▼ティザーサイトhttps://t.co/DmTpnfNW9g#lovelive pic.twitter.com/QJjj4u0git

— ラブライブ!シリーズ公式 (@LoveLive_staff) February 28, 2022
Aqours, Nijigasaki, and Liella!… We have School Idols who were just like acting as our daily companions in life, singing and dancing everyday just to make us happy. They are usually in a form of a typical "Japanese Idol", who tries to cheer up their fans everyday when they perform.
What if there is an another kind of School Idol who is existing in a "virtual world", or likewise in the vast digital space of information?
Will it be a new era of School Idols from the present time?
Stay tuned at their feed for more information. Their planning and activities for this project shall commence on around Fall 2022.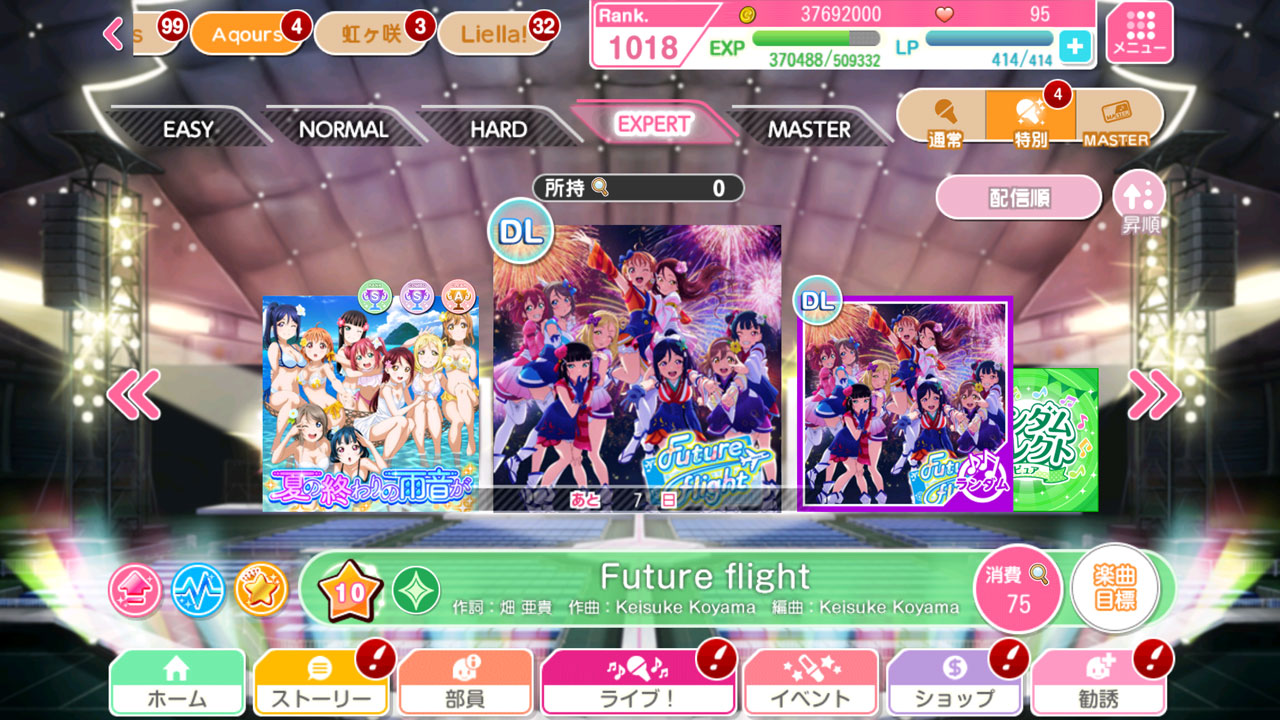 LLSIF HIGHLIGHTS
What are you going to do if you fail to get the UR that you exactly wanted? Are you going to wits out yourself by spending your hard-earned money? Or could you use the "Operation Love Gems" strategy in order to get enough Love Gems for you to scout? It usually happens, especially if you are attempting to scout on a Box Scouting banner that guarantees you a UR when you successfully scouted for at least 100 members.
As we are finding out on what could be the next Event to be announced by the team later, which shall happen tomorrow (Most likely μ's Event), what are the things that were encountered during the past weekend and in this week, on the LLSIF World?
Icon Collection: Odd Logic!? Mari's Detective Agency (Final)
It seems that I had it. I had already given my best to stand up into the top. And in the end, my revenge for Full Combo Finish for Future flight is ended with a failure.
But still, the quest of getting some powerful G2-Tier Score Up URs still continues. I just wanted my scoring capabilities to grow stronger, so that I could beat my rivals in Score Rankings again.
【LoveLive! SIF】

? EVENT REPORT ?

<Aqours> Icon Collection: Odd Logic!? Mari's Detective Agency

Pts.: ? 807 | 559,466 pts.
Score: ? 3,980 | 2,904,735 scr.#lovelive #スクフェス #LLSIF pic.twitter.com/MSczT8kQLT

— INORI DONZ | Inori-D Station (@InoriDONZ) February 28, 2022
Despite that my rivals have prevailed victorious in Score Rankings in this Event, I have placed and successfully defended my Gold Tier Rank. There are still some areas that needed improvement, for me, when grinding hard in this Icon Collection Event.
And then, I have realized that I am being degraded now with my Event Grinding performance, since that time, I am regularly updating my website with some new contents, especially with some new Episode Reviews of the Anime shows that I am currently watching.
But that's okay. It is because I am quite getting older, and I am slowly moving my hands away from my smartphone. Was it really a sign that I should retire in playing LLSIF, from now on?
Round 17 Live Arena
?第17回ライブ♪アリーナ「驚き!桃の木!大人気!?」開催?

スクールアイドルたちとのセッションを勝ち抜いて報酬をゲットしよう?
報酬にはUR #優木せつ菜 (覚醒済)が登場?

開催期間は3/25(金)まで?#lovelive #スクフェス pic.twitter.com/1jL35Q0Ae9

— 【公式】ラブライブ!スクフェス事務局 (@lovelive_SIF) February 28, 2022
The UR to be obtained from this Live Arena round is Setsuna Yuki, and you have until March 25 to reach either Expert or Royal Expert Category class in order to get her!
Live Arena Guides and Tips:
https://inoridonz.com/2021/05/01/llsif-live-arena/
It seems that the current Live Arena round (also last month) is slightly easier than before. If that's the case, then it's the time to make your revenge!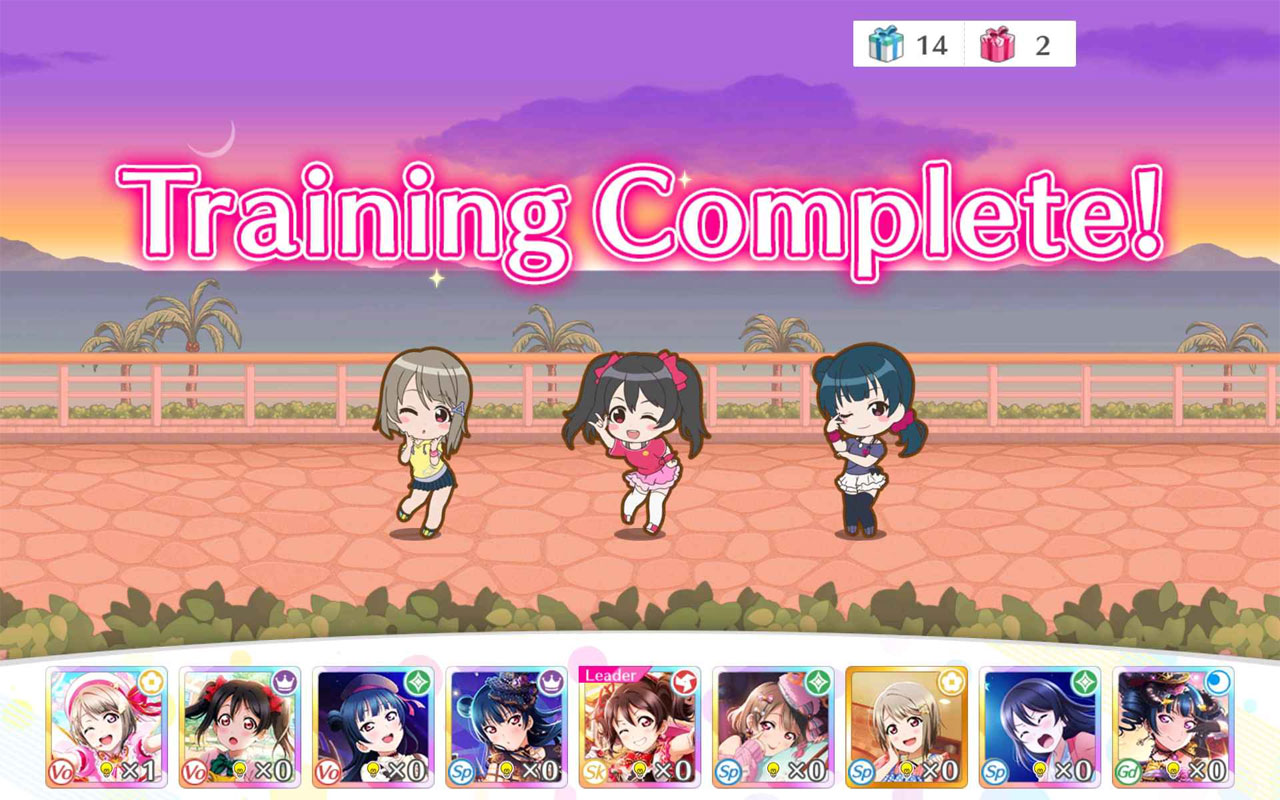 ALL STARS HIGHLIGHTS
Don't worry. I am still fighting with this game, and I ain't giving up. In fact, I am no longer the person who is trying to be competitive anymore, when it comes to Voltage Score Rankings.
Otherwise, what were the things which were encountered, so far?
STORY: A World of Relaxation! (Final)
Basically, what has happened to my LLSIF grinding is just the same as in my ALL STARS grinding. But then, I was able to use this "Auto play" strategy, while playing and grinding in my LLSIF game. My JP Side wasn't able to do anything, including the fact that I ain't able to secure the UR Nozomi Tojo on time.
【LoveLive! ALL STARS】

? EVENT REPORT ?

<STORY> A World of Relaxation!

〈Total Points Rank/Gained〉
JP: ? 33,962 | 134,603 pts.
GL: ? 5,478 | 170,807 pts.#lovelive #スクスタ #LLAS pic.twitter.com/gtKjDRqqx3

— INORI DONZ | Inori-D Station (@InoriDONZ) February 27, 2022
The Story Event has ended, thus placing my JP Side on the lowest Rank Bracket. Global Side barely made it to the Bronze Tier Rank, thus finishing it into Silver Tier Rank instead.
So then, another month has come into a close, and I am just planning for my next strategy. Will it be just the same as in my previous Events, wherein I can't able to grind properly and seriously?
School Idol Channel Weekly Bulletin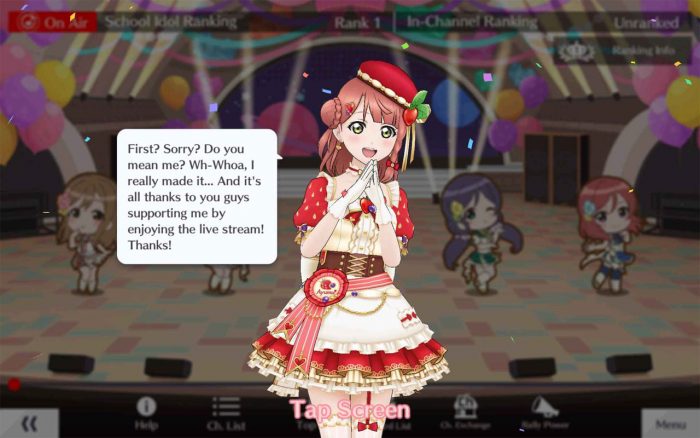 Today, we are going to reveal the ones that made it to the top ten! And Ayumu has prevailed over the ranks in all sides! For now, who could be the girls that made it to the top ten, and did your best girl make it?
JP Side – #48
| RANK # | SCHOOL IDOL | GROUP | AVERAGE CHEER POINTS |
| --- | --- | --- | --- |
| 1 | Ayumu | Nijigasaki | 16,619 |
| 2 | Nozomi | µ's | 5,054 |
| 3 | Kotori | µ's | 4,867 |
| 4 | Ai | Nijigasaki | 4,166 |
| 5 | Dia | Aqours | 4,094 |
| 6 | Karin | Nijigasaki | 3,653 |
| 7 | Setsuna | Nijigasaki | 3,601 |
| 8 | Riko | Aqours | 3,551 |
| 9 | Eli | µ's | 3,430 |
| 10 | Shioriko | Nijigasaki | 3,422 |
Global Side – #35
| RANK # | SCHOOL IDOL | GROUP | AVERAGE CHEER POINTS |
| --- | --- | --- | --- |
| 1 | Ayumu | Nijigasaki | 9,684 |
| 2 | Nozomi | µ's | 6,114 |
| 3 | Kotori | µ's | 4,136 |
| 4 | Maki | µ's | 3,240 |
| 5 | Hanamaru | Aqours | 3,212 |
| 6 | Dia | Aqours | 3,174 |
| 7 | Ruby | Aqours | 2,872 |
| 8 | Ai | Nijigasaki | 2,835 |
| 9 | Setsuna | Nijigasaki | 2,820 |
| 10 | Kanan | Aqours | 2,808 |
Ayumu, Nozomi, and Kotori are simultaneously placing, in order, in the top three rankings of the School Idol Channel Rankings on both sides.
There is nothing more to comment further here. In fact, the JP Side is still dominating, in terms of Average Cheer Points per School Idol!
Round 21 SBL
? #スクスタビッグライブ 開催中!!

今回の課題曲はこちら!

・Snow halation
・Fantastic Departure!
・Cheer for you!!

豪華な報酬を手に入れられるチャンス✨
是非ご参加くださいね?#lovelive #スクスタ pic.twitter.com/HKGFnh2pRy

— ラブライブ!スクスタ公式 (@LLAS_STAFF) March 1, 2022
And here we go again. It's the Round 21 SBL!
Same rules shall apply as in the previous SBL last month, expect that there shall be no Voltage Awards from the SBL awarding.
So then, the Voltage Ranking competition here can be intense! Of course, you shall be needing to achieve higher Voltage Rank here in order to get more and better prizes!
There would be 20% stat buffs to any School Idols, who is of 1st Years! Use that advantage in order to score higher!
The featured songs are Snow Halation, Fantastic Departure!, and Cheer for you!!, and you can also play wth these songs on your Hits Side just to clear its related missions or goals that will last only for a limited duration, until the SBL Pre-Event period ends!
NOTE: "Fantastic Departure!" song is NOT available for Global Side players in the Hits Side library.
Let's see if I can progress properly here in this Pre-Event. More likely, my JP Side account won't be able to get any SBL rewards there again. But then, will my Global Side be able to snatch anything? Find out next Episode!
EXCHANGE: Bonding on White Day
【LoveLive! ALL STARS】

You had given your Valentine's gift last month to the special someone you love. White Day has finally came. Will that person you love ever respond to you?

Next time on LoveLive! ALL STARS, "Bonding on White Day"#lovelive #スクスタ #LLAS https://t.co/kzjfYRXbRq

— INORI DONZ | Inori-D Station (@InoriDONZ) March 3, 2022
The upcoming Event is already announced, along with the other Scouting Banners!
To give you further details, here are the least ones to be expected to encounter!
The Event UR to be obtained and to be exchanged here is Setsuna Yuki. Other two SRs to be obtained also from this Event are Ai Miyashita and Hanamaru Kunikida. Use them in order to increase your Event Points and Exchange Points acquisition rate! You already know the rules about it, right?
Three (3) featured songs in the Voltage Rankings are:
Bokura wa Ima no Naka de
KOWAREYASUKI
Diamond
Your Voltage Ranking shall be determined on how higher are your Voltage Scores on these three songs! Well, you know about average calculations, right?
And there's more! The featured future song to be released soon is MOMENT RING! It shall be added next month, along with the upcoming release of Chapter 37, in the game's Main Story!
So far, these were the minimal details! Next Episode shall be my highlights, while my final results for this Event shall be on the other Episode! Look forward into it!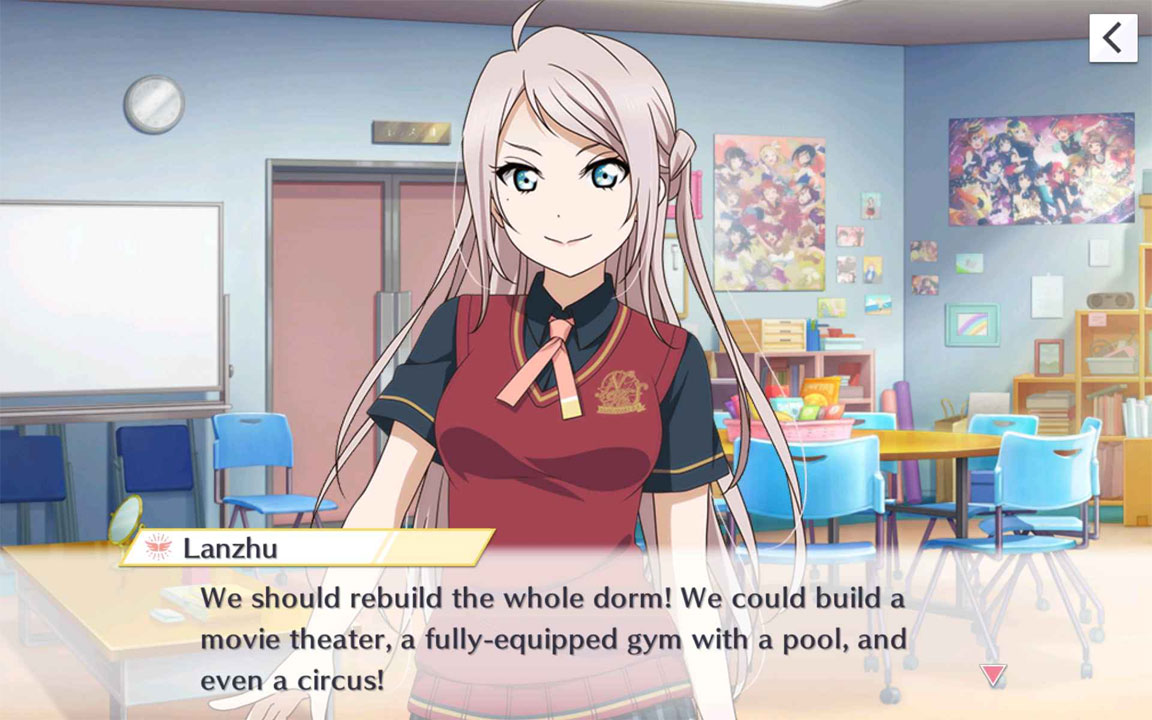 EXTRA CORNER
Okay, here we are. We are now in this final stretch! It is also the day that we are saying goodbye in this segment within this Episode! So then, let us find out the answer to the last SIF Quiz Question!
Question: What is the title of Aqours' featured song from the Aqours CHRONICLE (2018~2020) album, that appeared also in the "Aqours 6th LoveLive!" live performance?
The answer is… Please have a look below!
Namida×
涙×
To explain further this answer in the final SIF Quiz, please do read below!
This music is brought to you by https://spotify.com/
This song originally appeared on the Aqours CHRONICLE (2018〜2020) album as a featured song, along with the other music tracks from the post-Anime series, most likely the Anime Movie, the other featured Aqours Club songs, and the music tracks from the Winter Vacation album (Which also appeared on their recent WHITE ISLAND live last December 2020). This song also appeared on their recent Aqours 6th LoveLive! live performance.
This song is a tear-jerker! Imagine that when you are listening to some old songs from your local radio stations!
Finally, this segment part has reached its end. I hope that I could think for an another segment which shall replace the SIF Quiz corner! Otherwise, thank you for tuning-in with this segment part until the very end!
Thank you very much, and please continue reading this Episode, by reading the Story Episode Epilogue, until the very end!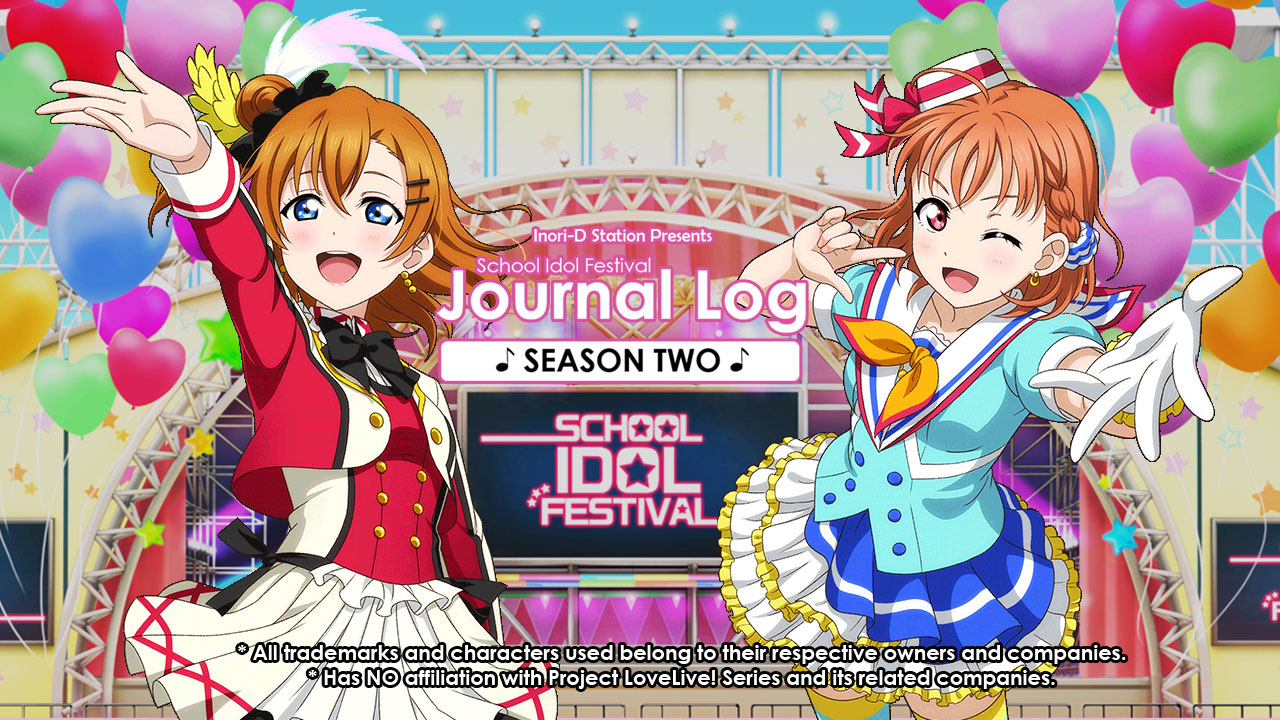 STORY EPISODE (EPILOGUE)
Later, they have reached a certain place — It is an open yard of a certain school.
Aika doesn't have any idea on where she is standing right now, and she talks to the mysterious person in shrouded clothes.
"A school yard… But then, we entered here, and we just trespassed the school grounds!"
"Don't worry about it, since I already knew the ins and outs of this school!"
"Huh? Your voice looks so familiar to me. I had been hearing your name, and you even say it as a pronoun to your sentences!"
"Ah… It seems I got no other choice! I am going to take this off from my head now."
"Eh? You are… Minal…"
"That's right! I am Kotori! It's been a while since I have visited this school once again."
"Oh… The Legendary Maid! The Legendary School Idol… Kotori-sama!!"
And then, Kotori and Aika continued their conversation.
"I heard that you are having a problem with regards to attracting more people in the maid cafe, do you?"
"Yeah, and my boss gave me a free day-off just in order to clear up my mind, and to realize my own mistakes."
"Today, I am going to teach you on how to attract more people!"
"And how could I achieve of what she told me, called the appeal?"
"That was easy! All you have to do is to dance and sing along with me!"
"Yeah, of course! I shall dance along with you!"
And then, the two danced altogether.
After a single dance session, Kotori noticed something, and she talks to Aika.
"I understand! I can tell it in your own eyes that you are still lacking appeal!"
"I knew it. This is what I have been lacking, after all."
"It's alright. It is because you are afraid to show it to everyone!"
"So then, how could I overcome my own fears — my own fears of my own failures?"
"Aika, I totally believe in your own skills that you can get more people to watch and support you!"
"Kotori… So that's why you are already…"
"Don't be afraid of failing! It is already a part of your life! And that's a thing that can make you stronger!"
"I see… To overcome my own weakness, and to stand up with my own feelings, that's what being a School Idol, right?"
"Exactly! In order to achieve of what you call the appeal, you just need to shout it out and show it!"
"Show it… How?"
"You just need to shout out and express out your own feelings to everyone!"
"My own feelings… I see… Thank you, Kotori!"
"You're welcome! Right now, are you ready to try again, and dance and sing along with me?"
"Of course! I will try my best to achieve this appeal of mine!"
And once more, they danced and sang together. It seems that Aika is almost achieving it, and thanks to Kotori who was able to boost her up in her determination to achieve of what she called the "appeal".
After the hard dancing and singing, Aika was almost exhausted saying, "That was fun dancing and singing along with a School Idol!"
And then, Kotori came closer to Aika and said, "Whew, my dancing and singing lesson was effective! Alright, it's time for the last phase of my lesson!"
Kotori then pokes Aika's forehead with her left index and middle fingers. In an instant, Aika was knocked down on the ground. And then, Kotori sees Aika lying down on the ground, making her final sentences at her.
"Aika, I hope that you could clear out your mind, taking all of the bad feelings away from you. Have a good rest! Chun-chun! (・8・)"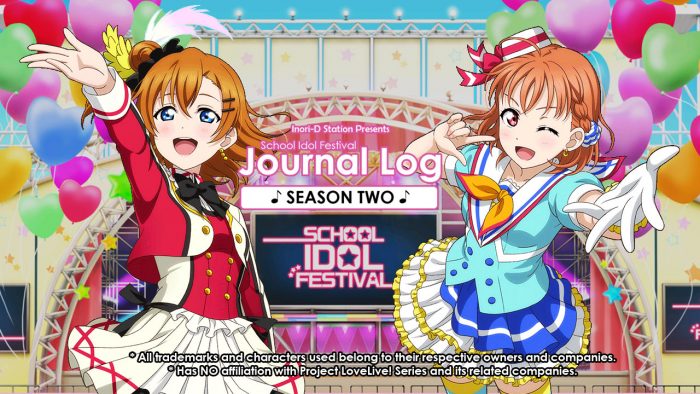 NEXT PREVIEW
Now that you have learned that most of your fans are infatuated at you. When you see them cheering aloud at you saying "ENCORE!", what could be your response? You have these feelings in you, in which something that you have — on what you feel for them!
Next time on School Idol Festival Journal Log SEASON TWO, "Shout It Out!"
The Bonus Stage!
TV Anime "LoveLive! Nijigasaki High School Idol Club SEASON TWO" Trailer Announcement Video
The girls of Nijigasaki are back in this second season! Shioriko Mifune, Mia Taylor, and Lanzhu Zhong are now added to the stable!
Once again, these girls are seeing each other — sometimes as friends or rivals everyday.
They all have one, common dreams! And that is, somebody like Yu Takasaki, can support these girls in making their dreams come true!
And once more, they are chasing for their dreams, along with their new friends and rivals at their side!
LoveLive! Nijigasaki High School Idol Club SEASON TWO!
Starts airing and streaming on April 2, 2022!
For overseas simulcast, check your local Anime licensors per region for the time and availability in your area!
Official website:
https://lovelive-anime.jp/nijigasaki/
EPISODES ARCHIVE (SEASON TWO) BACK TO HOME PAGE