The Game of Ice Hockey – Epilogue
This blog post may contain minimal spoilers. Please read this only if you had seen this Episode.
OVERVIEW (STORY)
The final face-off continues within the Dream Monkeys' home arena, where they must need to beat Kushiro Snow White in order to advance to the Group A Finals of the All-Japan Ice Hockey Championship. This is going to be a heated battle between the two ice hockey teams.
While Kushiro Snow White is leading the score by one point, Manaka and her team must use everything that they have learned from their past games, as well as from their own past times! Even with the aid of their own respective ace players per team faction, it shall not be an easy victory for them! This is where their true friendship and bonds shall be put into the test! And will their bonds connect together in order to shoot with the puck to win?
REVIEW
We are in the last part, or otherwise, the last review of this Anime series! The Episode title is the name of the series itself! Finally, my Episode Review title is just from Episode One, only replacing the one word with "Epilogue".
Talking about in this Episode Review, this is where you could see everything, including some moments where miracles do occur.
Just basically the same as in my previous Episode Review of this series, where Yu and Maya shall be the highlights here. I can see that Yu Kiyose is receiving a lot of attention, noted for her ice hockey-playing action! Same goes to Maya Walker, only she is just an opposite of Yu, where she is acting recklessly and she is being relied too much by her teammates.
From my previous Episode 11, as stated before in my review part, Maya Walker is somehow acting almost the same as Yu Kiyose, but only differing with her qualities where she is a better ace player where her teammates are very dependent for. As for Eri who is quite observant in differentiating Maya and Yu, she noticed that Yu is never the same player who tries to win a single ice hockey game by herself. Since Eri knows already Yu's habits in scoring a goal, then that's the time that they had strategized a tactic, where they all need to mark her in order to prevent her to score a goal.
Same goes to the strategies of Manaka and the Nikko Dream Monkeys. Since Eri didn't quite know the other girls who were playing in the ice arena rink, she don't have any idea on what alternative plan that she could make when things get jeopardized. So for the Dream Monkeys' side, I can see Yu changed her ways in playing ice hockey. She always passes the puck to her other teammates, especially Manaka.
I have learned, not just from this Final Episode, but on this entire Anime series, where teamwork is always important in order to overcome the challenges. Also, knowing your own weaknesses can enable you to turn it into your own strength! And again, as mentioned in my previous Episode Review of this series, sometimes, your own strengths can become your weaknesses, and vice versa. It is up to you on how shall you overcome and master it! Though that you have some strengths and qualities that you have, that not other of your friends have, you must still know your own limitations. And being versatile in some situations doesn't really mean that you can win after all — Your friends and family around you are the only ones who can make you versatile, remember that!
You should always know and realize why you are already at the top. Basically, the influence and support of your family and friends are always the reason why you are always at the top! And without them, you are indeed a character who is just inside an empty house, where nobody is around.
Finally, I can rate this series from a scale of 5. Overall, I can give this series a 4 out of 5 rating. There are still parts of this series that needed to be improved, when it comes to story and character development (Such as other characters like Yuka from Snow White). But then, I can consider Puraore! Anime as an 'introductory' Anime series, where it is just actually a prologue to their upcoming game! Please do read the next part below for more!
And this ends my Episode Review of this Anime series! Thank you for reading! There are still some other Anime shows that I should need to watch, especially the seasonal Anime shows. Also, the upcoming new Anime shows are just around, especially when the new year arrives! It seems that this Anime show is really deserving to have a continuity or a Second Season, perhaps. Maybe we should pray for that to happen, given if this series has received a lot of love and support from its fans! In other words, make ice hockey a trendy sport, and encourage any sporty young people to play!
EXTRA INFO!
Somehow, this shall serve as the Anime series' story continuity! The entire 12 Episodes-plot is just actually a tail of a lizard lol
In the past week, they had released a first teaser video for the upcoming smartphone video game! Have a look in this YouTube video below!
To describe the story from the teaser video above, it goes like this:
You have been appointed as the new General Manager (GM) of the Women's Ice Hockey Japan National Team.

Your objective is to meet these 22 members (girls) whom you shall be choosing to be the representatives for the ice hockey team.

These unique players whom you are about to meet and recruit shall work hard and unite as the U-18 Japan National Team, called as the "SMILE PRINCESS".

With your support as the General Manager (GM), what can your girls (ice hockey players) get by fighting the strongest teams who were also aiming for championships?

Translated and transliterated from the game's story and intro: https://game.puraore.com/story
The game, called as PURAORE! ~SMILE PRINCESS~, shall make its debut on the PC (DMM GAMES), iOS, and Android systems soon in Japan. Please follow their feeds (Twitter, YouTube, etc.) for the latest updates regarding this game! Release date is yet to be announced, and pre-registration campaign now going on (Last seen: December 23, 2021).
Official website: https://game.puraore.com/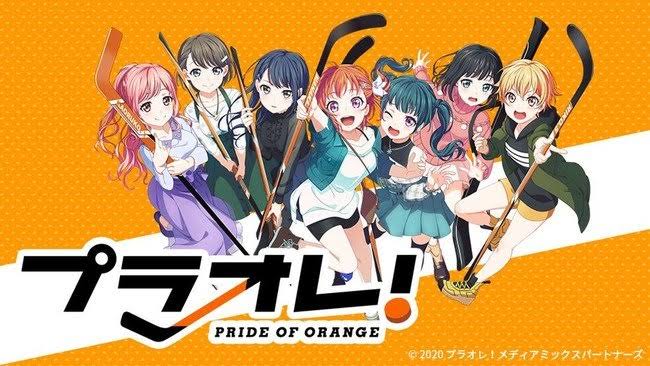 Pride of Orange (2021, dubbed: PURAORE! (プラオレ!) -PRIDE OF ORANGE-) is a Japanese Anime series about ice hockey sport. This Anime series was produced by CyberAgent/EXNOA, and character designs were done by Craft Egg (known for BanG Dream! Girls Band Party smartphone video game). Animation style was done by C2C. This Anime series has been aired and streamed since October 6, 2021, with its first Episode.
In Tochigi Prefecture in Japan, at Nikko City, an ice hockey sport season has opened for girls who wanted to aim for the ice hockey world championships.
A female junior high schooler, named Manaka Mizusawa, has become interested in playing the ice hockey sport. While she invited her girls who were her friends, they entered and tried for this sport game.
Their journey for aiming their first win, indeed, begins when they had experienced the world of ice hockey sport!
©2020 プラオレ!メディアミックスパートナーズ (Official Website)