Keke Tang
This blog post may contain minimal spoilers. Please read this only if you had seen this Episode.
EPISODE OVERVIEW
Kanon has finally overcome her glossophobia, and she can able to sing out her feelings to the public.
The School Council Committee has rejected Keke's application for a new club, which is a School Idol Club. This had led them to a petition by means of dropping out from the school!
When the time came, the school headmaster, has given one condition to Kanon and Keke in order to approve their club application — to get a top position in the upcoming School Idol Festival which shall be held nearby!
Now they must need to practice and exercise, and they must need to prepare their first-ever PV! The problem is that Kanon lacks of experience in dancing, and Keke is still lacking in stamina! What should they do in order to stand up a chance in School Idol Festival?
EPISODE REVIEW
Here comes the second Episode! In this Episode, we can now have Keke's spotlight this time around. Last time, it was Kanon.
In the previous LoveLive! Series TV Anime titles, how some School Idol clubs got approved? Basically, they must need to do a PV or a one-shot live performance in order for them to get approved. Or in the sense that they must need to hook more audiences in the stage venue in order to make them be recognized. So then, I am just having some predictions here. Will they need to join a School Idol Festival first and get a top position in order to get their club application be approved? Well, it is just basically challenging a level 100 boss monster with a level 1 character, and that seemed to be impossible.
But then, I can see some further development here. Keke just need to train harder of her stamina so that she could last further in the stage. Basically, it is just in a rhythm game that she plays (See screenshot slides). She had never experienced the way that the legendary Umi Sonoda from µ's had taught to her girls before about the lengthy running trainings.
Right then, they are considered to be the pioneers of the new School Idols of Yuigaoka. If we have Honoka, Kotori, and Umi from µ's, and Chika, You, and Riko from Aqours, and Ayumu and her childhood friend Yu from Nijigasaki, we can have Kanon and Keke as the initial pioneers of the Yuigaoka School Idols, to be named soon as Liella!
SCREENSHOTS (SLIDE/SWIPE TO VIEW THEM)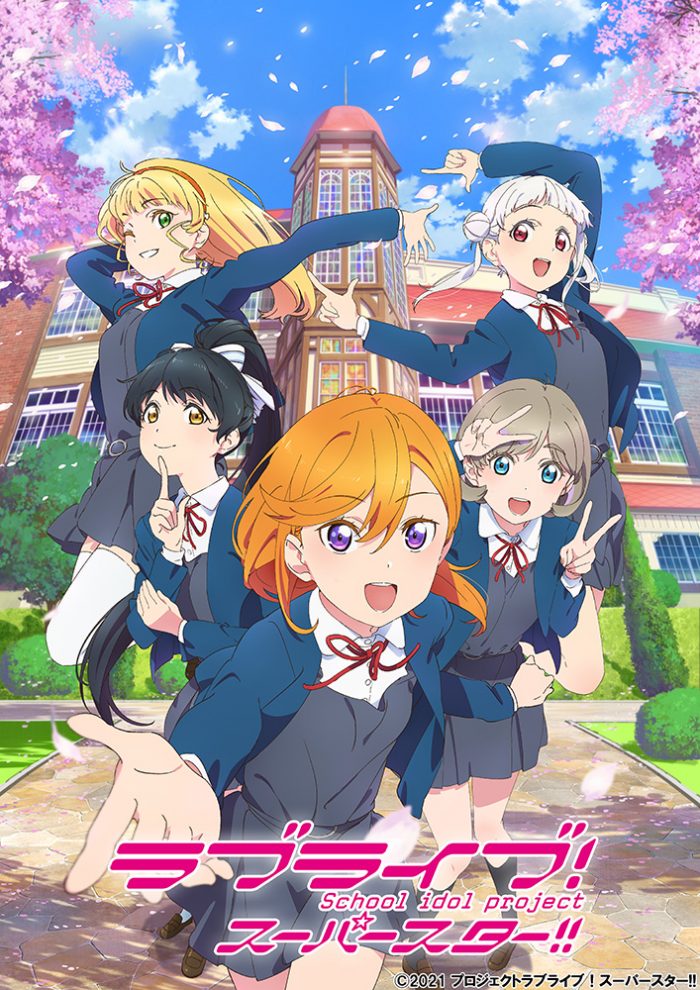 LoveLive! Superstar!! (2021) is a Japanese TV Anime series that aired since July 11, 2021 in Japanese TV networks. It is the fourth entry to the ongoing LoveLive! Series, which came out since year 2010.
Yuigaoka Girls' High School is a new school located between the cities of Omotesando, Harajuku, and Aoyama. No other students were enrolled there, even seniors. It is a story about the five girl aspirants who were beginning their steps as School Idols.
The LoveLive! Series is a Japanese Anime multimedia project. This was produced by the collaborating companies, the Japanese Anime music label Lantis, animation studio Sunrise, and Dengeki G's Magazine, a magazine by ASCII Media Works (KADOKAWA Group label).
This project began somewhere in 2010 and it starts as a multimedia project, where it introduces female high school characters who were grouped and formed a band together. This project was dubbed as the 'School Idol Project'. The girls will produce music and singles, as well as making a full music animation video out of that music.
Images: ©2021 PROJECT Lovelive! Superstar!!