Kanon Shibuya
This blog post may contain minimal spoilers. Please read this only if you had seen this Episode.
EPISODE OVERVIEW
Kanon Shibuya is a transfer student at Yuigaoka Girls' High School. That school happens to be a newly-opened one, and no other students previously enrolled there.
She likes to sing alone on a song that she listens. However, her glossophobia during her childhood is the reason why she can't sing in front of the people.
One day, a transfer student named Keke Tang has met her, telling her to join in a School Idol Club of hers. Keke was first amazed because she saw School Idols dancing and singing on a big screen. Kanon refuses at first, since her glossophobia has prevented her to sing out to the crowd of people. How could Keke convince Kanon to become a School Idol, and to overcome her glossophobia?
EPISODE REVIEW
Finally, Liella! has taken their first step in being School Idols in the LoveLive! Universe! And to mention, this is the fourth series after Aqours and Nijigasaki High School Idol Club! Of course, this is just the first one, and we haven't seen anything that much, yet.
A first Episode without an opening theme song at the beginning. Commonly, this is a new strategy developed in some Anime series that I previously watched before.
So then, we can see much character development here, since this is just the first Episode. Also, the first Episode is more of a character introduction than a story Episode. And we are starting to get to know the characters very well from the start.
Keke Tang is a Chinese national, and also a new student in Yuigaoka. Somehow, we can get to have another School Idol which is other than Japanese national.
Sumire Heanna. Somehow, we can't able to have her too much of her character introduction. Perhaps, in the succeeding Episodes to come?
Ren Hazuki. Another School Council Pres. who is a breed of Eli Ayase and Dia Kurosawa, lol
Chisato Arashi is a student in a music club who is also managing a takoyaki business.
And finally, Kanon Shibuya is the 'Superstar' of this series. Her quest in being a school idol shall begin.
For this School Idol group just starting from scratch, we can really expect more from them. Though that their outro songs are still somehow dull and not impacting too much, especially me who is still new in the house, there are still rooms for improvement, or otherwise development for them.
That's right! This is a TV Anime show about high school girls which is aimed at young girls and other young girl aspirants. Not only this is somehow attractive to us men, but also this is attractive to girls, somehow.
SCREENSHOTS (SLIDE/SWIPE TO VIEW THEM)
Acoustic riding.

Manmaru the owl.

Do those faces and poses look familiar?

Wild Keke Tang appears!

Look out, Kanon! Behind you!

Ren Hazuki. An Eli Ayase and Dia Kurosawa breed, huh?

Sumire Heanna. She can bite like a dog.

Chisato Arashi. Nice school uniform, yo!

Can she tie her hair like that?

It's fun to stay at the…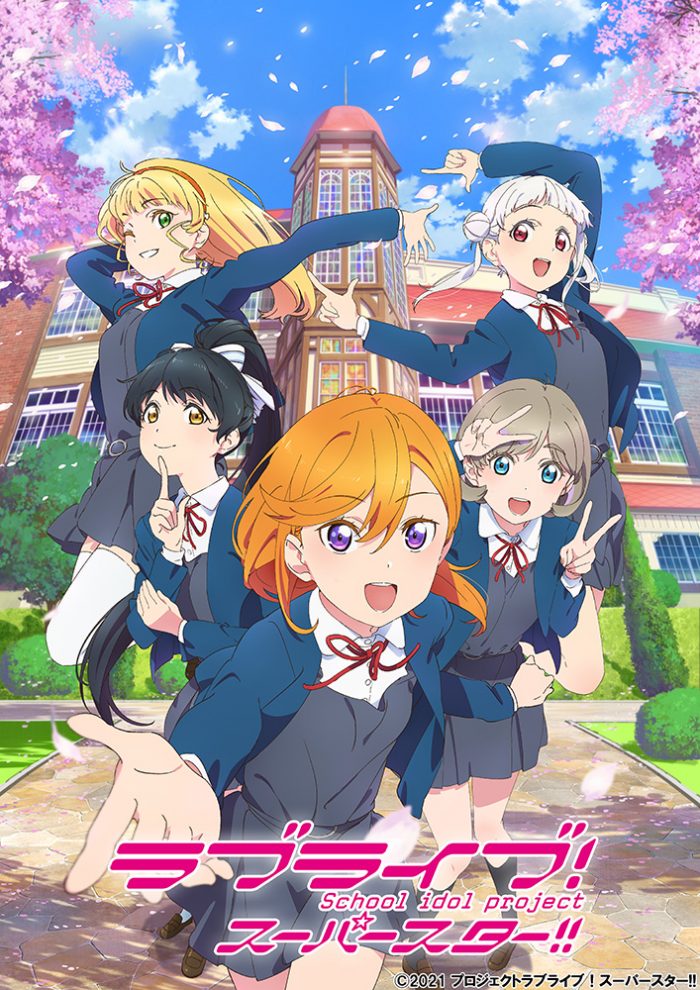 LoveLive! Superstar!! (2021) is a Japanese TV Anime series that aired since July 11, 2021 in Japanese TV networks. It is the fourth entry to the ongoing LoveLive! Series, which came out since year 2010.
Yuigaoka Girls' High School is a new school located between the cities of Omotesando, Harajuku, and Aoyama. No other students were enrolled there, even seniors. It is a story about the five girl aspirants who were beginning their steps as School Idols.
The LoveLive! Series is a Japanese Anime multimedia project. This was produced by the collaborating companies, the Japanese Anime music label Lantis, animation studio Sunrise, and Dengeki G's Magazine, a magazine by ASCII Media Works (KADOKAWA Group label).
This project began somewhere in 2010 and it starts as a multimedia project, where it introduces female high school characters who were grouped and formed a band together. This project was dubbed as the 'School Idol Project'. The girls will produce music and singles, as well as making a full music animation video out of that music.
Images: ©2021 PROJECT Lovelive! Superstar!!