The Greatest Challenge
When there are conflicts appearing left and right, which one is needed to be finished first? Which one needs to be finished first in order to achieve victory? The greatest challenge is upon us, and the fate of your honor is in your hands.
Right now, we can decide with our fate as the time of conflict arises. In fact, they are here to press us to the ground. But no matter what, you shall do anything in order to attain victory! There is only one thing that you can do — You must fight harder, and never back down! Because, if you back down the moment you stopped because you can't do it anymore, you will lose the fight! And that is the concept of overcoming the greatest challenge of our lives!
The greatest challenge of every LoveLiver is that they should be prepared for the coming events that shall happen somewhere in May, and in the future! Alright, let us begin the 37th Episode of School Idol Festival Journal Log!
CONTENTS
PRE-EPISODE HEADLINES
As you had witnessed the splendid performance of Nijigasaki High School Idol Club's Shuffle Festival in School live performance last week, the challenge is not over for us! Right now, there are some headlines and highlights encountered during the past weekend, and this week! Please read below to continue!
SIFACHM PS4 Game Out Now!
\\✨#PS4 で配信開始✨//

ラブライブ!スクールアイドルフェスティバル
~after school ACTIVITY~わいわい!Home Meeting!!

8楽曲&3衣装が無料で遊べる
無料ベース版からスタートしよう?
?https://t.co/JKH4CdIoCo#lovelive #スクフェスAC

?高画質版PVも公開中!https://t.co/IXlSL4mU4S pic.twitter.com/MPQopyUQCw

— ラブライブ!シリーズ公式 (@LoveLive_staff) March 24, 2021
At long last, the game is finally out in stores! LoveLive! School Idol Festival ~after school ACTIVITY~ Wai-Wai!Home Meeting!!, or just simply abbreviated as SIFACHM, is already released since March 24, 2021, just two days before this Episode was published! Enjoy this game with your PS4 console, if you have any!
HP: https://lovelive-sifachm.square-enix-games.com/
Check listings with your local game stores for the time and availability in your area or region!
Aqours 5th Anniversary Single Out Next Week
【☀️CD情報④☀️】#Aqours 5周年記念アニメーションPV付きシングル「smile smile ship Start!」全曲試聴動画を公開❗️
「心の羽よ君へ飛んでけ!」も初公開です?
是非ゲットしてくださいね✨

全曲試聴動画はこちら
⏩https://t.co/PjnpYhbePa#lovelive pic.twitter.com/vdHgNL65XO

— ラブライブ!シリーズ公式 (@LoveLive_staff) March 19, 2021
Next Wednesday is the release of Aqours 5th Anniversary Single! The title is smile smile ship Start!, and shall be released in music stores and streaming platforms on March 31, 2021! The PV and music preview has been uploaded on YouTube, along with the B-Side song!
Nijigasaki 2nd Live Blu Ray Box Out Now!
【?BD情報①?】
ラブライブ!虹ヶ咲学園スクールアイドル同好会「2nd Live! Brand New Story & Back to the TOKIMEKI Blu-ray Memorial BOX」が本日発売?

BOXにはDay1夜公演、Day2公演に加えて、舞台裏メイキング映像、さらには定点映像も収録✨https://t.co/loMlwMBoXW#lovelive #虹ヶ咲 pic.twitter.com/5i3teD0sHW

— ラブライブ!シリーズ公式 (@LoveLive_staff) March 24, 2021
The Blu Ray Box set of Nijigasaki High School Idol Club's 2nd live has been released also! And yes, they come with two major box sets, the Brand New Story, and the Back to the TOKIMEKI live performances! They were now released today in Japan stores nationwide! Grab them while supplies last! Buy this to look back on the Nijigasaki's flashbacks! Also included are the backstage footages, the making (rehearsal footages) and the pre-performance scenes!
Later: Nijigasaki Post-Shuffle Festival Livestream!
『#虹ヶ咲 学園生放送\まだまだ知りたい!みんなのこと!/校内シャッフルフェスティバル後夜祭♪』のお知らせ?

明後日26日(金)20:00~✨

Bch:https://t.co/VudKlhZqBs
LINE LIVE:https://t.co/RTfvSrbMrD
YouTubeLIVE:https://t.co/GoKxgLrcux
Bilibili動画:https://t.co/RrizqFLQHH#lovelive pic.twitter.com/fJZHWugqoJ

— ラブライブ!シリーズ公式 (@LoveLive_staff) March 24, 2021
Coming up later evening is the Nijigasaki Live Stream! It shall take place later evening, at 8PM JST (UTC+9)! They shall talk their thoughts and highlights about their recent Shuffle Festival in School live performance last weekend!
Moeka Koizumi, Miyu Kubota, Natsumi Murakami, Mayu Sagara, and Tomori Kusonoki, or likewise the five girls that are shown in the picture of the embedded Tweet, shall be hosting the stream later. Tune-in, as they might give out some info with regards to the LoveLive! ALL STARS game updates, and some other stuffs!
We are now done with the headlines! Whew, that was more challenging than before! Right now, let's go to the highlights and happenings in the School Idol Festival rhythm game! What has happened, recently?
JP SIDE HIGHLIGHTS
In the JP Side, I had been struggling to get my stable position in the Score Match Rankings! Please do read more below to continue!
【ラブライブ!スクフェス】

Round 5 Live Arena

Touchdown! There goes the 5th round. Stage 49 is especially difficult because it blocks your member skills. Stage 50, meanwhile, doesn't have any blocking skills.#lovelive #スクフェス pic.twitter.com/tR8cPPHSqJ

— いのりどんず (INORI DONZ NETWORK) (@InoriDONZ) March 22, 2021
At last, my grinding and struggling for this Live Arena has been finished! I just simply alternate between the ongoing Score Match Event and this. If the game notifies me that my Tension Gauge has been maxed out, I shall go immediately on the Live Arena and I do a Special Session! It takes about 3 Live Shows (either on Expert or Master) to max out your Tension Gauge, so be patient while doing other Live Shows, especially if it is on an Event!
【ラブライブ!スクフェス】

✨Road to 8th Anniversary✨

Round 47 Score Match (Subtitle to be Translated)

Event UR: Yoshiko Tsushima ?
Scouting: Ruby Kurosawa ? and Riko Sakurauchi ?#lovelive #スクフェス pic.twitter.com/XAzPahrvTd

— いのりどんず (INORI DONZ NETWORK) (@InoriDONZ) March 19, 2021
This Score Match has begun a long time ago last week! In fact, this is the Event in which I am struggling to finish with a Tier 1-1 finish at the end of this month!
The Event UR to be acquired from this Event is Yoshiko Tsushima, and the URs to be acquired from Scouting are Ruby Kurosawa and Riko Sakurauchi! Secret SSR is Kanan Matsuura, and she can be acquired by playing in this Event! There are lots more of the rewards that you can get by playing and grinding within this Event duration!
So then, I had been struggling to get Tier 1 Event Points in this one, since the Global Side is also of Aqours Event, and a Score Match type of Event! So right now, this is something that I must make a decision with. I have finally decided that I shall go Tier 1-1 with the JP Side. No more hesistations.
Final highlights and results shall be given at the next Episode, and look forward into that!
【ラブライブ!スクフェス】#SIFACHM Release Celebration Campaign

The Nine Star Venus and the Nine Wave Dolphin URs return in this limited box scouting! Details to be revealed in the tomorrow's SIF Journal Log Episode!#lovelive #スクフェス #スクフェスACHM pic.twitter.com/Aq3TB3sTzP

— いのりどんず (INORI DONZ NETWORK) (@InoriDONZ) March 25, 2021
Also, during this week is the return of the limited scouting, featuring the costumes from the SIFACHM PS4 game! They are now returning as 100-member box scouting format, previously from Stamp Scouting! It serves as a part of the SIFACHM Release Celebration Campaign, wherein the game was released recently on March 24!
Be sure to scout on these boxes, if you are looking for some members that have skills that are relevant to your current teams' builds! And they shall all last until March 31, after the ongoing Score Match Event duration has ended!
GLOBAL SIDE HIGHLIGHTS
So then, we had been defeated for the first time. And finally, here is some highlight!
Round 42 Score Match (Final)
And finally, my first defeat in the Aqours Side. The Tier 1-1 victory streak is over. I had finally made my decision that I am going to land a Tier 1-1 finish on the µ's Side Events, from now on!
Previously, last week, weekend, and this week, there are lots of side-activities that I had done, especially with the ongoing Aqours Score Match Event in the JP Side, which caused my slacking off in this Event. But then, I had tried my best and struggled to play as hard as I can just in order to reach the Tier 2 Point standing.
For the Score Match proper, if things go hard, and you can't win by just playing on Master difficulty, just step down on a lower difficulty and try playing there. And that is, somehow, you can increase your Score Match Points without getting decreased too much. The only thing is that you gain little Event Points when you play on Expert or Technical Expert difficulties. You must know the limitations of playing in a Master difficulty, since getting inexperienced in playing this difficulty will cause you to fail immediately before you can even finish the song, assuming if you are running a team without any Healers. And most likely, you will lose and be in 3rd or 4th positions if your playing patterns and your team compositions are not quite strong enough, especially if you run in a very strong opponent along with two other computer-controlled players. Do not just mind your Event Points, but also mind your Score Match Points (SMP) in order to survive the Tier 1 Score Rankings. Just be careful on running on some very strong players, especially if there are computer-controlled players alongside with them, since it can decrease drastically your SMP if you lose.
【LoveLive! SIF】

?The Streak is Over?

Round 42 Score Match (Results)

? Event Pts.: Rank 246 | 1,028,136 pts
? SMP: Rank 84 | 24,929 SMP

Previous results are on the RT.#lovelive #LLSIF https://t.co/3qIjimB5xS pic.twitter.com/yJAznCDAQn

— いのりどんず (INORI DONZ NETWORK) (@InoriDONZ) March 25, 2021
This Event has been concluded yesterday, but consequently placing me in a Tier 2-1 standing in process.
Server Merging Date Confirmed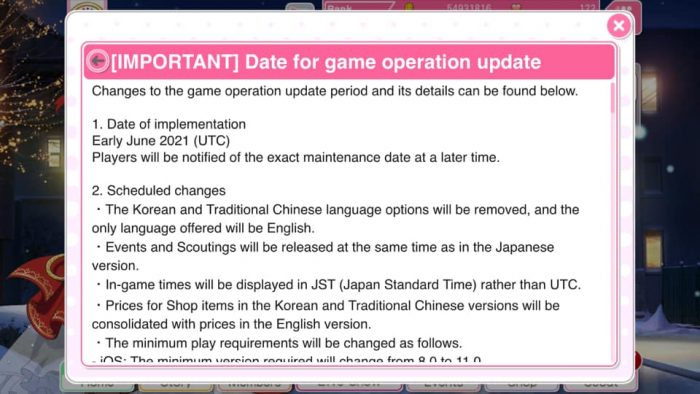 The date on when the server merge will happen is finally confirmed. It is scheduled on early June 2021, as shown in this pic. You can refer more to your in-game notifs for more information.
Summary? You can refer to this below, as seen in the above.
Korean and Traditional Chinese Languages (Taiwan), as well as displaying them via Settings, will be removed once this update and merging happens.
All Events and some campaigns will be synced with the JP Side (i.e. Birthday Scoutings and other Limited Scoutings)
From its usual UTC Time, it shall follow the JST (UTC+9) time when the login bonus time resets.
Item prices will be consolidated with the prices in the Global version (i.e. Currencies other than USD, or other equivalent, will be converted accordingly per region).
Minimum OS Versions will be increased (Version 11 for iOS, and 6.0 for Android).
More from: https://www.facebook.com/schoolidolfestival/posts/1948340978655840 (Must be logged in to Facebook to view this)
LLSIF TIP OF THE WEEK! (FINAL)
As mentioned in the last Episode last week, this is going to be the last LLSIF tip! For the last tip, here it goes! Please read more to continue!
Mastering a MASTER song usually takes time… so be patient!
【ラブライブ!スクフェス】

Final LLSIF Tip!

Mastering a MASTER song usually takes time… so be patient!#lovelive #スクフェス pic.twitter.com/KnWAEokKwt

— いのりどんず (INORI DONZ NETWORK) (@InoriDONZ) March 21, 2021
For the last tip, I am going to explain this to you! That's right. Mastering a MASTER song usually takes time — it will take months, or even years! Mastering it, it is the sense of landing a Full Combo finish without breaking your combo chain, or even trying again in your first play!
Why are some Master songs very difficult, while some of them are very easy? That's a good question. In some songs, depending or their tune or music composition, some beatmaps can be either easy or hard to navigate. Some songs are easy, in fact, they can match an easy Level 10 Expert difficulty song. While for the harder ones, they are so difficult, and in fact, you can't move your thumbs and fingers freely.
What to do in order to master these songs in this difficulty? The only thing you can do? Just simply practice. You can practice by playing in Events, and by playing on harder difficulties. In fact, you can study well the notes formation that are falling in your screen, and they can be applied on the Master song that you are about to take on against! Basically, mixing up those beatnotes from all songs can help you to learn some new techniques in landing an FC finish!
【ラブライブ!スクフェス】

What? Did I drink an Energy Drink or something? ?

*No Perfect Supports were wasted in this song. Too bad, if it is on the regular side, I should have finished it in Full Combo.#lovelive #スクフェス pic.twitter.com/RHSq6SBXwc

— いのりどんず (INORI DONZ NETWORK) (@InoriDONZ) December 21, 2020
Embedded Tweet above is from the previous Challenge Festival in the JP Side last December.
And, mastering a MASTER song usually takes practice. Just play in Events, so that you could practice even more! Eventually, you can land an FC finish on an unsuspecting MASTER song without you knowing! Just practice hard (Don't forget to rest!), and don't give up.
ANNOUNCEMENTS!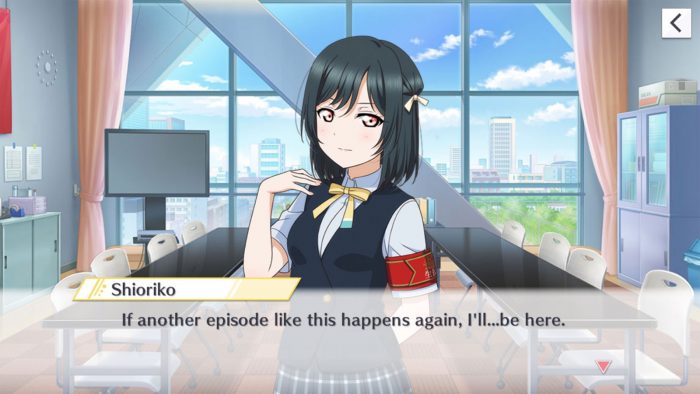 School Idol Festival Journal Log will be off for publishing next week due to a local holiday! That means, no new Episode to be published next week! Next Episode shall be published on April 9th! And also, watch out for the new sub-segment in School Idol Festival Journal Log — to be announced in my Twitter account!
Time to reflect ourselves. See you around in two weeks!
And this ends the Episode 37 of School Idol Festival Journal Log! As mentioned, it is a public holiday in my region! I hope that you enjoy the weekend, while reflecting yourselves!
See you in two weeks, everybody! See you next time and cheers! Anything happened today shall be included next Episode! Cheers and happy weekend!