The Multi-Tasking Crisis
In this Episode, I am now facing my own multi-tasking crisis in my SIF gaming ever. With Events are occurring on both Sides, I do not know which one needs to be finish first. If I leave the other Side to grind for the other Side, I might lose my ranking position on that Side! Oh no, and it seems that I shall be needing to sacrifice my rankings on that Side in order to give way to that Side! Starting on March 20, I must make that decision!
Let us go now to the Episode proper! Let the 36th Episode of School Idol Festival Journal Log begin!
CONTENTS
PRE-EPISODE HEADLINES
Some of the headlines and highlights in the School Idol Universe has been encountered in the past weekend, and this week! Please do read them below! And we also got a weekend Event coming up!
SIFACHM PS4 Game Out Next Week!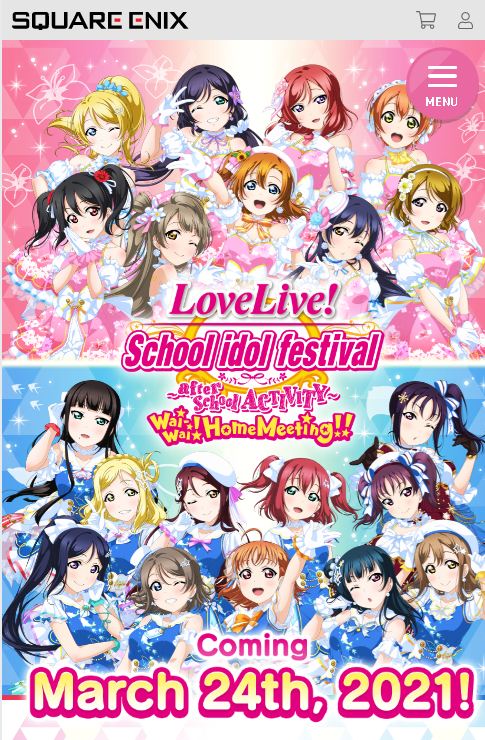 At long last, the awaited PS4 game, the LoveLive! School Idol Festival ~after School ACTIVITY~ Wai-Wai! Home Meeting!!, or abbreviated as SIFACHM, is coming out next week, on this coming Wednesday, March 24, 2021! For people who have PS4 or PS5* at their homes, you can download the free base version for free! The free base version includes at least 8 songs (4 songs per School Idol faction, µ's and Aqours), and two costumes (one for each for µ's and Aqours) plus one costume for Saint Snow. Meanwhile, the copies of this game, as well as some DLC add-ons, can be purchased via with your local game store, or from the PlayStation Store itself!
Somehow, some incoming campaigns might be appearing in the LLSIF rhythm game in all branches, so better watch out, if there is any!
* Might there be a backwards compatibility, since Sony has announced it at their blog.
Read more: https://www.playstation.com/en-ph/support/games/ps5-backward-compatibility-games/
Happy Birthday, Umi Sonoda!
µ's Side. Today, I am going to celebrate Umi Sonoda's birthday, though it's been late for several days! At least, I got some message to write with, rather than nothing.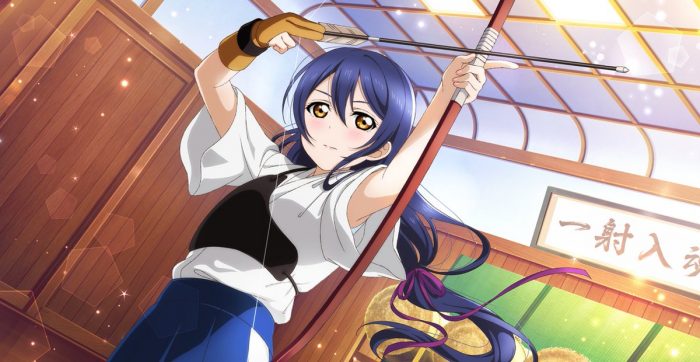 Dear Umi Sonoda,
You are indeed an excellent individual who is skilled at archery. Also, you are somehow a 'coach' of the µ's group, wherein you shall give them proper training and scolding, if they had done anything wrong. You, Honoka, and Kotori, are indeed best friends of your childhood. Cherish well your moments with them when you are still alive!
Happy birthday, dear Umi Sonoda, a member of Lily White, and µ's, the Legendary School Idol Group!
Later: Aqours Livestream!
【?生放送?】
「Aqours浦の星女学院生放送!!!」の次回放送が決定?
発売が迫ってきた5周年記念アニメーションPV付きシングル「smile smile ship Start!」について大特集します?

日時:3/19(金)19:00
出演:逢田梨香子、小宮有紗、斉藤朱夏
お便り・詳細→ https://t.co/PcXrEDUETK#lovelive #Aqours pic.twitter.com/HCkKek9AFw

— ラブライブ!シリーズ公式 (@LoveLive_staff) March 8, 2021
Aqours Side. Later evening, Japan time, there will be an Aqours livestream, which shall take place! It shall be held starting at 7 PM JST (UTC+9). Rikako Aida, Arisa Komiya, and Shuka Saito, shall be hosting the stream!
They shall be talking about the details of their upcoming 5th Anniversary Single, their upcoming 5th Anniversary Live on May, and some other stuff! Be sure to tune in to that upcoming live stream in order to get some updates!
Event Tomorrow: Nijigasaki Shuffle Fes Live
?チケット情報?
「虹ヶ咲学園スクールアイドル同好会 校内シャッフルフェスティバル」生配信ライブのチケット販売中?

【生配信日程】
3月20日(土)18:00
3月21日(日)16:00

こちらのチケットで3月28日まで
アーカイブ配信もご覧いただけます✨

詳細✅https://t.co/7msQJ00uwd#lovelive #虹ヶ咲 pic.twitter.com/JsTpDYpatC

— ラブライブ!シリーズ公式 (@LoveLive_staff) March 16, 2021
Nijigasaki Side! Coming up tomorrow is the paid live stream performance of Nijigasaki High School Idol Club's Shuffle Festival Live! Actually, I had posted this news since Tuesday! You can read more in the given link below for details!
Related: Nijigasaki Shuffle Festival Live to Commence this Weekend
If you had purchased a virtual ticket online, be sure to watch it! Enjoy your weekend by watching these girls live!
And that's it for the headlines! Of course, we are about to face the true crisis or conflict, as some Events are indeed colliding coincidentally at the same time! Please do read below the highlights and happenings in the School Idol Festival rhythm game of all sides!
JP SIDE HIGHLIGHTS
Right now, as we are resting for the next Event tomorrow, we are about to enter the coming conflict! What is this? Also, the next Aqours Event type is going to be announced later at 3pm JST (UTC+9)! Please go to your in-game notifications on the mentioned time to find out! Going back, what were the highlights encountered, so far?
【ラブライブ!スクフェス】

✨The Road to 8th Anniversary ✨

Round 27 Challenge Festival: Our Hot Pot Party (Results)

? Event Pts.: Rank 2,008 | 1,147,404 pts.
? Event Score: Rank 3,508 | 2,826,594 scr (Puwa Puwa-O!)#lovelive #スクフェス pic.twitter.com/z0ZVNKL42E

— いのりどんず (INORI DONZ NETWORK) (@InoriDONZ) March 15, 2021
Finally, this Event has been finished, and I can rest now a bit. But not until tomorrow because another upcoming Event shall start in just less than 24 hours. Of what I had said before, this is going to be a multi-tasking crisis, for me, until this month ends!
For this concluded Event, I had finished with a Tier 2-1 standing. Time shall always come for me, and I can eventually get a Tier 1-1 finish on the µ's Side!
【ラブライブ!スクフェス】

Round 5 Live Arena: Otome Ranman – The First Spring

Basically, I got a week to finish all of the 50 Special Sessions. ?#lovelive #スクフェス pic.twitter.com/YA0abzy8Kr

— いのりどんず (INORI DONZ NETWORK) (@InoriDONZ) March 17, 2021
So right now, we are in the fifth round of the Live Arena Event, wherein I must need to achieve at least Expert or Royal Expert Category in order to win the UR Ai Miyashita! As from March 17, before this Episode was published, I had completed only 20 Special Sessions. Will I make it to the 50 and prevail? Find out as I am going to give you the final highlights of it next week! Look forward into it!
GLOBAL SIDE HIGHLIGHTS
And right now, an ongoing Event is also happening in the Global Side! Guess what? It is also of an Aqours type of Event! Please do read more to continue! And to mention, they are one of the remaining Events and campaigns to be finished before the upcoming server merge shall happen sometime next month, or even May!
Round 42 Score Match: Fall is for Aqours and Sports
【LoveLive! SIF】

The Multi-Task Crisis

Round 42 Score Match: Fall is for Aqours and Sports

I had to make my choice, since JP Side is also an Aqours Event on March 20-31. ?#lovelive #LLSIF pic.twitter.com/1eH4hqt0xU

— いのりどんず (INORI DONZ NETWORK) (@InoriDONZ) March 15, 2021
The previous title in the JP Side is called as the 'Aqours and the Autumn of Sports', and that's the sub-title used in the ongoing Round 42 Score Match Event today. The Event details were already given in the last week's Episode!
For the highlights on this one, I ain't going to be serious this time around. But then, instead, I have to do some other things and finish them as soon as possible. This is going to be the first Aqours Event in the Global Side in which my Tier 1-1 streak is meant to be broken, soon. But then, I have to keep playing in order to get some rewards in which they can help to strengthen my teams up!
But still, I am eager to slack off in this Event. Will it be a Tier 2-1 finish for me soon enough? Find out as I am going to give the final results of this one next week!
LLSIF TIP OF THE WEEK!
For the LLSIF Tip of the week, here it goes! Please read below to continue!
Clear all Daily Goals to get your Strengthening Items!
【LoveLive! SIF】

LLSIF Tip #10

Clear all Daily Goals to get your Strengthening Items!#lovelive #LLSIF pic.twitter.com/OYPQ7930FM

— いのりどんず (INORI DONZ NETWORK) (@InoriDONZ) March 16, 2021
In this tip, this was very simple as it is! You just simply login, then finish your Daily Goals! You need to do at least three live show plays and finish them in Full Combo! And you can do them in any difficulty! The first one is that you must do at least one live show play to get your Love Gem bonus and other items! The second and third ones are that you must land a Full Combo finish by using a team consisting of µ's or Aqours only (no duplicates), one for each goal! And the last one is that you must land three Full Combo finishes in order to achieve the last goal, and you can get an another Love Gem by clearing it! And that gives you at least two (2) Love Gems in total per day! That's one of the ways in order to get some Love Gems fast, if you are patient enough!
Please do note of this! I am already making an announcement! The next LLSIF Tip (next week or Episode) shall be the last one! After that one next week, there shall be no more! Instead, I shall be replacing this part with an another type of highlight! Please stay tuned for my announcement!
It's time to make my decision! Find out next Episode!
Events are occurring at the same time… Which one for me needs to be sacrificed? I had to make my decision. And to end this Episode, you shall find out which one shall be the one to focus my Event Points grind, and the other one to be sacrificed — to be revealed, next week!
And that ends the Episode 36 of School Idol Festival Journal Log! Tune in next week! Anything happened or occurred this coming weekend, or after this Episode was published, shall be included also next week! And for people who bought the virtual tickets for the Nijigasaki Shuffle Fes live performance tomorrow, enjoy watching it! See you next time and happy weekend! Cheers!
Back to Episodes archive | Return to Home Page