Kuu… Kaa!!!
This blog post may contain minimal spoilers. Please read this only if you had seen this Episode.
EPISODE OVERVIEW
Now that Keke and Kanon got their pending approval from the school's headmaster to establish a School Idol Club, they have one condition! They must make it to the top standing in the upcoming School Idol Festival event, which shall occur in a few days from their present time!
They shall be needing some costumes, a music and the song lyrics, and some practice in their dance moves and vocals! With the remaining time left, they are seeming to have more problems — Kanon can't sing in front of people again! Keke is the only one that can cheer and perk Kanon up.
They stood up in the live stage. What should they do in order to overcome their odds and nervousness?
EPISODE REVIEW
This is where we could get some further character details here, as we could explore more of their emotions and as well as their own selves.
All I can say that in the previous LoveLive! Series TV Anime Series ever aired and streamed previously (notably µ's and Aqours Anime previously), they all begin in the third Episodes each, coincidentally. The scenes, where they need to prepare some costumes, and some song lyrics for their song, are the things that they should need, aside from them standing in the stage memorizing their own choreography.
This series has introduced their very own rival School Idols, just like A-RISE and Saint Snow. Their group name is Sunny Passion, and they were foreshadowed in the very first Episode of this TV Anime.
The Episode title is Ke-Ka. Other subbed versions can label it as Ku-Ka, or even Kuu-ker. I don't know which is which, but it doesn't matter. It's so called because it is named after Kanon and Keke. But in the banner material that Keke has made (see screenshot slides), it is labelled as 'Kuu-Kaa'. Strange, but fun.
As I have said before, the Episode scene, where they begin to sing and dance, coincidentally aligns with the third Episodes of each previous LoveLive! Series Anime ever aired and streamed (except Nijigasaki High School Idol Club).
And finally, their 'first step' song and animation PV was finally done and released in this Episode. Yeah, and somehow it can be previewed from their official YouTube channel! The title is Tiny Stars!
Yep, it's still a very long way to go for Liella! to become superstars of LoveLive! Series.
SCREENSHOTS (SLIDE OR SWIPE TO VIEW THEM)
She lost her motivation to sing in front of people again!

"Our reputation of the school is on the line here!"

Hungry? Buy and eat some takoyaki!

Very arousing pose.

"Sigh… I can't do it!"

She somehow represents people who do 'wotagei', or 'penlight dance'. Still, I am really confused about the Episode 3 title.

Photo of their School Idol rival, the Sunny Passion.

"Did you find anything useful in their video?"

"It's alright… It will be alright."

Sumire is genius with electricity.

Live Show Completed! Good job, Kanon and Keke.

They are featured in the bulletin. Their journey as School Idols shall start here.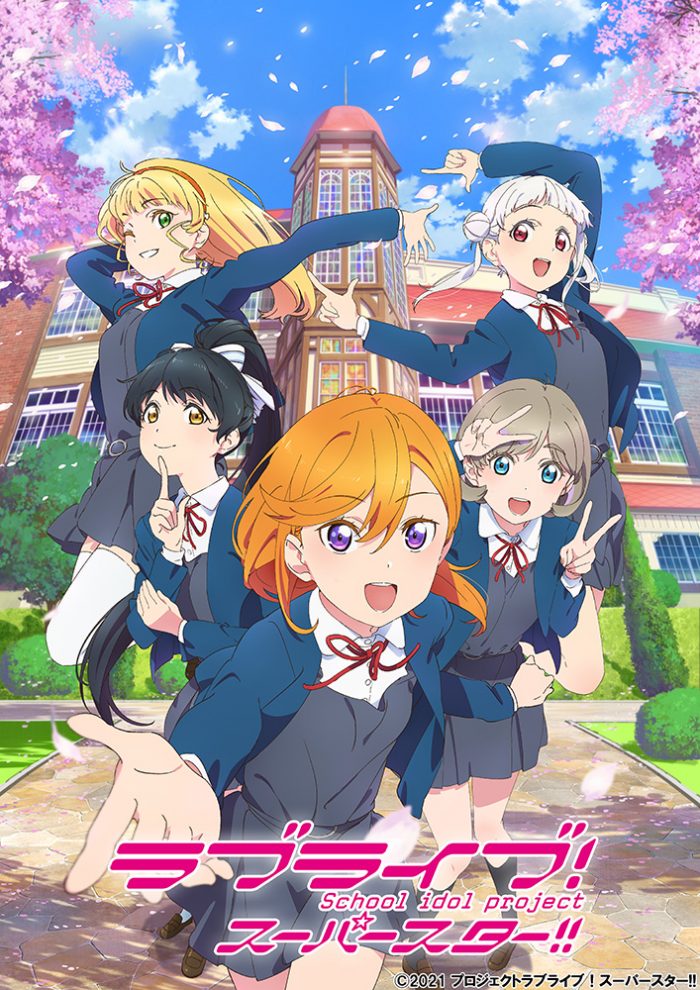 LoveLive! Superstar!! (2021) is a Japanese TV Anime series that aired since July 11, 2021 in Japanese TV networks. It is the fourth entry to the ongoing LoveLive! Series, which came out since year 2010.
Yuigaoka Girls' High School is a new school located between the cities of Omotesando, Harajuku, and Aoyama. No other students were enrolled there, even seniors. It is a story about the five girl aspirants who were beginning their steps as School Idols.
ABOUT LOVELIVE! SERIES
The LoveLive! Series is a Japanese Anime multimedia project. This was produced by the collaborating companies, the Japanese Anime music label Lantis, animation studio Sunrise, and Dengeki G's Magazine, a magazine by ASCII Media Works (KADOKAWA Group label).
This project began somewhere in 2010 and it starts as a multimedia project, where it introduces female high school characters who were grouped and formed a band together. This project was dubbed as the 'School Idol Project'. The girls will produce music and singles, as well as making a full music animation video out of that music.
Images: ©2021 PROJECT Lovelive! Superstar!!